INDIA
Tipu Sultan – Making a 'Tiger' out of a tyrant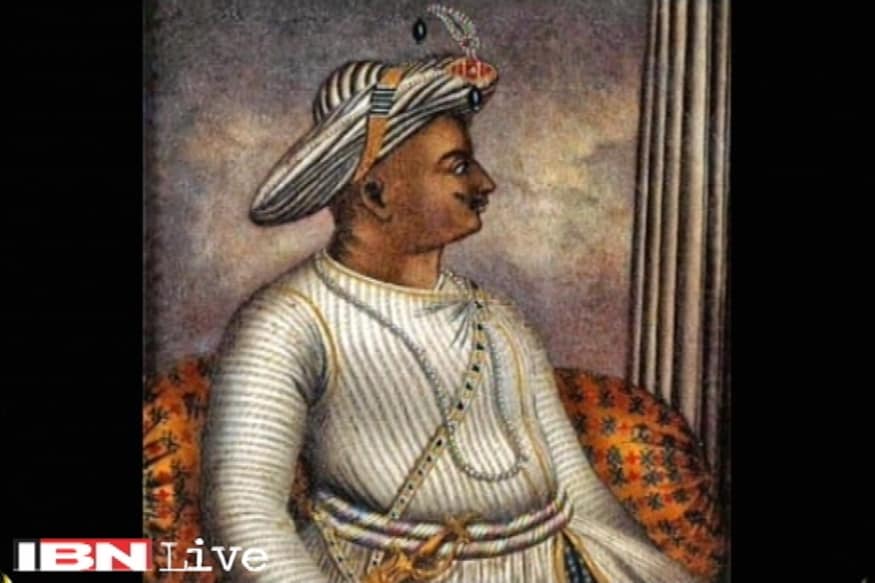 I don't believe in any political ideology. I believe in real secularism, not in the pseudo version of it.
I don't believe in any political ideology. I believe in real secularism, not in the pseudo version of it. I have always been criticising the right wing politics being practised by the "Sangh" and their opponents on the other side. Therefore I call myself just "straight". I am neither right, nor left. I am sure both sides attack me if my views are opposed to their views. I am also a student of history, again not a left wing or right wing student. It is my firm belief that Tipu Sultan does not deserve the title "Tiger" of Mysore. Tipu was a religious fanatic. He was a tyrant. During his reign of terror, people of present day South Karnataka, parts of Tamil Nadu, parts of Kerala had to suffer unspeakable misery. The historical documents of those years prove that he was anything but a freedom fighter.
It is true that he fought the British for over 20 years and was finally killed by them in the fourth Anglo-Mysore war of 1799 at his capital Srirangapatna near Mysore. But, he fought the British to save his kingdom like all other big and small kings across the World. It was the norm during those medieval days. The so-called "patriot" Tipu took the help of another foreign coloniser, the French, to oust the British! He had even invited Napoleon to invade India. If the British were foreign invaders, the French were also foreign invaders. Both the British and French wanted to colonise India and rule the natives. Tipu did everything to please the French and was even ready to accept their rule. Just because the French were opposed to the British, he took their help. He was okay with French ruling India. If the French had attacked his kingdom, I am sure, he would have taken the help of the British to save himself.
Even the French who initially helped him to fight the British were horrified by his crimes, mass murders, forced conversion and the methods he adopted to torture the people. Many French Army officers sent to help Tipu refused to fight for him and returned home in disgust.
The Congress government in Karnataka led by Chief Minister Siddaramaiah is doing exactly the same the right wing "Sangh" elements are accused of doing – Polarising the people on religious lines. Tipu was killed 216 years ago. After 216 years, Karnataka government has suddenly woken up and decided to spend government money to celebrate Tipu's Jayanthi. It does mean that Siddaramaiah knows nothing about Tipu. Being a Mysorean himself, the Chief Minister is aware of Tipu's tyranny. But, he wants to make some political gains by dividing the state on communal lines. In a way both Congress and "Sangh" are feeding each other by flaring up the communal tension in the name of Tipu. By organising a state sponsored Tipu Jayanthi, Congress government in the state has insulted the warrior Kodava or Coorg community. Tipu had plundered the small kingdom Kodagu, killed thousands in the most brutal manner and converted several thousand Kodavas to Islam. Even the Christians don't find Tipu a patriot or a good ruler. He had killed tens of thousands of local and foreign Christians destroyed their Churches etc. He did not spare even Christian nuns and priests.
As a senior journalist and himself a Kodava, Gautham Machaiah says Kodavas are not opposing Tipu Jayanthi, because he is a Muslim ruler. They are opposing it because he was a tyrant. The Kodavas would have done the same thing, even if Tipu was a Hindu ruler. Writers like Girish Karnad, who have assumed the role of courtiers of Siddaramaiah are deliberately defending Tipu. After all it suits their brand of secularism. He has also written a play on Tipu and hopes that he can sell a few hundred copies more. Karnad should know that he is not a historian and he should not distort historical facts. The stories of Tipu giving shelter to Shankaracharya of Sringeri, retaining a Hindu Poornaiah as his Diwan etc have been highly exaggerated to make Tipu a 'secular' ruler. People like Karnad are repeating it hundred times.
According to an article appeared in "Outlook" in 2013 titled "The Tyrant Diaries" Tipu was a butcher of the people of Mysore. According to its author Francos Gauitier in December 8, 1988, an old trunk was discovered in the attic of the house of Elaine de la Taille Tretinville, who died at 91 in her 14th arrondissement flat in Paris. She was a descendant of the family of Les Ripaud Montaudeverts. Among the contents was a manuscript in the hand of the most famous of the Montaudeverts—Francois Fidele Ripaud de Montaudevert. It starts with these words (in old French): "I, Francois Ripaud, am old today, but I want to tell you the true story of Tipu Sultan."
Born in Saffre, northwestern France, in a middle-class family, Ripaud enrolled as a sailor, aged 11, on the Le Palmier. After many adventures, he settled in Mauritius, where he married and had two children. In 1797, hearing of Le Grand Tipu Sultan, he sailed from Mauritius (then called Ile de France) to Mangalore and sought a meeting with the sultan, promising "to raise a large force in Mau­ritius and put it at Tipu's disposal". Tipu, who had an early connection with the French, having been instructed in warfare by French officers in the employ of his father, jumped at the idea and gave Ripaud letters of credential. On August 19, 1798, Ripaud came back to Mauritius and made a proclamation seeking volunteers for an "expedition to travel to Mysore to assist Tipu in his resistance to British encroachment in south India". It must be noted that, two months earlier, Napoleon had invaded Egypt and dreamt of establishing a junction with India against the British, so the governor of Mauritius received instructions to collaborate and Ripaud was able to sail to Mangalore with a shipload of French soldiers who were welcomed there like heroes.
Life at Tipu's court was a dream for our hardy adventurer, but he began to have some misgivings. In his diary entry of January 14, 1799, he writes: "I'm disturbed by Tipu Sultan's treatment of these most gentle souls, the Hindus. During the siege of Mangalore, Tipu's soldiers daily exposed the heads of many innocent Brahmins within sight from the fort for the Zamorin and his Hindu followers to see." Even so, he cast his doubts aside and put up for Tipu's benefit a dem­onstration of the egalitarian political ideas of France: in 1799, a French paper entitled 'Proceedings of a Jacobin Club formed at Seringapatnam by the French Soldiers in the Corps Commanded by Francois Ripaud' was found in Tipu's palace. It listed 59 Frenchmen in the pay of "citizen Tipu" and described a "primary assembly" of May 5, 1797, to elect a president (Ripaud) and other office-bearers. The 'Rights of Man' were proclaimed and the sultan formally received a small delegation from the club.
After this interval, we find another diary entry in which Ripaud is appalled at what he witnessed in Calicut (Kozhikode): "Most of the Hindu men and women were hanged...first mothers were hanged with their children tied to their necks. That barbarian Tipu Sultan tied the naked Christians and Hindus to the legs of elephants and made the elephants move around till the bodies of the helpless victims were torn to pieces. Temples and churches were ordered to be burned down, desecrated and des­troyed. Christian and Hindu women were forced to marry Mohammedans, and similarly, their men (after conversion to Islam) were forced to marry Moha­mm­edan women. Christians who refused to be honoured with Islam were ordered to be killed by hanging immediately." These events were corroborated by Father Bartholomew, a famous Portu­guese traveller, in his memoir, Voyage to East Indies.
Another diary entry of Ripaud says: "To show his ardent devotion and steadfast faith in the Mohammedan religion, Tipu Sultan found Kozhikode to be the most suitable place. Kozhikode was then a centre of Brahmins and had over 7,000 Brahmin families living there. Over 2,000 Brahmin families perished as a result of Tipu Sultan's Islamic cruelties. He did not spare even women and children."
A disgusted Ripaud left Seringapatnam and went back to France, where he obtained captainship of a fine fighting ship, the Shapho. On February 23, 1814, fighting an English frigate, Ripaud had his arm ripped off by a cannon ball, claims "Outlook" article.
According to Sandeep Balakrishna, who has written a book "The Tyrant of Mysore" the Siddaramaiah-led Congress government in Karnataka appears to think that the solution to what is being remarked as the party's "existential crisis", is a sharper version of the same, six-plus decades of secularism. He writes that one of the latest manifestations of this sharper secularism is chief minister Siddaramaiah announcing the launch of the Tipu Jayanti celebrations from this year, funded by the taxpayer. Indeed, the
chief minister
was open about why he was doing this:
"There has been a lot of pressure from various quarters to celebrate Tipu Jayanti. We have decided to take this into consideration and will announce the date shortly," Siddaramaiah had said at the release of a book Tipu Sultan: A Crusader for Change, authored by historian professor B Sheik Ali.
Siddaramaiah had earlier
claimed
that "Tipu Sultan was a secular ruler. He was a model king in the entire country. A section of people criticise him out of prejudice."
That history writing in India has been the subject of fierce controversy is now an article of faith, especially following Arun Shourie's seminal expose of the Indian history establishment in his Eminent Historians, a classic in its own right. Shourie, among other things, exposed in detail how in both official and dominant history textbooks and narratives at all levels — from school to university to general/popular history — do several things simultaneously as we shall see argues Sandeep Balakrishna.
He says that Tipu Sultan is in many ways the "Aurangzeb of the South". As the author of a book on Tipu Sultan (Tipu Sultan: The Tyrant of Mysore, Rare Publications, Chennai), I am both amused and amazed at the continuing efforts to paint him as a hero, patriot, and freedom fighter.
To be sure, the Tipu myth gained currency after Bhagvan S Gidwani's distorted novel named The Sword of Tipu Sultan, where Tipu is hailed as the "tiger of Mysore" among other things.
It is instructive to examine the assessment of Gidwani's novel by the historian and scholar IM Muthanna in his comprehensive Tipu Sultan X-Rayed published in 1980:
Gidwani's Tipu has a political value today, especially after the Congress government in 1974, perhaps to oblige the Muslim voters, released a commemoration stamp on Tipu, and described him as a "freedom fighter". Releasing a 50-paisa postage stamp commemorating Tipu in July 1974, a minister of Karnataka said that Tipu was "a hero" of Karnataka, "the defender of freedom," and so on. The chariman of the stamp releasing committee wanted the writers to present a true and faithful account of Tipu. Well… Gidwani has obliged him, rather sneakily, and in the form of a novel.
Muthanna was both perceptive and prophetic given how the Tipu myth was since used in the service of vote bank politics. But there was another review of Gidwani's novel predating Muthanna's book by four years. The December 19, 1976 edition of Hindustan Times carried a scathing review of the Sword of Tipu Sultan by MC Gabriel:
The author's effort throughout is to rebuild the past closer to his heart's desire. But anyone will grant that such consideration is extra-historical… it is a pity that… he could not put his material to better purpose than giving us just his private views… To say that Tipu was "the first nationalist", "a believer in communal harmony" and an "apostle of non-violence"… is quite uncalled for.
This detailed look at the Sword of Tipu Sultan was essential because much of the material for Tipu myth-making is derived from this book. In our own times, Girish Karnad's Kannada play, Tipuvina Kanasugalu (The Dreams of Tipu Sultan) borrows approvingly from Gidwani's book.
But what is astonishing is the manner in which this myth has persisted despite the availability of copious amounts of primary sources regarding Tipu Sultan which prove the exact opposite of what Tipu myth-makers claim. These include and are not limited to letters he wrote to various officials in his administration and military, letters he wrote to himself (in the form of a journal/diary) [iii][iii], eyewitness accounts by his contemporaries (Indian, French and British), land and other records. Indeed, we can construct an accurate picture of the life, times, character and legacy of Tipu Sultan using these primary sources even if we don't want to rely on any history textbook about him — both that glorify him or otherwise. And that accurate picture is not pretty laments Sandeep Balakrishna in one of his articles.
According to his book the most charitable description of Tipu Sultan after a survey of these sources is to call him the tyrant of Mysore. His 17-year-long regime was primarily a tenure of military and economic terror as far as Hindus were concerned. He razed entire cities literally to the ground and depopulated them. As representative samples, we can examine his raids in Coorg and the Malabar for the extent and scale of sheer barbarism and large scale destruction.
In 1788, Tipu marched into Coorg and burnt down entire towns and villages. Mir Hussein Kirmani, Tipu's courtier-cum-biographer describes how the raid resulted in the burning down of villages in Kushalapura (today's Kushalnagar), Talakaveri, Madikeri, and other places. Additionally, Tipu in a letter to the Nawab of Kurnool, Runmust Khan describes how he took 40,000 Coorgis as prisoners and forcibly converted them to Islam and "incorporated them with our Ahmadi corps." Already a thinly-populated country, Tipu's brutal raid followed by large-scale prisoner-taking depopulated Coorg of its original inhabitants to a severe extent. To Islamise Coorg, he transported about 7,000 Muslim families belonging to the Shaikh and Sayyid sects to Coorg from elsewhere.
The intensity of Tipu's raid was so terrifying that hundreds of temple priests fled to Mangalore along with their families. Worship came to a permanent halt in several temples. Some temples were covered with leaves in order to conceal their presence. The Maletirike Bhagavati temple at Virajpet is a good example of this. Equally, the renowned Omkareshwara temple in Madikeri was about to meet the same fate — the then ruler at Madikeri panicked at the approach of Tipu, removed its tower and replaced it with a dome so that it looked like a mosque from afar. The temple continues to retain this appearance till date. In his raid of Napoklu near Madikeri, Tipu destroyed the temples in the surrounding villages of Betu and Kolakeri.
Remnants of Tipu Sultan's savage raid of Coorg survive even today — the forcibly converted Coorgis are today known as Kodava Mapilas (Coorg Muslims) whose last/family names are still Hindu — representative examples are surnames like Kuvalera, Italtanda, Mitaltanda, Kuppodanda, Kappanjeera, Kalera, Chekkera, Charmakaranda, Maniyanda, Balasojikaranda, and Mandeyanda.
To the Kodavas, Tipu's fanatical dance of death in their homeland remains a wound that will never heal.
When we turn to the Malabar, the record is equally, if not gorier. Indeed, Tipu's incursions into the Malabar can form the subject of an independent book. Like in Coorg, remnants of Tipu's disastrous campaigns in the Malabar can be seen even today in the region. The city that bore the brunt of his excesses in the Malabar is Kozhikode (Calicut). William Logan's Malabar Manual, the Malabar Gazetter, the Portuguese missionary Fr Bartholomew's Voyage to East Indies, the German missionary Guntest and accounts by various contemporary British military officers contain first-hand accounts of how Tipu razed the city to the ground. An excerpt from Bartholomew provides us a representative glimpse:
First a corps of 30,000 barbarians who butchered everybody on the way… followed by the field-gun unit… Tipu was riding on an elephant behind which another army of 30,000 soldiers followed. Most of the men and women were hanged in Calicut, first mothers were hanged with their children tied to their necks. That barbarian Tipu Sultan tied the naked Christians and Hindus to the legs of elephants and made the elephants move around till the bodies of the helpless victims were torn to pieces. Temples and churches were ordered to be burned down, desecrated and destroyed. Christian and Hindu women were forced to marry Mohammadans and similarly their men were forced to marry Mohammadan women. Those Christians who refused to be honoured with Islam, were ordered to be killed by hanging immediately. These atrocities were told to me by the victims of Tipu Sultan who escaped from the clutches of his army and reached Varappuzha, which is the centre of Carmichael Christian Mission. I myself helped many victims to cross the Varappuzha River by boats.
The devastation in Calicut was so comprehensive that it changed the character of the place forever. Calicut was home to more than 7,000 Brahmin families. Thanks to Tipu, more than 2,000 of these were wiped out, and the remaining fled to the forests. In the words of the German missionary Guntest, "Accompanied by an army of 60,000, Tipu Sultan came to Kozhikode [Calicut] in 1788 and razed it to the ground. It is not possible even to describe the brutalities committed by that Islamic barbarian from Mysore."
He claims that indeed, Tipu made no secret of his hatred for infidels — both Hindu and Christian. After his death in 1799 in the Fourth Anglo-Mysore War and the fall of his capital Srirangapattana to the British, Colonel William Kirkpatrick discovered more than 2000 letters in his palace written in Farsi in Tipu's own handwriting. In these letters, Tipu refers to Hindus as "kaffirs and infidels" and to the British as "Christians" who needed to be "cleansed (or converted) if the rule of Islam is to be firmly established in India."
Just concluded Bihar election has proved that communal politics won't work much. But, I doubt Siddaramaiah type realise that. As I have earlier said Siddaramaiah type and the "Sangh" type feed other. If you have nothing constructive to offer, then be a destructive element. Sadly, the hard realities of our times.
First Published: November 10, 2015, 3:54 PM IST