INDIA
Fifty years to the date and India was into the 14th day of what is commonly called the 22 Day War. I have been attending functions related to the events, speaking at most of them and writing a great deal too. However, at the beginning and even well before, I concentrated on the sequence of the war of which most people in India were blissfully ignorant. Thereafter, I fell into the temptation of justifying how exactly India was the true and only winner. That too was necessary. As we progress into September find that many people all over the nation are much better informed about the War and are increasingly asking searching questions which should inevitably have been asked many years ago. This is the awakening about military affairs that I always dreamt of and I am extremely thrilled to witness it. The next few essays are all about a few of those questions and some attempted answers. But to set the record right is also important. This was no 22 day war; that comes from the presumption that transgression of the LoC on 01 September 1965 was the commencement of the war. Actually we were at war all of August 1965, in J&K and the most stupendous success of the entire war came our way at Hajipir in end August 1965.
Two weeks ago, Shekhar Gupta wrote a short post on Facebook on Late Lt Gen Harbaksh Singh, the iconic Army Commander Western Command, who single handedly, commanded the entire war front in 1965. He implored everyone to read the General's book 'War Despatches' which is perhaps the most brilliant and brutally frank account of the entire build up, the war itself and the post conflict aspects. A television show featured his family too. I am glad that the right attention is being given to one of India's greatest soldiers. I was fortunate that my family enjoyed a personal relationship with the great General as my father was Gen Harbaksh's Brigade Major (BM) in Damana (Jammu) when the General was a Brigadier in mid 1950s. Military personnel are usually aware of the intimacy in such relationships between commanders and principal staff. From my parents I only heard deep praise for the Harbaksh family and for the General's military prowess; his insistence on being given information and advice in very few words was his forte. This last quality must surely have helped him tremendously in directing and leading the war effort. He had a responsibility on his shoulders far in excess of what should have been placed and in many ways this was one of the reasons why the Indian pick up of intelligence and response may have been less than what it could and should have been. Let me justify this statement.
In 1965, neither was the state of telecommunication reliable nor were there enough air transportation resources to allow senior commanders the liberty of frequent and easy visits to lower headquarters and to battle zones. HQ Western Command was initially located at Shimla, its peacetime station and later moved to the plains to control the operations. From Ladakh to Bikaner is a vast distance and to be responsible for the entire front which included the Chinese threat from Aksai Chin, was downright impractical. It took another war in 1971 to realize this resulting in the creation of HQ Northern Command, the move of HQ 15 Corps from Udhampur to Srinagar and the raising of HQ 16 Corps at Nagrota for the command and control of formations from the PirPanjal till Pathankot.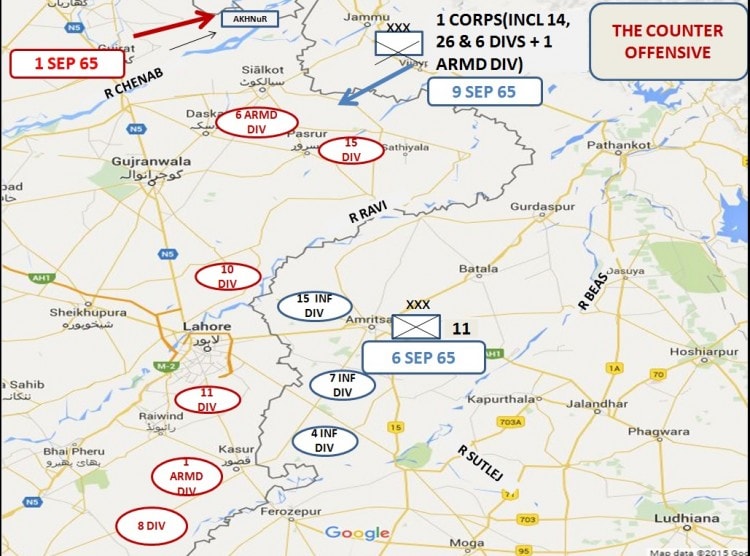 Further, it took yet another war in 1999 to detach responsibility of HQ16 Corps from the broad area of the Chenab-Ravi Corridor, merge that area with Western Command and raise HQ South Western Command to take charge of Southern Punjab and Northern Rajasthan.
So, effectively Gen Harbaksh Singh had the command of an area of responsibility (AOR) which is today looked after by three Field Armies (Commands). This too was in an era when technical intelligence sources were extremely limited. Perhaps India just could not afford to have more HQ or there were insufficient troops to be placed under smaller Field Armies or most importantly the Government just did not care nor listened to military advice. Whatever be the reasons it is clear that sitting in Shimla, Ambala, Chandigarh or Jalandhar it was not possible for an Army Commander or his HQ staff to get a feel of the situation in Jammu & Kashmir before Operation Gibraltar was launched on 05 August 1965. Gen Harbaksh, in his excellent book, does mention that operational plans for an offensive into Pakistan Punjab were prepared as early as Apr 1965 after receiving directions from the Chief.
Yet, through August 1965 even as Op Gibraltar was in full swing he was visiting Kashmir very frequently, especially during the early part of the Battle of Hajipir, 26-31 August 1965. It is more than likely that there was insufficient attention paid to the reports of activities across Akhnoor in the Chenab-Jhelum Corridor (CJC) and even in the Shakargarh Bulge (Northern part of the Chenab-Ravi Corridor CRC) ). Even one glance at a map can give a surmise that it is these sub sectors which were and are most vulnerable to possible Pakistani incursions to sever the road communications between Pathankot and J&K or between Jammu and Poonch/Rajouri sector. That Akhnoor sector was defended by a weak squadron of tanks of 20 Lancers and effectively three of the five battalions of 191 Infantry Brigade with nothing in depth, was taking of risk beyond any sense of prudence. On the part of Pakistan it cannot be denied that Operation Grand Slam, the operation planned and executed in the Akhnoor sector was designed to cement a victory which it thought it would achieve in J&K. Two brigades of Pakistan 7 Division were specifically earmarked for the task and two regiments (11 Cavalry and 13 Lancers) from the newly raised 6 Armoured Division were part of the force. The area selected for the attack afforded a short distance for concentration from Kharian. Although the Samba-Kathua area could easily have been accessed the distance for concentration meant a move parallel to the border through Sialkot; the pickup of intelligence by India would have been much quicker. Pakistan's early planning and prudent selection of Akhnoor sector for attack after the setback at Hajipir ensured that it caught India by surprise.
In 1999 during the Kargil War, over stretch of AOR for a single HQ resulted once again in our inability to keep the focus on terrain vulnerabilities. 15 Corps (Chinar Corps) was handling Kashmir and Ladakh, from Demchok in East to Gulmarg in the West. It was responsible for Eastern Ladakh, Siachen, Kargil, the Kashmir LoC in Kupwara and Baramula sectors and the raging militancy at its height aided by foreign terrorists. It had staff as much as any other Corps HQ but with a minor increment. It failed to read the indicators about the potential Kargil intrusion because its focus was elsewhere and rightfully so. No HQ can be focused with equal priority to each sub sector for which it is responsible unless it has a compact area well within its capability of focus. The Kargil experience led to the splitting of 15 Corps AOR with HQ 14 Corps being raised for Ladakh. Each time splitting of AOR has happened after a negative event which essentially reflects that military appreciation in matching resources to an AOR has never really been our forte.
In one of the ongoing seminars of the 1965 Indo-Pak war a seasoned veteran who writes on strategic issues raised a very pertinent question. It alluded to the reasons why in the Akhnoor sector we have twice been surprised (1971 too) and whether our posture today caters for surprise factor in the future. Even the thinking public, which is reading and listening about military affairs with much greater interest than ever before, deserves to be given an answer to this. Three things the reader must know about this sector. First, the Chenab Jhelum Corridor (CJC) where it hugs the LoC is a short distance from the debouching areas from where an offensive force can be launched by Pakistan. Concentration can be done by the Pakistan Army in a very quick time frame which means the chances of being surprised are very high. Secondly, the River Tawi and the artificial obstacle of the ditch cum bund (DCB)can effectively check the initial offensive. Thirdly the distance being short from the LoC to Akhnoor there is always a need to have defences in depth and sufficient armour to respond with. Both in 1965 and 1971 these criteria were not there but today Akhnoor has all this and more. The CJC is excellent territory for us to commence a pre-emptive offensive so that the battle is fought in Pakistan territory with enough threat to his nearby cantonments.
The major tank battles of the 1965 War were fought once the Indian Army launched its offensive on 06 Sep 1965 taking the Pakistan Lahore sector completely by surprise; so we weren't the only ones to be surprised through the war. The Lahore and the Sialkot sectors where the credentials of India's tankmen were tested will be the focus of Part II of this essay.
First Published: September 13, 2015, 1:06 PM IST