INDIA
The Army Desperately Needs to Upgrade its Family of Small Arms
Indian Army recruits stand in formation. (File Photo/Getty)
As a military professional my focus towards the basic personal weapon of the Indian Army and the Infantryman's mainstay was missing for almost thirteen years after I was commissioned. I was happy with the 7.62 mm Self Loading Rifle (SLR) as it was a far cry from the .303 that I had seen and fired as a youngster when my father was commanding our unit.
The issue of personal weapons finally caught my fancy when I rejoined my unit in Op Pawan (Sri Lanka/IPKF). We had a few captured 7.62 mm AK 47s which were reserved for the Ghatak platoon and for a couple of scouts while we conducted jungle bashing.
The captured AK series, worn and grimy from LTTE over use, carried a romantic aura about it. The greatest thing was that it could fire in automatic mode. Why is that important? In the jungle or urban terrain, response at close quarters is a recurring phenomenon. Automatic high rate of fire from a weapon with an enhanced capacity magazine has far greater chances of success, especially in the crucial two minutes of the first contact.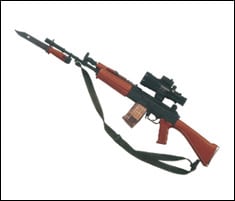 Rifle 5.56 mm INSAS. (Courtesy: ofbindia.gov.in)
In Op Pawan the Army's leadership was dynamic in response, even though resources were still of the socialist order. Since AK 47s were not easily available the Ordnance factories quickly gave us 7.62 mm SLR 1C, a modified rifle with a slightly shortened barrel and surgically intervened breach blocks to give a burst capability. My first success in an ambush was with this weapon which I found ingenuously outstanding given the resource position of those days. The only problem with Model 1C was that it overheated very early.
By the Nineties I found myself attending meetings in Army Headquarters about the upcoming wonder, the 5.56 mm INSAS Rifle and family of small arms associated with it. It had artificial furniture and plastic see through magazines which looked very fancy. The feel appeared good and it was a novelty. I felt a change from the aging 7.62 mm SLR would be advantageous. Although I had an experience with 5.56 mm caliber, in the thick jungles of the Wani in Sri Lanka I continued to live by some dictums which I had learnt at the academy but never applied in my mind thereafter. In one instance I saw one of my 'bhullas' (Garhwali soldiers) peppered with six rounds fired by an LTTE cadre from an M-16 (5.56 mm) assault rifle. M-16s were popular in Sri Lanka; in fact anything could be popular after the 7.62 mm SLR. But this 'bhulla' was running around attending to casualties and least concerned with his injuries. Six bullets in his abdomen did not trouble him until I forced him to start acting like an actual casualty. That is the day I lost confidence in the 5.56 mm variety of small arms. It is true that the terminal effect is dependent on the range at which a bullet is fired and the amount of explosive content it contains. Yet, somehow a mindset seemed to grip me on this.
Indian Army soldier with AK-47 rifles. (File Photo/Getty)
Why am I discussing all this? The reason is simple; the INSAS family which never really matured is now on the way out. In J&K too it is the AK-47 which is depended upon. But the easing out can only happen once the leadership of the Indian Army can finally decide what family of small arms it wants as its next generation small arms weapon system. Reportedly, this issue will be discussed at the ongoing Army Commanders' Conference this week. It's been discussed before but a dilemma seems to be gripping the minds of the leadership. The higher leadership comes from my generation which was taught that in battle it is far advantageous to maim or injure your adversary rather than kill him. That forces the adversary to deploy men to tend to the casualty, carry him out to a safe place, evacuate him to the rear areas and thereafter perhaps care for him for life. All this is heavy in resources at all stages, and resource depletion of your adversary is what you always aim in conflict. However, conventional conflict it appears is passé; hybrid is in and it caters for both situations - conventional and sub conventional. I can hold my own in a debate to justify the return to 7.62 mm caliber with an appropriate architecture and composition of the ammunition. The 7.62 mm also has a psychological effect on the adversary when the nature of fatal inflicted injuries is observed. However, anyone who knows small arms also knows that the parameters in consideration have to be weight (of weapon and ammunition), the recoil effect (can't have a horse buck at the shoulder), the range, the comfort of carrying and firing (ergonomics) and the length of the barrel. Throw in a couple more such parameters and the designer has more issues than he can handle. For me, recoil is a very important factor. In burst mode one can't afford only the first bullet hitting the target and the rest going astray.
I am not sure if there is a case for a compromise caliber such as 6.8 mm which some foreign analysts speak of. An examination of this would also be interesting. The Indian Army's dream personal weapon of twin caliber capability with changeable barrels to cater for different calibers has resulted in the acute delay in the final decision. There appear to be no takers for this variety which the General Staff had desired.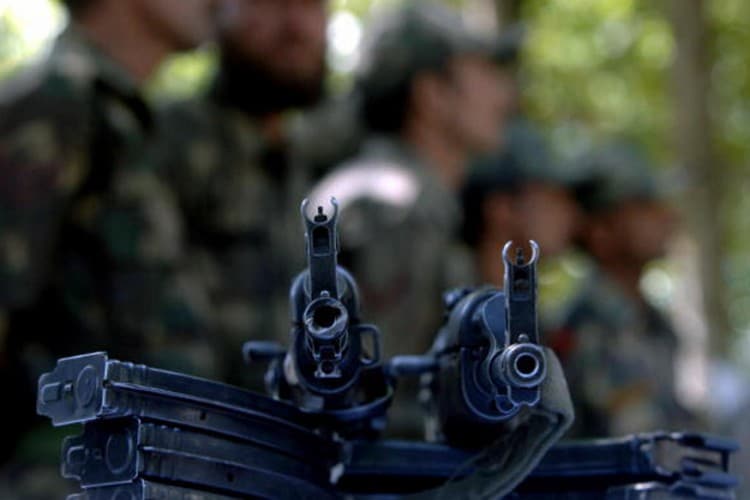 AK-47 assault rifles. (File Photo/Getty)
Many in the media are attempting to analyze the benefits of different calibers and other characteristics of small arms. This is interesting and a welcome change because the romance of military technology is usually associated with armour and artillery systems and not infantry weaponry. An issue which no one appears to have considered is the equipping of Infantry and other Combat Arms personnel with specialist small arms of a higher technical order than those of the personnel of other Arms. No doubt in conventional operations it is primarily infantry personnel who will require to use these weapons extensively in offensive/assault mode. Those away from frontlines would primarily be involved in defensive operations in rear areas. However, if the Hybrid variety of operations is considered there may be equally robust operations against well entrenched terrorists in rear areas. The issue to be considered should be the cost effectiveness of going in for one type of product across the board. No doubt uniformity in personal weapons contributes to the overall management of maintenance and logistics but this aspect need not be given undue consideration. The equipping of infantry units with a state of the art weapon which near about meets the dual parameters of both conventional warfare and hybrid operations would be the most recommended option.
Some inexperienced analysts are speaking of 1000 meter range for infantry small arms; they also appear to be mixing all this with the need of sniping which is a completely different domain. Effective ranges for infantry small arms have almost always revolved around the 300 meter mark with increase to 500 meters with stabilization due to a bipod and some more due to tripod stabilization. A target acquisition device in the form of a latch on telescope and an accuracy enhancer in the form of laser assistance are almost mandatory in the modern world.
The AK 47 type of options of burst rapid and controlled burst fire along with single shot continues to be the favourite. Indian infantrymen operate very largely in the mountains and jungle terrain and therefore the weight of the weapon and its ammunition must remain important considerations. A weapon upwards of 4 kg would not be acceptable. In fact sub 4 kg with all latch on accessories is the figure one would be satisfied with. 25-30 round magazines would be desirable when burst modes are adopted. The 20 round 7.62 mm SLR magazine was robust and less prone to malfunctioning; an improvement on that is what is looked for rather than the rather disappointing plastic magazines with conventional spring mechanism that the INSAS went in for.
Whatever it be, the Indian Army has remained in various stages of self-doubt while equipped with the INSAS family. Let us hope that with renewed interest in a new family of weapons and slippages now causing virtual panic the senior hierarchy will finally come to a decision on a subject which should be considered as important as the acquisition of aircraft, tanks and guns.
First Published: April 28, 2016, 9:21 PM IST
Countdown To
Elections Results
To Assembly Elections 2018 Results