The Gender Gap
Representative image. (Reuters)
Equal Rights for Women
Ladies, here's one more reason for you to hate 2016 (a year that can now safely be called the Year of Misogyny).
The International Labour Organisation
 confirming our darkest suspicion- sexism is still the reason why you and I take home less money than our equally qualified male colleagues.
The gender wage gap in India is alarmingly high- at more than 30%, that number is worse than most countries in the world. Only in South Korea, Azerbaijan and Benin are women worse off than Indian women. What's more, when it comes to wage distribution 60% of women are in the bottom half of the salary bracket and only 10-15% rub shoulders with the men in higher paying jobs. What this means is, not only are women in India still paid considerably less than their male counterparts for the same job done every hour, the number of women taking home fat pay cheques is slim to say the least (just like our salary slips).
How does one explain the wage gap in a day and age where women are as qualified (if not more), as educated as their male counterparts? The ILO report suggests that 'the over-representation of women in sectors where their work is undervalued results in a gender pay gap and that care work is undervalued because it may be perceived as a natural female attribute rather than a skill to be acquired and cultivated' and vice versa. Basically, if it's a skill a woman is expected to have (by virtue of her having a womb and what not) why should anyway per her fairly for it?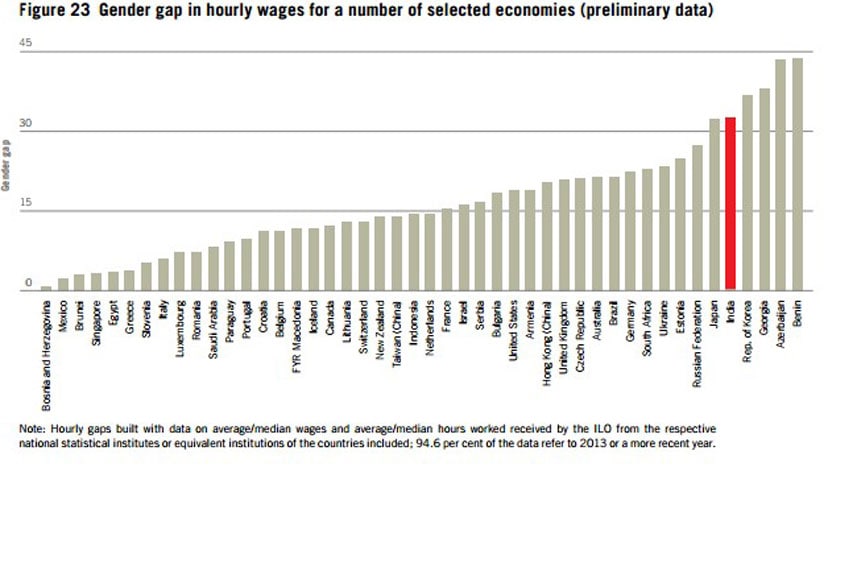 Equal Rights for Men
Speaking of equal rights, a big shout out to Deutsche Bank's Indian arm. It will now give all its male employees who are primary care givers six weeks of paternal leave. The bank says this is aimed at 'delinking gender from the act of nurturing a child.' The new policy will be introduced in January next year in 16 countries in the Asia Pacific region.
Legally, women are allowed only three months of paid leave in India. The Maternity Amendment Bill would have taken that up to six months had Lok Sabha passed that bill- but that was not to be. So, for now that bill is languishing in the Lower House- incidentally, Lok Sabha is where the government enjoys majority and could have passed the bill irrespective of the din. One of the biggest criticisms though of the Maternity Amendment Bill is the fact that it completely leaves out fathers, alienating them in a sense from the process of childcare.
Earlier this year, the Union Women and Child Welfare Minister Maneka Gandhi sparked off a controversy when she said, 'paternity leave will be just a holiday for men.' In a climbdown of sorts, she later amended that statement to say ' Men already have sick leave. They need to use that when they have babies and then we will proceed on that later.'
Yes, not all men will use paternity leave, many may even misuse it; but that's no reason for depriving lakhs of other families of the option. Reports suggest that in 2014, the participation of Indian women in the workforce was merely 27%- a number that could significantly go up if men and women have the right to equally divide childcare responsibilities.
First Published: December 23, 2016, 4:14 PM IST
Countdown To
Elections Results
To Assembly Elections 2018 Results