India is finally looking to enter the era of armed drones
Armed UAV development in India has been carried out at a rather slow pace till date owing at least partly to American concerns about the same.
Ever since a weaponized Chinese CH-3 Drone crashed in Nigeria and Pakistan unveiled an 'indigenous' version of the same drone called Burraq, there is a newfound urgency in India to develop armed unmanned aerial vehicles (UAVs). As such, work on weaponizing the Rustom-I medium altitude long endurance UAV is being hastened and first weapon trials will take place this year. The Rustom-I, developed by DRDO's Aeronautical Development Establishment (ADE) will initially be armed with the HELINA anti-tank guided missile (ATGM) and subsequently with smaller munitions specifically developed for UAV carriage.
Armed UAV development in India has been carried out at a rather slow pace till date owing at least partly to American concerns about the same. These concerns were likely taken into account because key domestic UAV development programmes till recently had been somewhat dependent on American sources for key components such as actuators. However the recent United States (US) State Department's withdrawal of export licenses on MTCR grounds for some seven types of MOOG actuators that feature in ADE's flagship Rustom-II MALE UAV means that India need no longer be so concerned about what America thinks. As of now, indigenously developed replacement actuators have completed electro-magnetic interference/compatibility tests etc and high speed taxi-trials (HSTT) of the Rustom-II have re-commenced. These taxi-trials will go up to a speed of 55 knots, just 10 knots shy of take-off speed. First flight will happen in June 2015 after a delay of more than a year on account of MOOG's non-supply. Currently, a move to indigenize all critical components for domestically developed UAVs is also underway.
Now though Rustom-II is essentially a C4ISR platform, it too could potentially feature weapons in the future. But for that, the Rustom-I has to become a pathfinder for armed UAV development in India. At the moment, only some weapon carrying taxi-trials have been done with the Rustom-I. The image enclosed below (Pic) depicts the same.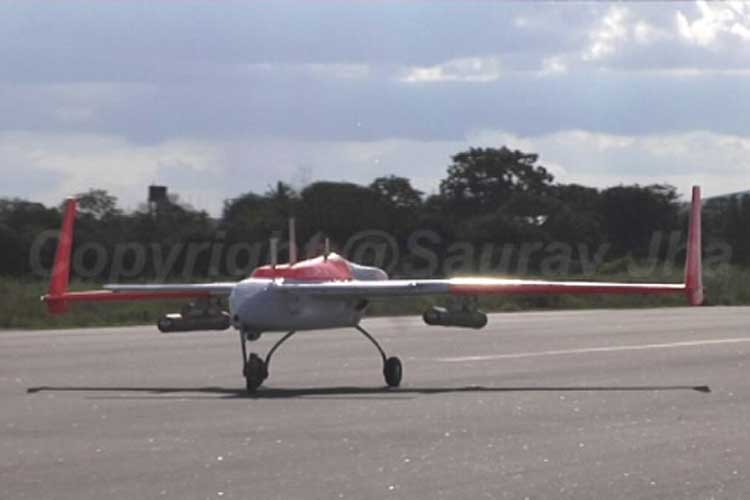 Rustom-I taxiing with two HELINAs underwing. Courtesy DRDO
Meanwhile the manned Light Canard Research Aircraft (LCRA) on which the Rustom-I's planform is based, was used successfully to demonstrate automatic take-off and landing capability (ATOL) just last week. After some more trials, the same capability will be ported to an actual Rustom-I. Once successfully completed, ATOL will take care of one of the prime demands the Indian Army (IA) has made with respect to the Rustom-I's capability set. ATOL after all reduces the occurrence of accidents at airfields and is also a facilitator of true day/night capability. It is likely that the capability growth of the Rustom-I with respect to handling, better recon payloads (also under development) and weaponization will lead to the IA dropping its currently lukewarm approach to the drone.
Nevertheless, even as the IA demands more, the Indian Navy (IN) could well become the first customer of the Rustom-I. In recent months the Rustom-I's maritime recon capabilities have been demonstrated to the IN off the coast of Tamil Nadu. Rustom-I, given its size is far more difficult for targets like illegal fishing trawlers to spot than manned aircraft which usually carry out coastal surveillance duties. Moreover Rustom-I flights are likely to prove cheaper as well.
The Rustom-II however already has some 'firmish' orders on hand. The military across all three services has projected an initial requirement for 75 units. During Aero India 2015, a memorandum of understanding between DRDO, Hindustan Aeronautics Limited (HAL) and Bharat Electronics Limited (BEL) was signed for the productionization of the Rustom-II. HAL will be the lead integrator for the Rustom-II with parts built by private players and BEL will supply the ground control systems for the same. Taneja Aerospace and Aviation Limited (TAAL) incidentally has built the fuselage of existing Rustom-II prototypes. The all critical datalinks for the Rustom-II have been developed by DRDO's Defence Electronics Application Laboratory, Dehradun. In the future the Rustom-II will feature indigenous engines in the 165-210 HP class currently being developed by DRDO's Vehicles Research and Development Establishment in partnership with Tech Mahindra. Two flying prototypes of each service version (i.e Army, Navy, Air force) will be part of the Rustom-II development program.
Indian UAV programmes need to be speeded up. For that it is important that the proposed aeronautical test range in Karnataka be set up without any more delay. This would be crucial for not just developing UAVs armed with kinetic munitions but also for honing airborne unmanned electronic attack capability.
Send your feedback to geekatlarge1618@gmail.com
First Published: May 23, 2015, 3:15 PM IST
Countdown To
Elections Results
To Assembly Elections 2018 Results