INDIA
Is Fear of Lynching The New Normal in Our Society?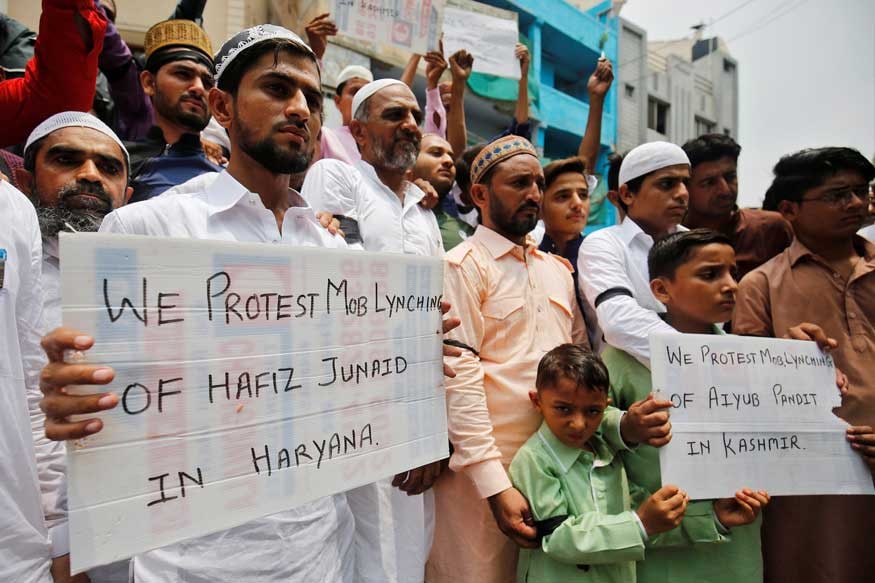 Fifteen-year-old Junaid was stabbed multiple times by a mob on a Delhi-Mathura train in Ballabgarh, Haryana on June 24. (Image: Reuters)
I was born days after Indira Gandhi was shot dead by her bodyguards, who were brainwashed by the Khalistani militants. Needless to say most Sikh dominated areas were under curfew and as my parents recount ambers hadn't cooled down by then. They also tell me the fear psychosis which was prevalent amongst the Sikhs then: some were seen cutting off their hair, others didn't let their kids wear a turban. The idea was to assimilate, to not look different. Many of my Sikh classmates did not wear turban, when asked they would often refer to the riots as the reason.

Cut to June 2017. On Saturday, a friend narrated how his father asked his younger siblings not to travel in public transport, to return home in time and go easy with the skull cap in unfamiliar areas. This speaks of the fear psychosis that appears to be gripping the Muslim community.

After the first of the recent spate of lynchings, I went to Mewat, the only Muslim majority district in Haryana, before Eid last year.

Akhlaq's brutal murder was all too fresh in the memory. Right after it came the raids of Haryana's famed food inspectors. The biryani sellers had stopped buff and even mutton variant, only chicken biryani was available. When asked what led to this change in the choice of food, the answer was simple, "We don't want riots in our area. We don't want police to harass us and we don't want to be killed." Then came the stories of how the food inspectors took away any biryani which didn't look distinctly like chicken biryani.

Over the period, lynching in the name of cow became a periodic news, a new normal of sorts. In October 2015, a truck driver succumbed to injuries after a vigilante group attacked him with petrol bombs in Udhampur, on rumours that he was carrying dead cows. Around the same time, a 20-year-old truck driver from Saharanpur was lynched in a Himachal Pradesh village on suspicion that he was a cattle smuggler.

In March 2016, two Muslim cattle traders were found hanged to death in Latehar district of Jharkhand. They were allegedly killed and hanged by a group of people when they were on their way to an animal fair. Very next month, Mustain Abbas was returning home after buying bulls from a cattle market in Haryana, when he was shot dead, allegedly by the members of a local cow vigilante group. In April this year, Pehlu Khan was killed and four others were injured when they were attacked by 15 members of the cow vigilante group in Alwar.

And then, just three days ago, a 15-year-old boy was killed allegedly because some people alleged he was from a beef eating community.

Apart from these, there are dozens of incidents where Muslims and Dalits have been beaten up in the name of cow by the right-wing groups. This even led to massive Dalit protests in Gujarat, led by political lightweights like Jignesh Mevani.

While a counter narrative is being pushed on the social media about how lynchings have always been around, the devil lies in the data. Did so many vigilante groups target a particular group on a particular issue ever? The answer is obvious.

The question is if the fringe groups are so well organised and their activities are so rampant, are they fringe anymore? Isn't there a need for concerted attempt to send out a message of assurance to all the victims? Or, is what's happening around us the message in itself?

First Published: June 27, 2017, 2:37 PM IST
Countdown To
Elections Results
To Assembly Elections 2018 Results