MOVIES
Old magic: Revisiting Satyajit Ray's 'Goopy Gyne Bagha Byne'
The film talks about a journey that two people share, Goopy Gyne and Bagha Byne, and being horrible musicians, they're banished from their own kingdoms.
Fantasy, upon its inception as a genre, was used as a tool of change, as a way of showing other worlds and protesting against malpractices in current regimes in so subtle a way—using dragons and elves and creatures of all kinds of magic—that the truth in it had both the advantage of being virtually undetectable, yet shining like a mirror if one looked hard enough, and I say mirror because most of these realizations do start from oneself. This has always been heralded as the original, purest purpose of the genre by many masters of the same.
Undoubtedly a lot of us will have heard of J.R.R Tolkien's 'The Lord of the Rings' and Peter Jackson's adaptation for the cinema. Here, I mention LOTR because it is probably the highest bar that has been set by popular culture and reading trends when it comes to Fantasy, though there are many purists who will disagree and find much more substance in the works of several other Fantasy authors like Terry Pratchett and Ursula K le Guin, just to name a couple. In India, there have been fantastic explorations in Fantasy and Science fiction in vernacular languages, many of whom remain un-translated, even fewer finding their way towards a film adaptation—I'd like to bring to notice one such gem, a High Fantasy Musical Fairy Tale-like Undefinable directed by Satyajit Ray in 1969, titled 'Goopy Gyne Bagha Byne'.
The film itself is quite underrated. The Bengali populace though, always in love with magic and familiar with the tales of 'Thakumar Jhuli' have always known and loved this film, but as something that can be viewed more by an outside audience, an international audience, this is not one of the films Ray is popularly remembered by. The film talks about a journey that two people share, Goopy Gyne and Bagha Byne, and being horrible musicians, they're banished from their own kingdoms. They meet in a forest where they somehow manage to please the King of the Ghosts, who grants them three boons. With their newfound abilities, these unconventional and remarkable protagonists embark on a set of adventures.
It's 1969, and at first glance the magic you see in the film is related to the special effects, employing the use of stop motion/ pixilation and celluloid cutting in what I'm sure is one of the earliest Indian films to do so, at a time when no one's really thinking of venturing into uncharted territory like Fantasy in India. Because of these, and the deceptively simple context of the story, this is popularly heralded as a film for children.
Look closer, however, and you'll notice the magic seeps beyond what you simply see. The film is a political satire, an allegory about the horrors of war, and the toll it might take. It has the maturity to make its characters grey rather than slipping through the whole black and white shades that films for children (and Fantasy, for that matter) mostly do. But no, Goopy Gyne Bagha Byne talks about coup de tats, puppet rulers, invasion, brainwashing, the idea of utopia, and as mentioned earlier, the unstoppable war machinery and it's motivations—extremely relatable touches of the real that fit perfectly in contemporary governments and current political situations—one simply has to lift the veil that is the film. Take another step back, and the film might transform into a travelogue talking about the keeping dreams alive, about believing in oneself, about actually taking the time to sit back and ponder the larger questions about life itself, a transformative experience in the waiting. And then there's the music.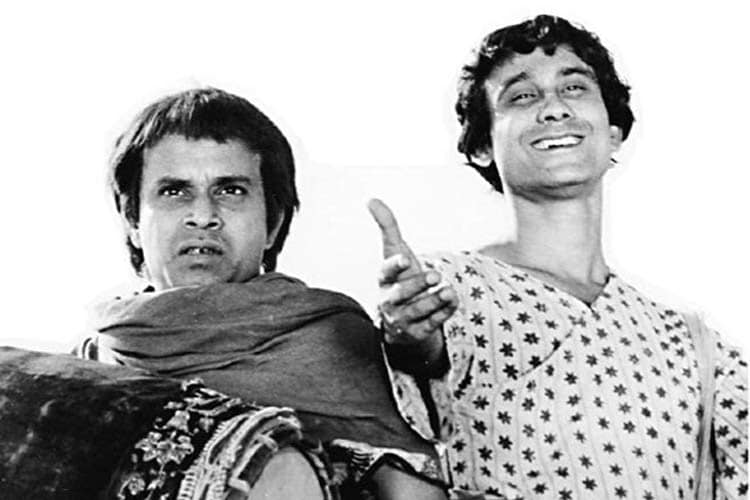 The film in itself is an ode to music, of music having the power to render people standstill (literally and otherwise), of music being the one language that may yet unify all caste, creed, religion. And it pulls this off beautifully, magically, with the touch of a master, without falling prey to something which might be perceived as preachy. Like a musical of sorts, it uses songs to move the story along—and there's a story here, that Satyajit Ray also made the film to prove a point the certain critics who proclaimed he was afraid of using songs in his films. Ray composed the music himself.
It is extremely difficult, almost impossible, for a film that encompasses such a wide spectrum of thought processes and beliefs to be uncomplicated, but there you have it again; Goopy Gyne Bagha Byne deals with its content with the innocence and awe of a wide eyed child—and that is precisely what makes the film magical, being able to see through that lens despite the ever present subtext. That is true magic, rendering the film an important watch in these troubled times.
And I believe I've only managed to scratch the tip of the iceberg here; a very wise man once told me a good film is like a diamond, one only has to turn it to see the light in a different way. Goopy Gyne Bagha Byne, similarly, evolves with each watch, newer things coming to light, sequences finding their contemporary comparisons as time goes on, a true classic.
First Published: February 8, 2016, 11:17 AM IST
Countdown To
Elections Results
To Assembly Elections 2018 Results