Ayodhya: Epicentre of BJP's Rise Neglected by its Beneficiaries
A view of the temples in Ayodhya. (Photo: News18)
The banks of the Sarayu host the ghats of Ram ki Peedi in the temple town of Ayodhya, the place that is right at the heart of the Ram Mandir dispute. It is from here that the BJP riding on the Ram Janmabhoomi movement scripted a remarkable political journey from two seats in 1984 to 282 seats currently.
For a place that is so steeped in piety and religion, the banks and surrounding areas are incredibly unclean. One could argue that is the case with most religious places in the country but the scope for turning this into a world class tourist destination is immense.
Unfortunately political parties have reaped political dividends from Ram ki Peedi but have given precious little in return.
On a hot summer's afternoon there are a few people taking a dip, no one is venturing to take the boat ride given the 43 degree heat. This writer got a chance to speak to some of them.
Chunni Lal has come from Sultanpur for a holy dip in the Sarayu. He is hopeful if this time BJP is elected in the state, there might be some movement in building the Ram Temple.
Lallan Singh who is from Ayodhya is less optimistic. He blames both the BJP and Samajwadi party of using the Ram Mandir issue to polarize their respective votebanks.
Recently there was a huge controversy regarding a Bajrang Dal self-defense training camp in which the targets were made to wear skull caps and pretend to be Muslims.
Babneer Singh, a local in Faizabad says the programme was meant to depict self-defence against alleged Pakistani terrorists (as bizarre as it sounds). Someone asked the targets to wear skull caps and the imagery was clear.
The Bajrang Dal was defending the pious 'Hindu' against the 'other'. In any case, they used air guns which are meant to kill birds and not humans, insists Babneer.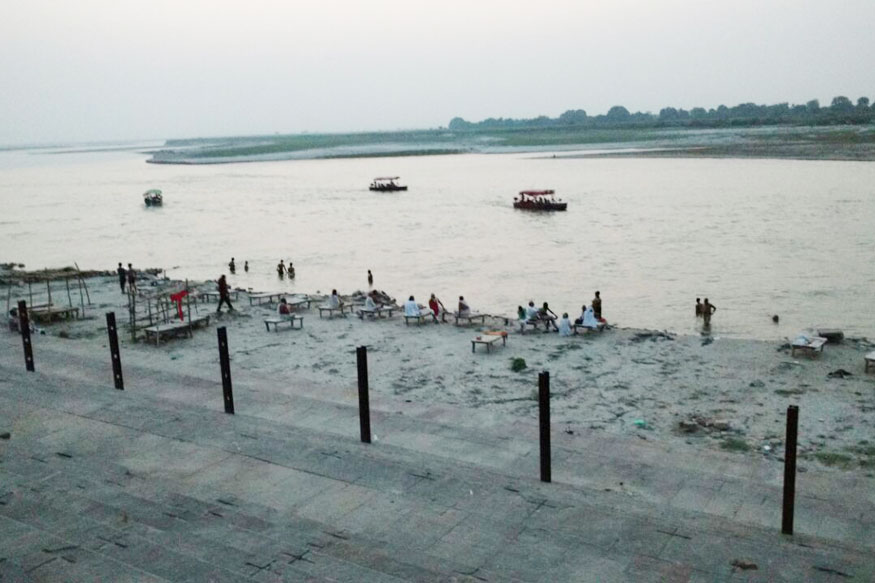 In Ayodhya and Faizabad, there is a degree of weariness around the Ram Temple issue. For all its pride of place in the BJP's scheme of things, there isn't a half way decent hotel in either town.
The roads, other than the national highway, are in a dilapidated condition. Someone could have cut and paste this town from the 1980s and it still remains the same.
Development remains a far cry. Rickety buses and shared autos are the main form of public transport. Ayodhya has no economy of its own.
Most of the businesses cater to domestic tourists who come here to visit the temples in this town. Unlike Benares, there are no foreign tourists, so there is no big money to be made.
Arun, our driver who refuses to reveal his last name says in a good month he can barely make Rs 3000.
Interestingly in their public rallies here in Ayodhya, no BJP leader brings up the Ram Mandir issue. They are happy to let their more militant cousins in the VHP and Bajrang Dal do that.
The BJP wants to keep Modi and his development agenda in the foreground and let the foot soldiers talk about Ram lalla.
While BJP President Amit Shah has publicly said he reckons the fight for UP is between SP and BJP. Interestingly, it's the BSP that seems to be quietly working at the ground level.
People don't tell you this directly, but when you switch off the camera or if you don't tell them you are from the media, they reminisce about how things were much better under Mayawati. Law and order is a clear case in point.
Markan Pandey, a Brahmin, remembers fondly how Behenji built a colony after Kanshi Ram just on the outskirts of Ayodhya to give pucca houses to those who were living in slums. This, coming from a Brahmin, the irony was not lost on me.
And finally, in my brief time here, I clocked about 400 kilometres, but nowhere, not in one place did I see a Congress flag or poster.
And this in a place less than a 100 kms from Amethi and Rae Bareli. Such is the state of disarray in the Grand Old party. Priyanka or no Priyanka, they have their work cut out.
First Published: June 13, 2016, 1:11 PM IST
Countdown To
Elections Results
To Assembly Elections 2018 Results