WORLD
Can't Attend the Women's March? No Worries. Here's How You Participate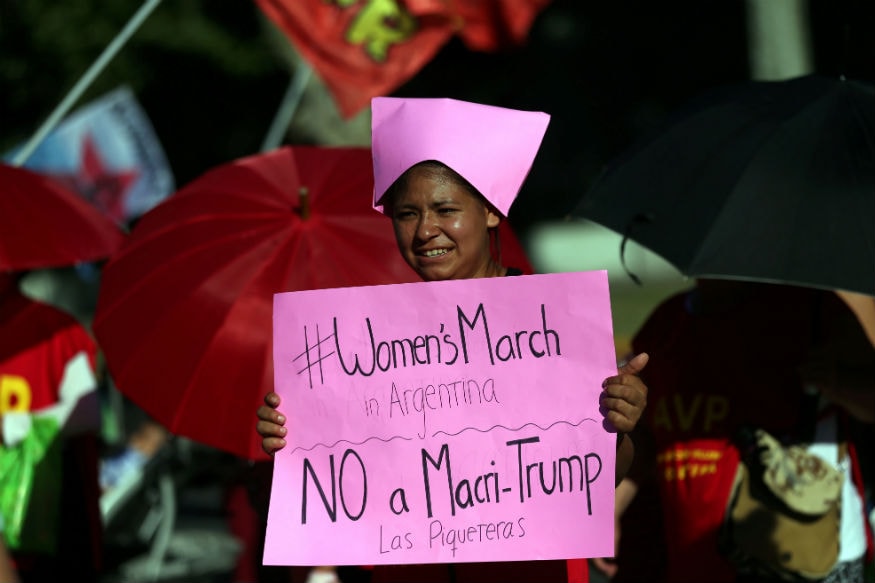 A woman wears a pink protest hat, symbol of the anti-Trump women's march, during a protest outside the US embassy in Buenos Aires, Argentina on January 20, 2017. The signs read "No to Trump - Leftist socialist (party)" (REUTERS/Marcos Brindicci)
Get ready to don your pink pussy hat this weekend and be a part of a revolution.
About 1.6 million people will be a part of the Women's March in Washington DC. These men, women, members from the LGBT community are all marching against patriarchy, they are marching for inclusion and equality, and to remind the world that we still need feminism.
But most importantly, they are marching against Misogynist-In-Chief Donald Trump.
Over 600
solidarity protests
are being organised around the world — the ones in Australia and New Zealand have already begun.
Now if you can't march or won't be allowed to or geography is playing spoilsport, don't lose heart. Women staff members at feminist clothing brand Wildfang have found a way around that. 'One Million Voices' is a video portal where they are encouraging women to speak out, to share their experiences and stories of courage and lend their voices to the movement.
The idea is simple they say — 'regardless of where you are on January 21, this is a moment that belongs to all women. And all women should have a voice in it. Our voices are proxies for marching shoes in Washington, and our stories are our protest signs.' Hear hear!
January 21 should go down in modern day feminist history as a day that mobilised women across the world. Why the exaggeration, you ask? Well on the same, here in India, women across cities and towns are also holding a march — a march to reclaim public spaces and our streets, to make this a country for women, to ensure that someday no woman has to answer the question #WhyIGoOut.
So get your walking shoes and get ready to loiter. Why? Because it's 2017.
Find out how you can be a part
HERE
.
The 'Knight in Shining Armour' Complex
This week the internet found a new hero. In these heinous times of molestation, Atif Aslam played Lancelot to a 'hapless' girl who was being harassed by a group of men at a concert in Karachi. Apparently when the singer saw the girl being pushed around he stopped singing, 'saved' the girl and 'schooled' the youngsters. This act of 'bravery' and 'kindness' has catapulted him into the chivalry hall of fame.
Now while he was 'rescuing' this girl, Aslam is believed to have told these men (in a bid to shame them, of course), 'your mother and sister could be here!' That is the proverbial 'a woman can be your sister, your mother, your wife, your daughter but never a woman in her own right' argument.
Even if for a moment I ignore the patriarchal entitlement and privilege in that statement and choose to forget the fact that looking at women from the point of view of her association to the men in her life is the only thing that makes her safety a priority and her 'honour' worth 'protecting', we aren't speaking of the girl's ordeal. We aren't talking about how she was harassed, who these men were who thought they could target her, buoyed by their numbers and regardless of the fact there were hundreds of people there — we've only chosen to glorify this one man who deigned to play the role of benevolent rescuer.
It's what always happens when we speak of these incidents — the privileged, male rescuer becomes the point of the story (oh look! He's a man and he didn't rape/assault her. He's different!). This is exactly why the #NotAllMen narrative in the aftermath of the Bengaluru molestation case was the wrong answer to very complex issue of women's safety.
The woman's ordeal became important only because of
who
intervened, not because of her harassment. Had Atif Aslam not been the celebrity he is, would anyone have cared? Like someone said on social media — "She doesn't exist at all, and she will remain non-existent until men in power, like Atif Aslam at the concert, choose to validate her presence."
I'm sure this woman was not the only one who was harassed, groped and targeted that night.
So, what about the other women there? Those women who weren't in Atif Aslam's line of sight? Didn't they deserved to be 'saved' as well?
This comes back to the skewed debate about how men need to be part of the solution — how feminism needs men. Yes, we do. But not as our saviours, thank you very much.
First Published: January 21, 2017, 12:59 PM IST