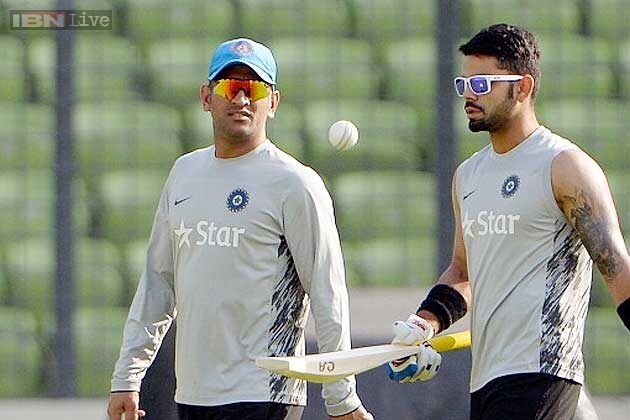 Sunil Narine fish-hooked by WICB. Chris Gayle busy tweeting images of recuperation. Virat Kohli looking forward to home comfort. And Kuldeep Yadav an exciting, unusual option. These and an eye on sorting out their World Cup options will be the talking points for India and West Indies over the next two weeks - from Kochi (Oct 8) to Kolkata (Oct 20).
But the five-match ODI series that has generated little excitement in an otherwise cricket-mad nation faces opposition from unexpected quarters.
Beginning close to start of this cricket series will be the IPL-style Indian Super League (ISL) football tournament that has created a lot more buzz than the arrival of the West Indians. Adding to the footy thrill is the presence of cricketing giants Sachin Tendulkar, Sourav Ganguly and Mahendra Singh Dhoni as owners of their respective ISL franchises.
Though historically, once cricket begins, there's little else Indian sports fans watch, ISL could make the louder noise this time, but that's also to do with India's more or less insipid opponents on the cricket field.
India have beaten the Windies (home and away) five times since 2006-07, and there's nothing different expected this time around with the visitors missing two of their mainstays - Chris Gayle and Sunil Narine.
Gayle has been ruled out for the limited-overs leg of the tour while running against time to get fit for the three-Test series. But mystery spinner Narine's exclusion came under unusual circumstances.
Narine was banned from bowling in the Champions League Twenty20 earlier this month in India after being called twice for suspect bowling action. Consequently, the West Indies Cricket Board withdrew him from the India tour for an "opportunity to have his action assessed".
That ill-timed blow has rendered the West Indies without their best bowler and best batsman against arguably the best ODI team in the world, especially playing at home. The leaves the team's fortunes in the hands of experienced campaigners Darren Sammy, skipper Dwayne Bravo, Darren Bravo , Kieron Pollard, Ravi Rampaul and Kemar Roach.
India are in a problem-free zone, largely, ready to savour home-cooked food camping on familiar backyard tracks.
The first man eyeing advantage of that home comfort will be Virat Kohli. Desperate for runs and ironed out by Sachin Tendulkar, Kohli will hope to return as the run-monger he had become until the tour of England.
Another man to make news ahead of the tour opener has been Kuldeep Yadav who promises to deliver an ilk India haven't had in their arsenal before - chinaman bowling. Just experience of eight domestic T20s and a few for Kolkata Knight Riders, eyebrows have been raised over his surprise exclusion but he has got the backing from the man know to throw raw talent in the line of fire.
"It's a brave move, but he'll do well," former India captain Sourav Ganguly told Cricketnext.
Also in the Indian team is Murali Vijay, who has been drafted in to replace the injured Rohit Sharma. What would be interesting to see is will he or Ajinkya Rahane accompany Shikhar Dhawan at the top.
In the absence of rested R Ashwin, Ravindra Jadeja and Amit Mishra will share the spin-bowling responsibilities. And the fast-bowling duties will be with Mohammad Shami, Bhuvneshwar Kumar and Umesh Yadav.
But there's also rain in the Kochi air, which could make the toss crucial and team winning it opting to chase in case the D/L method is pressed into service.