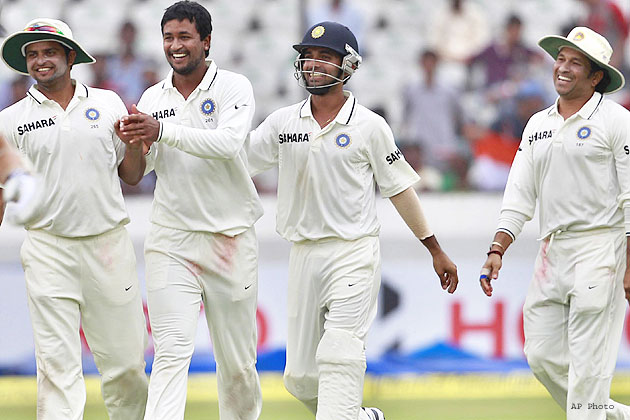 After the disaster of Australia, a Test win by an innings in four days is reason to be positive. But when the opposition is New Zealand, whose batsmen fail to find ways to answer the questions posed by R Ashwin and Pragyan Ojha, such victories must be looked at with perspective. Yes, India crushed New Zealand, but they were never really tested. They literally stood head and shoulders above their counterparts, one of the reasons for their resounding success, but this win isn't a sign of where they stand.
After India were blanked 4-0 in England last year and lost their No. 1 tag, they came home and beat West Indies 2-0. R Ashwin and Pragyan Ojha picked up wickets for fun, Rahul Dravid and VVS Laxman scored centuries and the general mood was perky before India went to Australia. We know how that toured panned out.
In their season opener, India not so much stormed the Rajiv Gandhi International Stadium, as strolled in and out. Cheteshwar Pujara stole the show on day one, Ashwin and Ojha set the tone for a trial by spin on day two, rain only delayed the inevitable on Saturday and today Ashwin again took centre stage. Had it not rained heavily on the second afternoon and third morning, this match could have been over inside three days.
It was again India's day, and as expected spin starred while pace stood in the shadows. Ashwin's six wickets gave him 12 for 85 in the Test and made him the holder of the best match figures by an Indian bowler in Tests against New Zealand, while Ojha was right at the batsmen, always asking questions. India need a match-winning spinner at home and on the basis of Ashwin's four Tests at home – 34 wickets, average 17.32, strike-rate 37.60 – they have someone who they can bank on. He was constantly at the batsmen, attacking the stumps, making life difficult. The reliance on the carom ball was also not so heavy this time. But New Zealand were poor, very poor. And England and Australia won't fold so easily. That is where Ashwin's big test is.
His rich haul – the first time in Tests he has crossed ten for a match – was by no means undeserved, and Ashwin's place in the record books is a fitting reward for all his hard work. He dominated from the time he was given the ball – literally, for he struck with his first ball of the Test – and his consistently probing length was the key to his success, as it was today with those six strikes. His dismissal of Ross Taylor, bowled by a sharp turner when shouldering arms, changed the mood in the New Zealand camp and the wicket of Flynn set in motion a terminal collapse. Though India were never going to really struggle to take wickets against batsmen poor against spin, you could see how much Taylor's wicket meant to Ashwin, who let out a cry as his team-mates rushed towards him. Even MS Dhoni let out a grin.
The other positive from this win was that India's catching was special, with Virat Kohli and Virender Sehwag holding some good catches. This is aspect of this win that Dhoni hoped to take forward. India are indeed brimming with confidence, but sterner challenges lie ahead.
As for Taylor, it must be tough to be in his shoes. Before the series he spoke of how not having a practice match wasn't a big deal because so many of his squad had played in India and knew what to expect. Hollow words in the end, and whatever experience Taylor spoke of didn't make a difference. It wasn't just his poor form that let the team down – he made 2 and 7, out to Ashwin both times – but that of his feeble team-mates.
Eighteen wickets to spin is no joke. The New Zealanders, bar Kane Williamson in the second innings, just didn't show a desire to graft. Hard hands, soft hands, edges into the slip cordon, edges off the pads, balls turning and beating the bat, staying low, bouncing sharply – it was all there. One fifty and two scores in the forties was the best New Zealand could manage. It was one-way traffic. Seven times in the last year they have been bowled out under 200 and the faces in the New Zealand camp were decidedly downcast as they watched the batsmen crumble. It is hard to see this side pick itself up before the Bangalore Test starts on Friday.