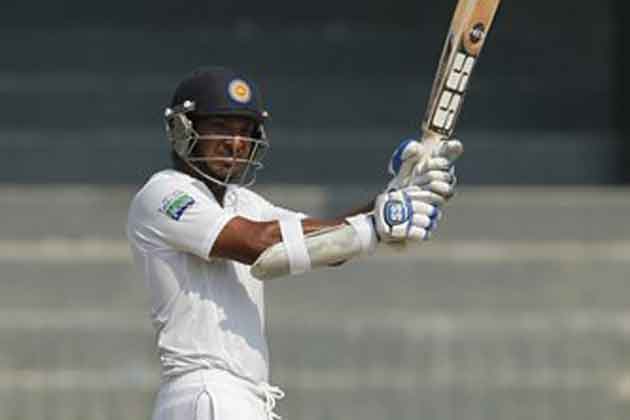 Galle: Sri Lankan batsmen made merry on day 1 lead by Kumar Sangakkara's 142 with Dilshan and Thirimanne scoring fifties as they finished the day on 361 for 3 in the 1st Test against Bangladesh. Sohag Gazi picked up three wickets for the hosts.
Read on for the updates from the match
Sri Lanka 1st innings
End of over 85.3: Sri Lanka 361 for 3: Rain halted further play on day one as Sri Lanka finished on a commanding 361 for 3 with captain Angelo Mathews not out on 25 and Lahiru Thirimanne on 67. All the three wickets to fall was taken by off-spinner Sohag Gazi.
End of over 82: Sri Lanka 336 for 3: After Kumar Sangakkara's fall, Lahiru Thirimanne and Angelo Mathews played cautiously, evidently shielding their wickets with near about 30 minutes of play left on day 1. Thirimanne is batting on 67 and Mathews is unbeaten on 12.
End of over 77: Sri Lanka 315 for 3:
Thirimanne has raised his fifty, his third in Tests and first against Bangladesh. Mathews and Thirimanne are taking the innings forward. Another 13 overs left in the day.
End of over 73: Sri Lanka 305 for 3: Big breakthrough for Bangladesh. Sohag Gazi traps the 'big fish' Sangakkara. He departs after scoring 142 runs. He tried to hit Gazi over cover but it went straight to Jahurul Islam who took a good catch at cover. Captain Angelo Mathews has come down to the middle and joined Thirimanne.
End of over 72: Sri Lanka 299 for 2: Sri Lanka are going strong and Bangladesh bowlers are clueless. He hit his third six of the innings followed by a boundary against Gazi. Meanwhile Sangakkara has become the highest run getter in Test matches against Bangladesh as he surpassed Mahela Jayawardene. He has now 1012 runs against Bangladesh. He is batting on 125 and Thirimanne is on 47. Runs are coming easily and there is absolutely no help from the pitch for the bowlers.
End of over 63: Sri Lanka 261 for 2: Play resumes after tea. Sangakkara and Thirimanne have started scoring again. Thirimanne hit a nice square-cut against Gazi to get the first boundary after tea.
End of over 59: Sri lanka 247 for 2: It is tea on Day 1 as Sri Lanka find themselves in a commanding position. Sangakkara once again the star of the show as he scored a brilliant hundred. Bangladesh are in deep trouble as their bowlers failed to make any impact. They have got only two wickets so far.
End of over 56: Sri Lanka 240 for 2: Sangakkara notches yet another ton as he played a scintillating innings so far. From the very beginning he has played some exquisite shots to all corners of the park. Thirimanne is also going strong as he is batting on 24. Sri Lanka are on their way to a huge total.
End of over 52: Sri Lanka 219 for 2: Sri Lanka are going strong enough and putting this match beyond the reach of Bangladesh. Kumar Sangakkara is leading the way as he is inching closer to his hundred. Bangladesh bowlers have absolutely no clue of anything. Sangakkara is batting on 87.
End of over 43: Sri Lanka 192 for 2: Kumar sangakkara looks in sublime form as he moves on to 75. He has already hit 10 boundaries. Thirimanne is batting on four. Sri Lanka have taken the full control of the match. Bangladesh need few quick wickets to get back into the game.
End of over 38: Sri Lanka 181 for 2: Finally a wicket for Bangladesh. Sohag Gazi, who is the only to create some doubts in the minds of the batsmen trapped Karunaratne in front of the wicket. Big boost for Bangladesh but still lot of work to be done. Lahiru Thirimanne has joined Sangakkara in the middle.
End of over 33: Sri Lanka 156 for 1: Frustration continues for Bangladesh as they are still unable to pick up any more wickets. Sangakkara moves to 57 with the help of seven boundaries and Karunaratne moves to 30. Bangladesh captain Mushfiqur Rahim is shuffling all his bowlers to break this partnership but both the batsmen playing with ease.
End of over 29: Sri Lanka 145 for 1: Sri Lanka going strong after lunch. Kumar Sangakkara has notched up yet another half century with a fantastic square-cut. Both the batsmen looking very composed. Meanwhile, Karunaratne gave an opportunity as he tried to defend a ball of Sohag Gazi but it went up in the air. Fortunately for him, the forward short-leg fielder could not reach the ball.
End of over 26: Sri Lanka 132 for 1 at lunch: No more success to Bangladesh after Dilshan's wicket. Sri Lanka go to lunch after a session which belonged to them completely. It was a tough session for Bangladesh as they got just one wicket of Tillakaratne Dilshan. At the moment, Sangakkara is batting on 44 and Karunaratne, who came back after being retired hurt is on 20.
End of over 24: Sri Lanka 120 for 1: Finally a wicket for Bangladesh as Sohag Gazi picks up the key wicket of Dilshan. Dilshan tried to go over mid-off but caught by Mominul Haque. Karunaratne comes back and joins sangakkara in the middle.
End of over 22: Sri Lanka 113 for 0: A fantastic straight drive brings yet another half-century for Dilshan. This is his 22nd half-century and 3rd against Bangladesh. Both the batsmen are playing strokes to all parts of the ground. Sangakkara played a glorious cover drive to notch up SrI Lanka's 100.
End of over 15: Sri Lanka 80 for 0: There is absolutely no problem for the Sri Lankan batsmen. Neither the pitch is doing anything nor the bowlers are making any impact. Bangladesh need to do something very quickly or else it will go beyond their reach. Dilshan is batting on 37 and Sangakkara is on 17.
End of over 11: Sri Lanka 60 for 0: Sri lanka are going in a brisk pace as they are scoring at a rate of 5.5 in every over. Meanwhile, karunaratne is retired hurt as Shahadat Hossain's ball hit his elbow. Kumar Sangakkara has joined Dilshan in the middle and he has already hit couple of boundaries. His last four against Sohag Gazi was an absolute stunner through square of the wicket. Dilshan is batting on 26 off 31 balls and Sangakkara is on 11 off 11 balls.
End of over 7: Sri Lanka 36 for 0: In last four overs, Sri Lankan opening pair has added 26 runs which very impressive. Both the openers are looking good, particularly Dilshan as he already hit four boundaries. Dilshan's second boundary through extra cover showed that he is in good touch. Bowlers are finding it very difficult.
End of over 3: Sri Lanka 10 for 0: After electing to bat first, Sri Lankan openers Tillakaratne Dilshan and Dimuth Karunaratne have started well. Dilshan is looking very solid as usual. Shahadat Hossain and Abul Hasan have started the proceedings for Bangladesh with the new ball.
Sri Lanka skipper Angelo Matthews has won the toss and elected to bat in the first Test against Bangladesh at Galle. While Kithuruwan Vithanage makes his Test debut for Sri Lanka, Bangladesh have surprisingly left out their opener Tamim Iqbal.
Bangladesh (Playing XI): Anamul Haque, Jahurul Islam, Mohammad Ashraful, Mahmudullah, Mushfiqur Rahim(w/c), Nasir Hossain, Mominul Haque, Abul Hasan, Sohag Gazi, Elias Sunny, Shahadat Hossain
Sri Lanka (Playing XI): Tillakaratne Dilshan, Dimuth Karunaratne, Kumar Sangakkara, Lahiru Thirimanne, Kithuruwan Vithanage, Angelo Mathews(c), Dinesh Chandimal(w), Nuwan Kulasekara, Rangana Herath, Shaminda Eranga, Ajantha Mendis
Mushfiqur: "We need to put pressure on them by picking up early wickets. The wicket might assist seamers early on. unfortunately, Tamim misses out. He needs some time to recover."
Mathews: "It looks like a typical Galle wicket. We would like to put the runs on the board first. We're missing Mahela and Thilan but Kithruwan will be making his debut."