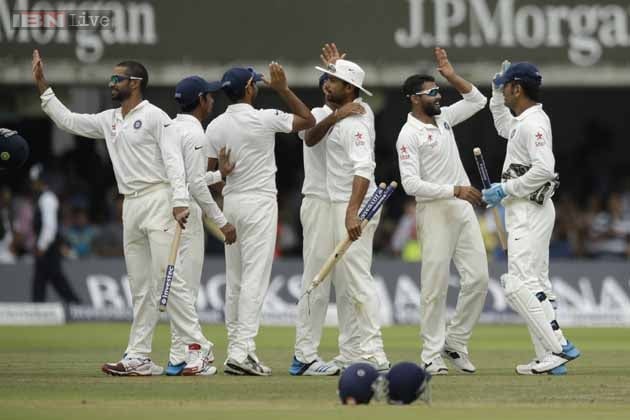 Winning the second Test of the ongoing series in England, Indian cricket's only second triumph at Lord's, has brought back memories of India's first Test win at the Home of Cricket in 1986 when the visitors beat the Englishmen by five wickets.
Ishant Sharma's spell of 7 for 74 on the final day inspired India's 95-run win on Sunday, and it was another speedster Chetan Sharma's five-for that laid the foundation of India's five-wicket win 28 years ago. And the former India pacer feels it's the trust skipper MS Dhoni showed in his young brigade that stood out in India's memorable victory.
Going down the memory lane, Chetan Sharma talked to Cricketnext, recalling the win in 1986 and hailing the one India achieved 28 years later.
On India's victory
It was an amazing win. Winning at Lord's in itself is a big thing. We all are proud of the Indian team. The youngsters have proved their mettle against England. Finally, we ended the 28-year draught at Lord's. Feeling proud. Hope we carry on the momentum.
How is it different from 1986 victory?
There is a lot of difference between the 1986 victory and the current one. We had legends in 1986. (Sunil) Gavaskar, (Roger) Binny, Jimmy (Mohinder Amarnath, Colonel (Dilip Vengsarkar) and Kapil Dev were there. They had already played a lot of cricket and were aware of the English conditions. The victory was big. But we have seen new faces and youngsters who did it again for India (in 2014). We have seen a young team India this time. Some of the players were playing for the first time in England. This was just superb.
On Dhoni's captaincy
Dhoni is an amazing captain. The best part is that he trusted the youngsters. He selected a superb combination of batsmen and bowlers in the playing eleven. Hats off to him. He has done a commendable job. He has given youngsters the chance to prove and they did it in a style. They didn't let their captain and country down. We have won this match and now we should focus on other three Tests and win the series.
On Ishant's performance
Honestly, he has answered his critics. A performance like this was around the corner for Ishant. He did it at last, especially when it mattered the most. He is the senior-most bowler in the side and should guide others too. He should be an ispiration for the young faces who are coming into the Indian side. Not only Ishant, Bhuvneshwar (Kumar) was also outstanding, and (Mohammad) Shami too.
How was the atmosphere 28 years back after the victory?
We were sure of the win. I, along with Kapil, Vengarkar and Gavaskar, was watching the India innings from the Lord's balcony. We all were too excited. We were inching closer to the target. Ravi Shastri scored the winning runs and jumped with joy. We stood and applauded in an instant. We all rushed to the ground and were greeted by all the Indian fans. Kapil opened a bottle of champagne and poured on all of us. I can't forget that moment. It is and will be in my heart forever. Thanks to Dhoni and his boys for making us proud once again.