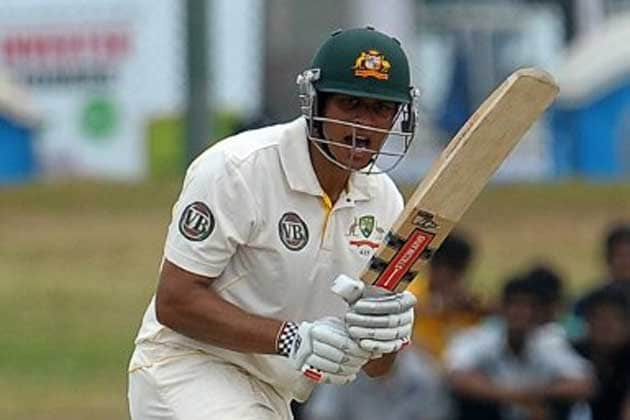 Johannesburg: Pakistan-born batsman Usman Khawaja is set to be called into Australia's team for the second Test against South Africa, with the tourists hoping to recover from a shattering defeat in the two-match series opener and save a proud recent record here.
Australia haven't lost a Test series in South Africa since 1970 but is reeling from a stunning collapse in an eight-wicket loss in Cape Town last week.
The series has been overshadowed by the suicide of cricket writer Peter Roebuck at his hotel in Cape Town on Saturday, ensuring a somber atmosphere rather than the traditionally impassioned rivalry that helped produce one of the craziest days in Test cricket in the first match.
While Roebuck's death has now put the cricket into context, the Australians have to lift themselves from their confidence-sapping innings of 47 all out for the match at the Wanderers starting on Thursday, where Khawaja is expected to replace the injured Shaun Marsh.
"Every Test match is an opportunity. I would love to take it with both hands and score runs, but I can't promise that," Khawaja said on Tuesday. "I just have to go out there and make sure I control the controllables. I know it's a cliche but if you start worrying about yourself, things usually don't go well.
"I'm not going to put too much pressure on me, but it is a massive test for the team."
Conversely, a draw will give South Africa its first home series win over Australia since being re-admitted to international cricket following the end of apartheid.
Australia has won the last four series here, a dominance over the South Africans in their own backyard that is now under threat.
"To be in a coaching position with this team and to be in the forefront of something special, to beat Australia on home soil, would be the pinnacle," new South Africa bowling coach and former quick Allan Donald said. "Gary's (Kirsten, South Africa coach) always mentioned small steps and we're one Test match away, hopefully, from something very special."
Australia's game-changing — and possibly series-defining — slump at Newlands capped a sensational turnaround in the first Test, where the Aussies went from a position of complete control to the brink of defeat in the space of an afternoon session.
The second day in Cape Town has been described as "freakish" and "bizarre" by the opposing camps, and it's turned the heat up on Australia again after it had looked to have moved on from an Ashes defeat by England and World Cup failure with a recent series win in Sri Lanka.
In just his fourth Test, the 24-year-old Khawaja — the first Muslim to play for Australia after debuting in that Ashes series — is likely to move into the heart of the top order at the Wanderers.
It's a top order that was ripped out in their last innings for the lowest score in more than 100 years of Australian test cricket.
"It was a two-hour session where we obviously didn't do well but the spirits in the camp have been great after it," Khawaja said. "We had a bit of a debrief after it and all the boys got everything they wanted off their chest, and that's something 'Pup' (captain Michael Clarke) brings to the fore.
"He's always about open communication and the guys know that, the team we have right now, we could have easily won that Test match if we batted better for two hours. So, we're just looking forward to this Test match. It's a new t
Test match and a lot can happen in five days' time."
Australia's soul-searching after Newlands appears to be over, with Khawaja saying the tourists were instead "taking a lot" from the rest of the match — bowling South Africa out for 96 for the hosts to trail by 188 runs before the second-innings debacle.
South Africa's debrief has revolved around the success of its pace combination of Dale Steyn, Morne Morkel and newcomer Vernon Philander, who took eight wickets in his first Test and a five-for to help skittle Australia in their second innings.
The trio appear to hold the key on a Wanderers pitch which is traditionally fast and bouncy but can also turn into a good, predictable strip for the batters.
"Of course you're not going to expect, no one expects, a team to be 21-9 (as Australia were in Cape Town). That is one of the freakiest days you've ever seen but, look, I think we're getting there," Donald said. "We've got a group of guys here that are really leading from the front and showing the way at the moment."
Steyn, the No. 1-ranked Test bowler, needs six wickets at the Wanderers to match Australia great Dennis Lillee's record of reaching 250 wickets in 48 Tests — and spoil another long-standing Australian mark.
Donald is second on the list, taking his 250th Test wicket in his 50th match.