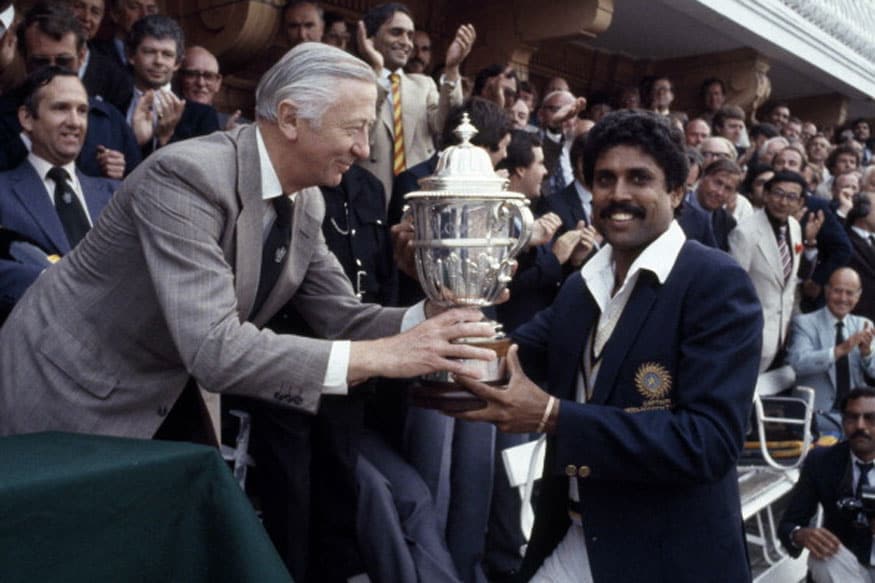 In more ways than one, the 1983 World Cup marked the coming of age of Midnight's Children. Half a century after India played their first Test, and just over a decade after the remarkable summer of 1971, which saw series wins over West Indies and England, Indian cricket was finally centre stage. It was a heady feeling, especially since Lord's had also seen the nadir, the grisly Summer of 42 (all out) in 1974.
Prior to independence, each of India's ten Tests had come against England. They didn't win any, but impressed plenty of people, especially on the first tour of England in 1932. "The bowling of the side was, all things considered, capital," wrote the Wisden Cricketers' Almanack. "Mahomed Nissar, tall and very big for an Indian, was the fast bowler of the team. He had a nice, easy action and before the shine had gone off the ball, he made it swing and at times break back alarmingly.
"In point of actual skill, however, Amar Singh was probably the best bowler of the side. Exception might be taken to his run, which was far from smooth in its rhythm, but he was able to do such a lot with the ball that he not only looked, but actually proved to be, very difficult to play. He could make the ball swerve either way and at times cause it to dip, while his pace off the pitch was often phenomenal. Better bowling than his in the second innings of the Test match has not been seen for a long time and more than one famous old cricketer said afterwards that Amar Singh was the best bowler seen in England since the war."
After such high praise, what followed after the second World War was distinctly underwhelming. Partition was a cataclysmic event, and cricket felt its impact the most when it came to the bowling resources. In the first Test that independent India played, against Don Bradman's mighty Australians, the new ball was taken by Ranga Sohoni and Lala Amarnath. Sohoni took two wickets in four Tests, while Amarnath was in his late 30s. The spin back-up for the great Vinoo Mankad came from Chandu Sarwate, whose three Test wickets cost 374 runs. This time, there were no paeans from the Almanack, or anyone else.
Against an attack that saw Ernie Toshack (11 for 31) eclipse the great Ray Lindwall and Keith Miller, India collapsed to 58 and 98 to lose by an innings and plenty. It was a theme that would repeat itself periodically over the next few decades. Fiery Fred Trueman reduced India to 0 for 4 at Headingley in 1952, and tours of the Caribbean usually meant a brutal working over at the hands of their fast bowlers, and leather hunts against batsmen of the quality of the 3Ws – Weekes, Worrell and Walcott – Sir Garfield Sobers and Rohan Kanhai.
Even the performances to cherish, like 'Mankad's Test' at Lord's in 1952, ML Jaisimha's defiance within hours of landing in Australia in 1968, and Mansur Ali Khan Pataudi batting with a pulled hamstring at the MCG on the same tour, never heralded Indian victories. The aim, in most overseas Tests, was damage limitation and saving face.
It didn't help that there was no one to carry on the Amar Singh-Nissar legacy. India's spinners often performed heroically – with Ghulam Ahmed and Subhash Gupte paving the way for the legendary spin quartet – but they seldom had the pace bowlers capable of landing the knockout punches. It wasn't until a young Kapil Dev went to Pakistan in 1978 and gave some of their most illustrious batsmen a serious hurry up that India could fight flame throwers with some fire of their own.
Between independence and the World Cup win that changed India's sporting landscape, India played exactly 200 Tests. The win-loss record at home (25-25) was respectable, but the struggles away (10 wins and 46 losses in 90 Tests) meant that an Indian tour was an afterthought for most cricket boards.
Bhagwat Chandrasekhar and his quicker one, christened Mill Reef after that year's Epsom Derby winner, gave India an English summer to cherish, against a team that was the best in the world at the time, but Indian cricket simply didn't have the strength and depth to build on those gains.
It wasn't all doom and gloom. The epic run chase at Port of Spain in 1976 played a big part in Clive Lloyd and West Indies switching to a pure pace-and-intimidation strategy, while an injured Kapil bowled India to a remarkable win at the MCG half a decade later. At The Oval in 1979, Gavaskar, who had announced himself with 774 runs in the Caribbean eight years earlier, stroked a glorious 221 – John Arlott would later include it in his Ten Greatest Innings compilation – as India finished on 429 for 8 in pursuit of an improbable 437.
At home, the high watermark was a 2-3 defeat to West Indies in 1974-75. The spinners were in their pomp, and Gundappa Viswanath played one of the finest innings (97) on a lively Chepauk pitch against Andy Roberts and friends.
And while fortunes waxed and waned, it was hard to be too critical of players, amateurs on a pittance who had to combine their commitment to the game with day jobs and putting food on the table for their families. There were no luxury hotels or multi-crore contracts. In 1954-55, when the team went to Pakistan, they stayed in a railway carriage in a siding in Bahawalpur. If matches finished early, they would forfeit the daily allowance of 50 Rupees. Players of that era speak of catches being put down just so that the game could be dragged into a fifth day.
This being India, there was no shortage of chicanery either. The frostiness between Lala Amarnath and Anthony D'Mello – who now has a trophy named after him – dominated the early years after independence, while Pataudi was replaced as captain in dubious circumstances in the late 1960s. In the previous decade, India had as many as three captains for a series against West Indies, while Gupte's fine career was ended by a complaint about 'immoral behaviour'.
That Indian cricket survived each of those upheavals and went on to thrive was testament to both the players' resilience and the passion for the game across the country. The system may have been deeply flawed, but stalwarts still emerged. And when Mohinder Amarnath – whose father had suffered so often at the hands of officialdom, and who would himself go on to call the selectors 'a bunch of jokers' – trapped Michael Holding leg before in the evening shadows at Lord's on June 25, 1983, it marked both the end of an era and the advent of a brave new world.
Indian cricket would never be the same again.