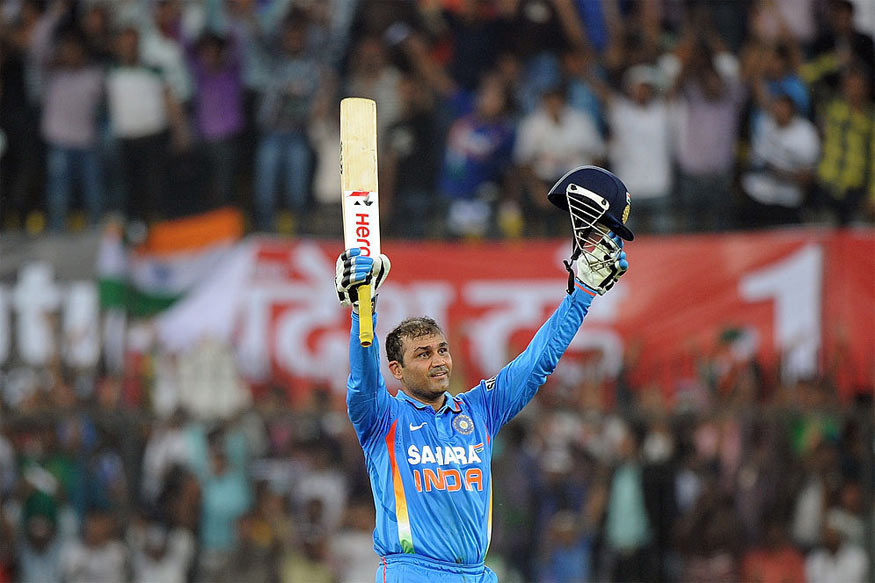 It took more than 39 years for the first ever double century to be recorded in a One Day International, and that moment arrived courtesy of Sachin Tendulkar, who scored a fabulous unbeaten 200 against South Africa in 2010 at Gwalior. And it took just over a year for his record to be toppled, and it was done by none another than one of his opening partners during the span of his career, Virender Sehwag.
On 8th December 2011, Sehwag became the second batsman in the history of the format to score a double century in ODI, when he smashed 219 against West Indies during the fourth game of the five-match series in Indore.
The Delhi batsman reached the landmark in 149 balls and the 200 came as early as the 44th over for the 'Nawab of Najafgarh'. Sehwag, as he had done throughout his career, took plenty of risks and survived two dropped catches as he helped India reach their highest ODI total - 418.
He was eventually caught in the deep in the 47th over off Kieron Pollard's bowling and didn't come out to field during West Indies' run-chase due to fatigue despite being the captain of the team.
Other contributions around Sehwag were that of Gautam Gambhir and Suresh Raina who scored 67 and 55 respectively.
West Indies never really threatened in the chase and were dismissed for 165 in the final over, with the hosts comfortably winning by 153 runs.
Sehwag's innings stood as the highest ODI score for three years, until it was overtaken by Rohit Sharma in 2014 with an incredible 264 at Eden Gardens against Sri Lanka.
The match was also the ODI debut for Rahul Sharma, who took 3 wickets and ended with figures of three for 43.