When a legend like Brian Lara puts someone in the league of some all-time greats, it's time to listen. And when he says it in a matter-of-fact manner, terming it a non-question, it's most definitely true.

That's where Rohit Sharma finds himself now – on the way to becoming an all-time great limited-overs cricketer. He showed that yet again in the second T20I against Windies in Lucknow, smashing a record fourth ton in the format at the international stage. Nobody has more T20I hundreds. Nobody has even two ODI double-tons, while Rohit has three. Every time Rohit crosses a century, there's excitement around the possibility of a fourth.

Such is the reputation Rohit has developed over the years that he is associated with not just centuries but with huge scores. Seven of those are scores of 150 or more.

Only Sourav Ganguly, Virat Kohli and Sachin Tendulkar among Indians have more centuries in ODIs than Rohit's 21. He's already in top three among the most successful openers from India. And he's only 31.

Interestingly, he wasn't even a natural opener. He was pushed into the role by MS Dhoni in 2013. Until then, he was a middle-order batsman gaining reputation for throwing away his 'talent'. He was 'too casual', and even 'lazy'. Now, he's among the most complete batsmen in white-ball cricket.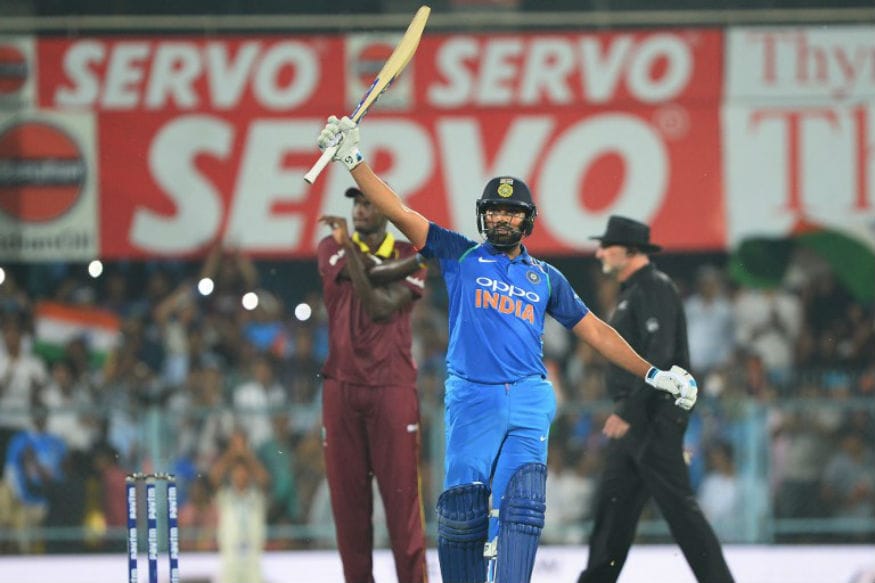 As an opener, Rohit averages close to 60 in ODIs. As many as 19 of his 21 centuries have come while opening. These are in stark contrast to his earlier days; Rohit's average as a non-opener is a mere 31.72.

Rohit has adapted to the role like not many have done in the past. Opening has given him the time he needs to build an innings – something he has become an expert in. Start steadily even if slowly, build partnerships through the middle-overs, and explode in the end. That's how a typical Rohit innings is.

It helps that Rohit has two excellent partners at the top. He has shared more than 4000 runs each with Shikhar Dhawan and Kohli, averaging 45 and 65 respectively. In each of these partnerships, Rohit can bring out any facet of batting depending on the situation. He can be the anchor if his partner is striking better. He can strike much better than anyone else in the side if and when needed.

The latter is the reason why Rohit has the knack of converting his centuries into bigger knocks. It's ironic that the quickest scorer and biggest hitter that India are looking for in death overs is actually their opener. There's no batsman more dangerous than Rohit once he crosses the 40-over mark. Since he turned opener, his strike-rate in the last 10 overs of an innings is close to 210. It's more than AB de Villiers', it's more than MS Dhoni's.

Rohit is able to do that so easily because he hits sixes at will. Only Dhoni, among Indians, has hit more sixes in ODI cricket. Dhoni has taken 11574 balls for 218 sixes. Rohit has 202 sixes in 8406 balls. He's sixth in the list of top six-hitters in the game, below Shahid Afridi, Chris Gayle, Sanath Jayasuriya, Dhoni and de Villiers. Among these, only Gayle and Afridi hit sixes more frequently than Rohit. It's this remarkable ability to clear the ground that helps Rohit in T20 cricket too.

Top six-hitters in ODIs





The numbers are similar in T20Is. Only Chris Gayle and Martin Guptill have hit more sixes than Rohit has. Only Guptill is above Rohit in the run-scorers list.

What's incredible is that Rohit has managed to get the big hits while not compromising on consistency. It was a term that eluded him in his early years. He was talented, but never consistent. The shift in 2013 changed that, and how.

The maximum period Rohit has gone without a half-century since turning opener is seven innings. This includes terrific runs all over the world irrespective of conditions. Unlike in Test cricket, Rohit has no problems with the white ball; 12 of his 21 tons have come away from home. Four of those in Australia, two in England, and one in South Africa. A lot of that is down to his ability to play late, and of his shots off the back-foot. Everyone cuts well, but Rohit is a rare Indian batsman who can pull – along the ground and over the boundary.

Rohit had a slight blip earlier this year when he went four innings without a 50 in South Africa, but slammed a ton in the fifth game. He has 1030 runs from 19 ODIs, and 556 runs from 15 T20Is this year. He has done this while leading the team to series victories in the Nidahas Trophy T20s, Asia Cup ODIs and now the Windies T20Is.

He is slightly overshadowed – in batting and captaincy – by the record-breaking machine called Kohli. He'd probably be celebrated even more if all the attention wasn't – not without reason – on Kohli. Despite that, Rohit is a white-ball monster on his own. There's still a lot to be done with the up and down red-ball career though, starting with the Australia tour.

First Published: November 7, 2018, 3:33 PM IST