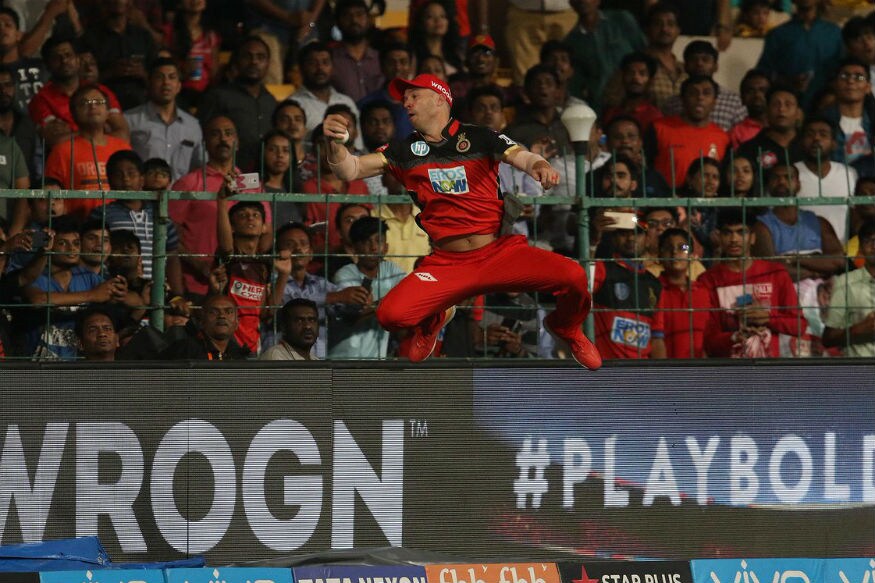 One of the best fielding sides in world cricket, through the years, has been South Africa and keeping the flag flying high above the rest on Thursday evening was AB de Villiers with a majestic catch at the mid-wicket boundary against the Sunrisers Hyderabad in the on-going season of the IPL.

AB who took a sublime one-handed catch to dismiss Alex Hales at the end of the 8th over was the subject of many a compliment, with his RCB captain Virat Kohli even calling him a 'Spiderman'.

The catch has been spoken about in great detail among cricket fans and within the cricketing fraternity since. The South African genius though continued to be his modest self when he wrote in the Times of India saying he just wanted to try and create a chance.

"When Alex Hales struck the ball high and hard over mid-wicket during our match against SRH in Bengaluru, my first thought was 'try and create a chance'. I needed to run hard, to make metres just to get a hand on the ball, before I could even think of taking a catch. So I picked my line and ran as hard as possible, keeping my eyes fixed on the ball, but it was soaring high, up high into the night sky," the 34-year old wrote in his column.


Doing a quick Friday night poll for tonight's @9NewsMelb;
Question; is this catch from Ab De Villiers the best catch you've seen.
Big call... what do you say? pic.twitter.com/HQcJFWJisC

— tony jones (@TJch9) May 18, 2018


AB de Villiers, who was named man of the match spoke after the match and showed off his modest self when describing the moment soon after it happened.

"I made it look better than it was," the 34-year-old said after being adjudged man-of-the-match.

"I got in a bad position. The ball had a little bit curve on it. The minute I took the jump, I realised it was a little bit outside of my body... Luckily it stuck."

Mr 360 degrees as AB is famously known for his unique style of batting, went on to add that he realised that he had jump if he wanted to take the catch due to the trajectory and power of the shot. "Something else was needed. A jump was needed, so I slowed down a little, creating space to use my arms to propel myself as far into the air as possible… so I jumped, and reached up and backwards and, somehow, the ball stuck in my outstretched right hand," he said.

AB further added that the he almost dropped the catch and tried to slow down the ball by bringing it close to his stomach. "As I came down, the ball slipped from my fingers and I only just managed to push it towards my stomach… and then to hold what must rate as one of the most satisfying catches of my career."

RCB eventually went onto beat the Sunrisers Hyderabad in a thrilling encounter to move upto fifth on the IPL table and stay in contention for the play-offs.


First Published: May 19, 2018, 11:46 AM IST