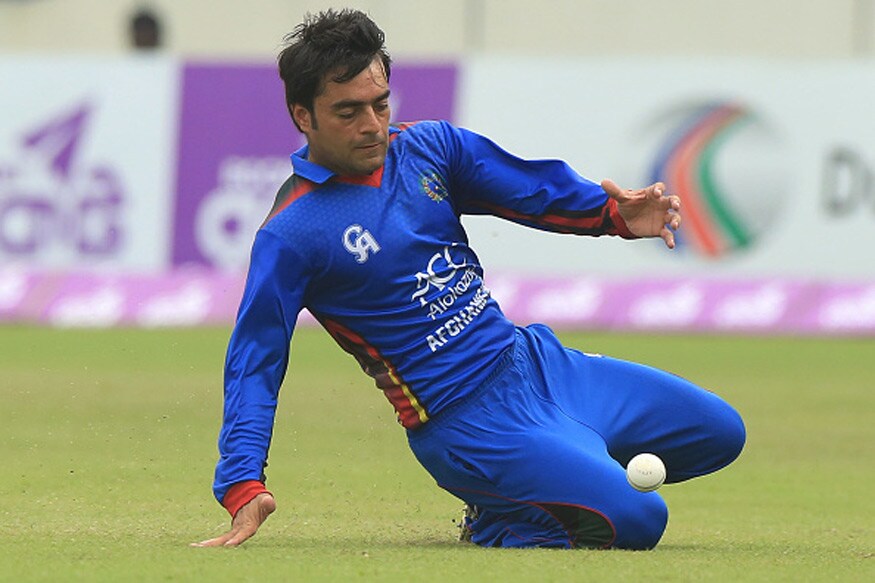 PREVIEW: Afghanistan will look to clinch the five-match series in Sharjah when they face Zimbabwe in the fourth One-Day International. After the honours were shared in the first two matches, with each side registering a 154-run win over the other, Afghanistan defeated Zimbabwe by six wickets in the third game to take a 2-1 lead in the series. Rashid Khan's five-wicket haul helped bowl Zimbabwe out for 154, a target that Afghanistan chased with 135 balls to spare.

Rahmat Shah and Nasir Jamal hit half-centuries in the previous game and Shah, in particular, looked impressive, building on the century that he had scored in the first game of the series. In addition to Rashid, the 16-year-old Mujeeb Ur Rahman also picked up three wickets while the experienced Mohammad Nabi chipped in with a wicket as well. All in all, Afghanistan have both their batsmen and bowlers in form and look to be in good nick to push for a series win.

Rahmat Shah is the top run-scorer for Afghanistan in the series Rahmat Shah is the top run-scorer for Afghanistan in the series
Zimbabwe, meanwhile, will need to rebuild after a tough loss. After winning the toss and batting, Zimbabwe lost their last seven wickets for just 37 runs – they were 117/3 at one stage before getting bowled out for 154. No batsman reached fifty, and five failed to reach double figures.

But not all is gloomy for the visitors. Brendan Taylor, the wicketkeeper-batsman, had scored a century in the second match of the series to help Zimbabwe scale 333 runs on the board. He was well-supported by Sikandar Raza's 92. Hamilton Masakadza and Solomon Mire have provided a few good starts in the series and a lot of Zimbabwe's hopes will depend on them.
Commentary (Afghanistan innings)
21.1 R Burl to Ihsanullah, FOUR. 135/0
20.6 G Cremer to M Shahzad, No run. 131/0
20.5 G Cremer to M Shahzad, No run. 131/0
20.4 G Cremer to M Shahzad, No run. 131/0
20.3 G Cremer to M Shahzad, No run. 131/0
20.2 G Cremer to M Shahzad, No run. 131/0
20.1 G Cremer to M Shahzad, No run. 131/0
19.6 R Burl to Ihsanullah, SIX. 131/0
19.5 R Burl to Ihsanullah, No run. 125/0
19.4 R Burl to M Shahzad, 1 run. 125/0
19.3 R Burl to M Shahzad, No run. 124/0
19.2 R Burl to M Shahzad, FOUR. 124/0
19.1 R Burl to M Shahzad, No run. 120/0
18.6 G Cremer to Ihsanullah, 2 runs. 120/0
18.5 G Cremer to M Shahzad, 1 run. 118/0
18.4 G Cremer to M Shahzad, No run. 117/0
18.3 G Cremer to M Shahzad, No run. 117/0
18.2 G Cremer to M Shahzad, No run. 117/0
18.1 G Cremer to M Shahzad, No run. 117/0
17.6 R Burl to Ihsanullah, FOUR. 117/0
17.5 R Burl to Ihsanullah, No run. 113/0
17.4 R Burl to Ihsanullah, No run. 113/0
17.3 R Burl to M Shahzad, 1 run. 113/0
17.2 R Burl to M Shahzad, No run. 112/0
17.1 R Burl to M Shahzad, No run. 112/0
16.6 G Cremer to Ihsanullah, FOUR. 112/0
16.5 G Cremer to Ihsanullah, No run. 108/0
16.4 G Cremer to Ihsanullah, SIX. 108/0
16.3 G Cremer to Ihsanullah, No run. 102/0
16.2 G Cremer to Ihsanullah, No run. 102/0
16.1 G Cremer to Ihsanullah, No run. 102/0
15.6 B Muzarabani to M Shahzad, FOUR. 102/0
15.5 B Muzarabani to Ihsanullah, 1 run. 98/0
15.4 B Muzarabani to M Shahzad, 1 run. 97/0
15.4 B Muzarabani to M Shahzad, Wide. 96/0
15.3 B Muzarabani to Ihsanullah, Leg bye. 95/0
15.2 B Muzarabani to M Shahzad, 1 run. 94/0
15.1 B Muzarabani to M Shahzad, No run. 93/0
14.6 G Cremer to Ihsanullah, FOUR. 93/0
14.5 G Cremer to Ihsanullah, No run. 89/0
14.4 G Cremer to M Shahzad, 1 run. 89/0
14.3 G Cremer to M Shahzad, SIX. 88/0
14.2 G Cremer to M Shahzad, No run. 82/0
14.1 G Cremer to Ihsanullah, 1 run. 82/0
13.6 B Muzarabani to M Shahzad, No run. 81/0
13.5 B Muzarabani to M Shahzad, No run. 81/0
13.4 B Muzarabani to M Shahzad, No run. 81/0
13.3 B Muzarabani to M Shahzad, FOUR. 81/0
13.2 B Muzarabani to Ihsanullah, 1 run. 77/0
13.1 B Muzarabani to Ihsanullah, No run. 76/0
12.6 G Cremer to M Shahzad, No run. 76/0
12.5 G Cremer to M Shahzad, No run. 76/0
12.4 G Cremer to M Shahzad, No run. 76/0
12.3 G Cremer to M Shahzad, No run. 76/0
12.2 G Cremer to Ihsanullah, 1 run. 76/0
12.1 G Cremer to Ihsanullah, No run. 75/0
11.6 B Muzarabani to M Shahzad, No run. 75/0
11.5 B Muzarabani to M Shahzad, 2 runs. 75/0
11.5 B Muzarabani to M Shahzad, Wide. 73/0
11.5 B Muzarabani to M Shahzad, Wide. 72/0
11.4 B Muzarabani to Ihsanullah, 1 run. 71/0
11.3 B Muzarabani to M Shahzad, 1 run. 70/0
11.2 B Muzarabani to M Shahzad, No run. 69/0
11.1 B Muzarabani to M Shahzad, FOUR. 69/0
10.6 G Cremer to Ihsanullah, 2 runs. 65/0
10.5 G Cremer to M Shahzad, 1 run. 63/0
10.4 G Cremer to M Shahzad, SIX. 62/0
10.3 G Cremer to M Shahzad, No run. 56/0
10.2 G Cremer to Ihsanullah, 1 run. 56/0
10.1 G Cremer to Ihsanullah, No run. 55/0
9.6 B Muzarabani to Ihsanullah, 1 run. 55/0
9.5 B Muzarabani to Ihsanullah, No run. 54/0
9.4 B Muzarabani to Ihsanullah, No run. 54/0
9.3 B Muzarabani to Ihsanullah, No run. 54/0
9.2 B Muzarabani to M Shahzad, 1 run. 54/0
9.1 B Muzarabani to M Shahzad, No run. 53/0
8.6 G Cremer to Ihsanullah, No run. 53/0
8.5 G Cremer to Ihsanullah, No run. 53/0
8.4 G Cremer to Ihsanullah, No run. 53/0
8.3 G Cremer to Ihsanullah, No run. 53/0
8.2 G Cremer to M Shahzad, 1 run. 53/0
8.1 G Cremer to M Shahzad, No run. 52/0
7.6 T Chatara to Ihsanullah, No run. 52/0
7.5 T Chatara to Ihsanullah, FOUR. 52/0
7.4 T Chatara to M Shahzad, 1 run. 48/0
7.3 T Chatara to M Shahzad, No run. 47/0
7.2 T Chatara to Ihsanullah, 1 run. 47/0
7.1 T Chatara to Ihsanullah, No run. 46/0
6.6 G Cremer to M Shahzad, No run. 46/0
6.5 G Cremer to M Shahzad, No run. 46/0
6.5 G Cremer to M Shahzad, Wide. 46/0
6.4 G Cremer to M Shahzad, No run. 45/0
6.3 G Cremer to M Shahzad, No run. 45/0
6.2 G Cremer to M Shahzad, No run. 45/0
6.1 G Cremer to M Shahzad, No run. 45/0
5.6 T Chatara to Ihsanullah, No run. 45/0
5.5 T Chatara to M Shahzad, 1 run. 45/0
5.4 T Chatara to M Shahzad, FOUR. 44/0
5.3 T Chatara to Ihsanullah, 1 run. 40/0
5.2 T Chatara to Ihsanullah, No run. 39/0
5.1 T Chatara to M Shahzad, 1 run. 39/0
4.6 K Jarvis to Ihsanullah, No run. 38/0
4.5 K Jarvis to Ihsanullah, No run. 38/0
4.4 K Jarvis to M Shahzad, Leg bye. 38/0
4.3 K Jarvis to M Shahzad, FOUR. 37/0
4.3 K Jarvis to M Shahzad, Wide. 33/0
4.2 K Jarvis to M Shahzad, No run. 32/0
4.1 K Jarvis to Ihsanullah, 1 run. 32/0
3.6 T Chatara to Ihsanullah, 1 run. 31/0
3.5 T Chatara to Ihsanullah, FOUR. 30/0
3.4 T Chatara to Ihsanullah, No run. 26/0
3.3 T Chatara to Ihsanullah, No run. 26/0
3.2 T Chatara to Ihsanullah, No run. 26/0
3.1 T Chatara to Ihsanullah, No run. 26/0
2.6 K Jarvis to M Shahzad, No run. 26/0
2.5 K Jarvis to M Shahzad, FOUR. 26/0
2.5 K Jarvis to M Shahzad, Wide. 22/0
2.4 K Jarvis to M Shahzad, No run. 21/0
2.3 K Jarvis to M Shahzad, FOUR. 21/0
2.2 K Jarvis to M Shahzad, No run. 17/0
2.2 K Jarvis to M Shahzad, Wide. 17/0
2.1 K Jarvis to M Shahzad, SIX. 16/0
1.6 T Chatara to Ihsanullah, No run. 10/0
1.5 T Chatara to M Shahzad, 1 run. 10/0
1.4 T Chatara to M Shahzad, FOUR. 9/0
1.3 T Chatara to M Shahzad, FOUR. 5/0
1.2 T Chatara to M Shahzad, No run. 1/0
1.1 T Chatara to M Shahzad, No run. 1/0
0.6 K Jarvis to Ihsanullah, No run. 1/0
0.5 K Jarvis to Ihsanullah, No run. 1/0
0.4 K Jarvis to M Shahzad, 1 run. 1/0
0.3 K Jarvis to M Shahzad, No run. 0/0
0.2 K Jarvis to M Shahzad, No run. 0/0
0.1 K Jarvis to M Shahzad, No run. 0/0
First Published: February 16, 2018, 3:46 PM IST