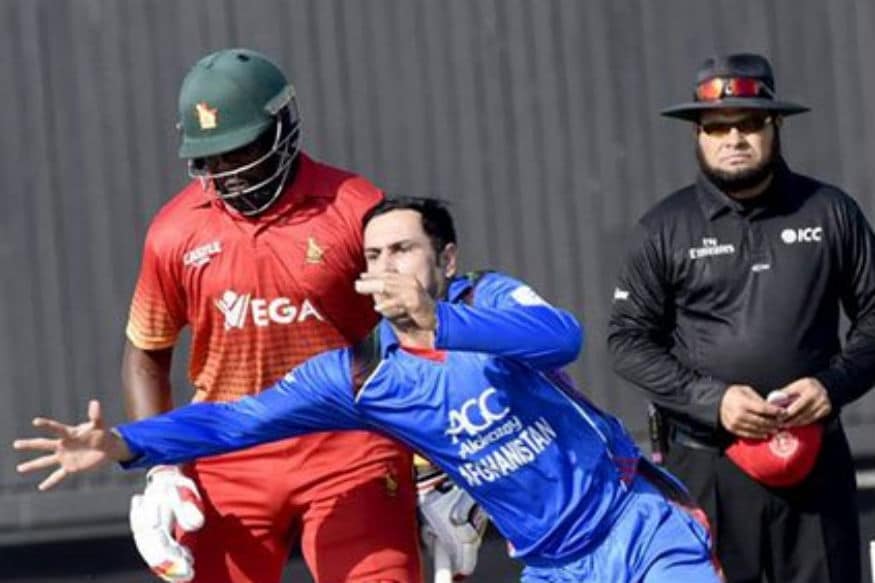 Catch all the live action of the second ODI between Afghanistan and Zimbabwe through our live commentary.

Toss:

Zimbabwe win toss and opt to bat first

Playing XIs:

Afghanistan: Mohammad Shahzad (wk), Ihsanullah Janat, Rahmat Shah, Asghar Stanikzai (c), Nasir Jamal, Najibullah Zadran, Mohammad Nabi, Gulbadin Naib, Rashid Khan, Dawlat Zadran, Mujeeb Zadran

Zimbabwe: Hamilton Masakadza, Solomon Mire, Brendan Taylor (wk), Craig Ervine, Sikandar Raza, Malcolm Waller, Ryan Burl, Graeme Cremer (c), Brian Vitori, Tendai Chatara, Blessing Muzarabani

Preview:

Afghanistan will be brimming with confidence after reeling off three consecutive victories over Zimbabwe in the space of five days – a 2-0 whitewash in the preceding T20I series and a 154-run demolition in the first ODI on Friday.

In the most recent encounter the Afghans racked up 333/5 – the second-highest ODI total in their history – before their spinners made short work of Zimbabwe's batting line-up, dismissing them for 179 in 35 overs.

Graeme Cremer's side will be hoping to rediscover the form which saw them defeat Sri Lanka on home soil last July – evidence that they can prosper in spin-friendly conditions – but it won't be easy against an increasingly impressive Afghanistan outfit.

Sharjah might not technically be home soil for Afghanistan, but conditions in the UAE suit them very well indeed and they will be confident of taking a 2-0 lead in this five-match series.
Commentary (Afghanistan innings)
29.6 T Chatara to D Zadran, No run. 179/9
29.5 T Chatara to D Zadran, FOUR. 179/9
29.4 T Chatara to D Zadran, 2 runs. 175/9
29.3 T Chatara to D Zadran, SIX. 173/9
29.2 T Chatara to D Zadran, No run. 167/9
29.1 T Chatara to D Zadran, No run. 167/9
28.6 G Cremer to M Zadran, No run. 167/9
28.5 G Cremer to D Zadran, 1 run. 167/9
28.4 G Cremer to D Zadran, SIX. 166/9
28.3 G Cremer to D Zadran, No run. 160/9
28.2 G Cremer to D Zadran, FOUR. 160/9
28.1 G Cremer to D Zadran, No run. 156/9
27.6 B Muzarabani to D Zadran, Leg bye. 156/9
27.5 B Muzarabani to D Zadran, SIX. 155/9
27.4 B Muzarabani to D Zadran, No run. 149/9
27.3 B Muzarabani to D Zadran, No run. 149/9
27.3 B Muzarabani to D Zadran, Wide. 149/9
27.2 B Muzarabani to M Zadran, 1 run. 148/9
27.1 B Muzarabani to M Zadran, SIX. 147/9
26.6 G Cremer to D Zadran, SIX. 141/9
26.5 G Cremer to D Zadran, SIX. 135/9
26.4 G Cremer to D Zadran, SIX. 129/9
26.3 G Cremer to D Zadran, No run. 123/9
26.2 G Cremer to D Zadran, No run. 123/9
26.1 G Cremer to D Zadran, No run. 123/9
25.6 B Muzarabani to M Zadran, FOUR. 123/9
25.5 B Muzarabani to M Zadran, No run. 119/9
25.4 B Muzarabani to M Zadran, FOUR. 119/9
25.3 B Muzarabani to M Zadran, No run. 115/9
25.2 B Muzarabani to R Shah, OUT c sub b Blessing Muzarabani. Afghanistan have lost their ninth wicket. 115/9
25.1 B Muzarabani to R Shah, FOUR. 115/8
24.6 G Cremer to D Zadran, No run. 111/8
24.5 G Cremer to D Zadran, 4 Byes. 111/8
24.4 G Cremer to D Zadran, No run. 107/8
24.3 G Cremer to D Zadran, No run. 107/8
24.2 G Cremer to R Shah, 1 run. 107/8
24.1 G Cremer to R Shah, No run. 106/8
23.6 B Muzarabani to D Zadran, No run. 106/8
23.5 B Muzarabani to D Zadran, No run. 106/8
23.4 B Muzarabani to D Zadran, No run. 106/8
23.3 B Muzarabani to R Shah, 1 run. 106/8
23.2 B Muzarabani to R Shah, No run. 105/8
23.1 B Muzarabani to R Shah, No run. 105/8
22.6 G Cremer to D Zadran, No run. 105/8
22.5 G Cremer to R Khan, OUT c Ryan Burl b Graeme Cremer. Afghanistan have lost their eighth wicket. 105/8
22.4 G Cremer to R Shah, 1 run. 105/7
22.3 G Cremer to R Khan, 1 run. 104/7
22.2 G Cremer to R Khan, 2 runs. 103/7
22.1 G Cremer to R Shah, 1 run. 101/7
21.6 S Raza to R Shah, 1 run. 100/7
21.5 S Raza to R Shah, FOUR. 99/7
21.4 S Raza to R Shah, No run. 95/7
21.3 S Raza to R Khan, Leg bye. 95/7
21.2 S Raza to R Khan, No run. 94/7
21.1 S Raza to R Khan, No run. 94/7
20.6 G Cremer to R Shah, No run. 94/7
20.5 G Cremer to R Khan, 1 run. 94/7
20.4 G Cremer to R Khan, FOUR. 93/7
20.3 G Cremer to G Naib, OUT lbw b Graeme Cremer. Afghanistan have lost their seventh wicket. 89/7
20.2 G Cremer to M Nabi, OUT b Graeme Cremer. Afghanistan have lost their sixth wicket. 89/6
20.1 G Cremer to R Shah, 1 run. 89/5
19.6 S Raza to M Nabi, No run. 88/5
19.5 S Raza to M Nabi, 2 runs. 88/5
19.4 S Raza to M Nabi, No run. 86/5
19.3 S Raza to M Nabi, SIX. 86/5
19.2 S Raza to M Nabi, FOUR. 80/5
19.1 S Raza to M Nabi, No run. 76/5
18.6 B Muzarabani to M Nabi, 1 run. 76/5
18.5 B Muzarabani to R Shah, 1 run. 75/5
18.4 B Muzarabani to R Shah, No run. 74/5
18.3 B Muzarabani to R Shah, No run. 74/5
18.2 B Muzarabani to R Shah, No run. 74/5
18.1 B Muzarabani to R Shah, No run. 74/5
17.6 B Vitori to R Shah, 1 run. 74/5
17.5 B Vitori to R Shah, No run. 73/5
17.4 B Vitori to R Shah, FOUR. 73/5
17.3 B Vitori to R Shah, No run. 69/5
17.2 B Vitori to R Shah, No run. 69/5
17.1 B Vitori to R Shah, No run. 69/5
16.6 B Muzarabani to R Shah, 1 run. 69/5
16.5 B Muzarabani to R Shah, FOUR. 68/5
16.4 B Muzarabani to R Shah, No run. 64/5
16.3 B Muzarabani to R Shah, No run. 64/5
16.2 B Muzarabani to R Shah, No run. 64/5
16.1 B Muzarabani to M Nabi, 1 run. 64/5
15.6 B Vitori to R Shah, No run. 63/5
15.5 B Vitori to M Nabi, 1 run. 63/5
15.4 B Vitori to M Nabi, No run. 62/5
15.4 B Vitori to M Nabi, Wide. 62/5
15.3 B Vitori to M Nabi, No run. 61/5
15.2 B Vitori to M Nabi, FOUR. 61/5
15.1 B Vitori to M Nabi, No run. 57/5
14.6 B Muzarabani to R Shah, FOUR. 57/5
14.5 B Muzarabani to M Nabi, 1 run. 53/5
14.4 B Muzarabani to M Nabi, No run. 52/5
14.3 B Muzarabani to M Nabi, No run. 52/5
14.2 B Muzarabani to M Nabi, No run. 52/5
14.1 B Muzarabani to M Nabi, SIX. 52/5
13.6 T Chatara to R Shah, No run. 46/5
13.5 T Chatara to R Shah, No run. 46/5
13.4 T Chatara to R Shah, No run. 46/5
13.3 T Chatara to M Nabi, 1 run. 46/5
13.2 T Chatara to M Nabi, No run. 45/5
13.1 T Chatara to M Nabi, No run. 45/5
12.6 B Muzarabani to R Shah, FOUR. 45/5
12.5 B Muzarabani to R Shah, No run. 41/5
12.4 B Muzarabani to R Shah, No run. 41/5
12.3 B Muzarabani to R Shah, No run. 41/5
12.2 B Muzarabani to R Shah, No run. 41/5
12.1 B Muzarabani to R Shah, No run. 41/5
11.6 T Chatara to M Nabi, FOUR. 41/5
11.5 T Chatara to M Nabi, No run. 37/5
11.4 T Chatara to M Nabi, No run. 37/5
11.3 T Chatara to R Shah, 1 run. 37/5
11.2 T Chatara to R Shah, No run. 36/5
11.1 T Chatara to R Shah, No run. 36/5
10.6 B Muzarabani to M Nabi, No run. 36/5
10.5 B Muzarabani to M Nabi, No run. 36/5
10.4 B Muzarabani to M Nabi, No run. 36/5
10.3 B Muzarabani to N Zadran, OUT c Craig Ervine b Blessing Muzarabani. Afghanistan have lost their fifth wicket. 36/5
10.2 B Muzarabani to N Zadran, No run. 36/4
10.1 B Muzarabani to N Zadran, No run. 36/4
10.1 B Muzarabani to N Zadran, Wide. 36/4
9.6 T Chatara to R Shah, No run. 35/4
9.5 T Chatara to R Shah, No run. 35/4
9.4 T Chatara to R Shah, No run. 35/4
9.3 T Chatara to R Shah, No run. 35/4
9.2 T Chatara to R Shah, No run. 35/4
9.1 T Chatara to R Shah, No run. 35/4
8.6 B Vitori to N Zadran, No run. 35/4
8.6 B Vitori to N Zadran, Wide. 35/4
8.6 B Vitori to N Zadran, Wide. 34/4
8.6 B Vitori to N Zadran, Wide. 33/4
8.5 B Vitori to N Zadran, 2 runs. 32/4
8.4 B Vitori to N Zadran, No run. 30/4
8.3 B Vitori to N Zadran, No run. 30/4
8.2 B Vitori to N Zadran, No run. 30/4
8.1 B Vitori to N Zadran, No run. 30/4
7.6 T Chatara to N Zadran, 1 run. 30/4
7.5 T Chatara to N Zadran, No run. 29/4
7.4 T Chatara to N Jamal, OUT c Ryan Burl b Tendai Chatara. Afghanistan have lost their fourth wicket. 29/4
7.3 T Chatara to N Jamal, No run. 29/3
7.2 T Chatara to N Jamal, No run. 29/3
7.1 T Chatara to A Stanikzai, OUT c Brendan Taylor b Tendai Chatara. Afghanistan have lost their third wicket. 29/3
6.6 B Vitori to R Shah, 2 runs. 29/2
6.5 B Vitori to R Shah, No run. 27/2
6.4 B Vitori to R Shah, No run. 27/2
6.3 B Vitori to R Shah, No run. 27/2
6.2 B Vitori to R Shah, No run. 27/2
6.1 B Vitori to R Shah, No run. 27/2
5.6 T Chatara to A Stanikzai, No run. 27/2
5.5 T Chatara to R Shah, 1 run. 27/2
5.4 T Chatara to R Shah, 2 runs. 26/2
5.3 T Chatara to A Stanikzai, Leg bye. 24/2
5.2 T Chatara to A Stanikzai, No run. 23/2
5.1 T Chatara to A Stanikzai, No run. 23/2
4.6 B Vitori to R Shah, FOUR. 23/2
4.5 B Vitori to R Shah, No run. 19/2
4.4 B Vitori to R Shah, No run. 19/2
4.3 B Vitori to A Stanikzai, 1 run. 19/2
4.2 B Vitori to M Shahzad, OUT c Blessing Muzarabani b Brian Vitori. Afghanistan have lost their second wicket. 18/2
4.1 B Vitori to M Shahzad, No run. 18/1
3.6 T Chatara to M Shahzad, 1 run. 18/1
3.5 T Chatara to M Shahzad, No run. 17/1
3.4 T Chatara to M Shahzad, No run. 17/1
3.3 T Chatara to M Shahzad, No run. 17/1
3.2 T Chatara to Ihsanullah, OUT c Brian Vitori b Tendai Chatara. Afghanistan have lost their first wicket. 17/1
3.1 T Chatara to Ihsanullah, No run. 17/0
2.6 B Vitori to M Shahzad, SIX. 17/0
2.5 B Vitori to M Shahzad, No run. 11/0
2.4 B Vitori to M Shahzad, FOUR. 11/0
2.3 B Vitori to M Shahzad, No run. 7/0
2.3 B Vitori to M Shahzad, Wide. 7/0
2.2 B Vitori to Ihsanullah, 1 run. 6/0
2.1 B Vitori to Ihsanullah, No run. 5/0
1.6 T Chatara to M Shahzad, No run. 5/0
1.5 T Chatara to M Shahzad, No run. 5/0
1.4 T Chatara to M Shahzad, No run. 5/0
1.3 T Chatara to M Shahzad, No run. 5/0
1.2 T Chatara to Ihsanullah, 1 run. 5/0
1.1 T Chatara to Ihsanullah, No run. 4/0
0.6 B Vitori to M Shahzad, No run. 4/0
0.5 B Vitori to M Shahzad, 2 runs. 4/0
0.4 B Vitori to M Shahzad, No run. 2/0
0.3 B Vitori to M Shahzad, No run. 2/0
0.2 B Vitori to M Shahzad, 2 runs. 2/0
0.1 B Vitori to M Shahzad, No run. 0/0
First Published: February 11, 2018, 4:14 PM IST