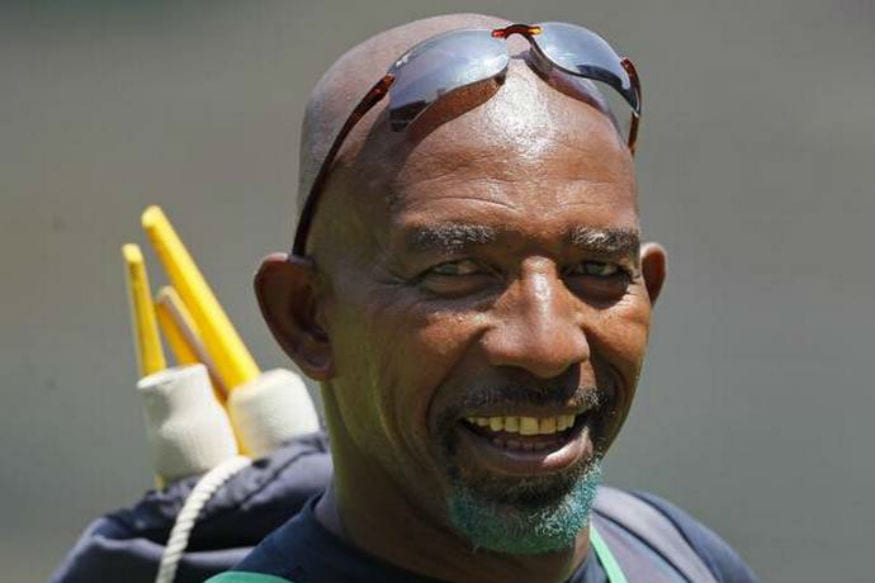 Dehradun: Afghanistan coach Phil Simmons says no amount of training can make his players fully ready for their inaugural Test against India and they will find out how tough five-day cricket is only after taking the field in Bengaluru on June 14.
It is not the best preparation for the Afghans ahead of the historic Test but Simmons is working hard with the two squads simultaneously -- one that takes on Bangladesh in a three match T20 series starting here tomorrow and the other which will face a formidable India in the one-off game in Bengaluru.
"It has been difficult with the T20 and Test squads training at the same time. But it is getting a bit easier as we are coming up to the game. That is how tours are planned now. You usually have Test matches first and then limited over series or vice versa. We just have to work around that," said Simmons who has been overseeing joint preparations at the Rajiv Gandhi International Stadium for close to weeks.
The team was earlier training in Greater Noida before moving to its second home ground here ahead of the Bangladesh series. Going into the all-important game against India, the team has not even played a competitive practice game as it is busy with the upcoming T20s.
"You are definitely right at that (about lack of warm-up games ahead of Test). Especially playing the best team in the world (India) but that is how it is. I am not going to worry about. Though we did have a three day practice match here," said the former West Indies all-rounder.
Afghanistan have gradually improved in every format they have played, including four-day cricket. However, the fact that they have not got a taste of Test cricket makes the job all the more challenging.
"The good thing is that they have played four-day cricket (winning ICC Inter-Continental Cup twice). But it still doesn't tell them how tough Test cricket is. I don't think that is something I can teach them. That is something they have to understand when they play."
"We have just tried to make sure that they understand that Test cricket is twice as difficult. After the first Test match, they will know this level is so much higher and what they need to do to get to that level."
The 55-year-old said the players are still going about their business and are not showing emotions on playing their first-ever Test.
"The reaction is still not there. It still has not sunk in yet. Emotion will hit them when they get to Bangalore. But I think they can handle the nerves. We have seen in last five six years that they have stepped up in every format that they have played," Simmons said.
Simmons said the players will have to become mentally much tougher to succeed in Test cricket.
"The biggest challenge is to make them understand what Test cricket is all about. It is different to four-day cricket in a massive way. It is about getting them to understand the mindset around Test cricket, the patience, how hard it is to score runs. With them it is a little bit technical and a lot more mental. Because you got to have played to understand how mentally tough it is to play for five days," he said.
"All we can try is to make sure their technique is as tight as possible. It will be much tougher for the batsmen than the bowlers who do get a second chance after being hit for a boundary.
Afghanistan will rely heavily on their spin department to be competitive against India. The squad has proven performers in the likes of Rashid Khan and Mujeeb Zadran, who both excelled in the IPL. Zahir Khan is another spin option alongside Hamza Hotak."
"The boys who played IPL are exceptional professionals. They know how to get ready for the Test match," said Simmons.
Asked whether the likes of Rashid and Mujeeb can deliver in red-ball cricket where the batsmen are not under any pressure to score off every ball as they are in T20s, Simmons said: "It is about them (Rashid and Mujeeb) showing patience too along with our batsmen. Rashid did well against Ireland in four-day cricket last year. He got wickets. He played in practice games against England and he got wickets."
Simmons said Rashid's lack of experience will not stand in his road to success in the longest format as the leg-spinner has a "30-year-old mind in a 19-year-old body".
"Rashid is 19 but he has got the mind of a 30-year-old. He knows exactly what is expected of him. Mujeeb (17) is younger but we will have to see how he copes up with it," the coach said.
Afghanistan are preparing for two high-intensity battles while fasting in the holy month of Ramzan and Simmons said fasting is hard but he respects the team's culture.
"I was them with last year also. I have kept fast a couple of times so I understand how difficult it is. Their culture is something they live with day in and day out. It is not the first time that they have played during Ramadan. It is their choice and I respect that," Simmons said.