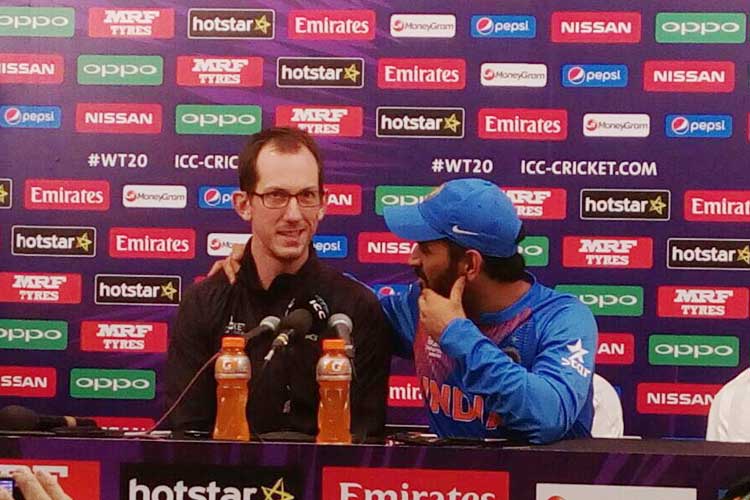 Mumbai: MS Dhoni wished it was an Indian journalist instead of Samuel Ferris who asked him about his retirement, and then what followed will surely invite mixed reactions over the next few days.
Dhoni had walked in just after India were ousted from the ICC World Twenty20, losing their semi-final to the West Indies. He certainly expected some tough question, including a definite one on his retirement. But coming from Ferris, a foreign journalist working for cricket.com.au, Dhoni chose what some will call bravado, inviting Ferris onto the dias.
ICC WT20 2016

Captain MS Dhoni turns the tables - gets a journalist to answer his query on retirement plans.

Posted by Indian Cricket Team on Thursday, March 31, 2016
It was a perfectly legitimate question and one Dhoni expected and was prepared with an answer for, which the following transcript of the conversation suggests.
But the surprise reaction, intended to be 'funny', won't go down well with many of the Indian fans hurt with the defeat despite putting up 192 on the board and especially the no-balls that cost India the crucial wicket of Lendl Simmons.
But Dhoni did put the message across in words and manner he chose to, saying that he is fit and hasn't ruled out to maybe last till the 2019 World Cup.
Here's how Dhoni's unexpected reaction resulted in a conversation that has gone viral.
Ferris: MS, you have achieved almost everything. Do you look to continue playing after this tournament?
Dhoni: Come here, let's have some fun. Please come here. Come, come, come...seriously! Yeah, come!
Do you want me to retire?
Ferris: No. That's what I asked you.
Dhoni: I was hoping it was an Indian media guy, because I can't really say if you have a brother or a son who can play for India.
Do you think I am unfit?
Ferris: No.
Dhoni: You have seen me running?
Ferris: Very fast.
Dhoni: Do you think I can survive till the 2019 World Cup?
Ferris: Yes, sure.
Dhoni: Then you have answered the question. Thank you, sir! I wish it was an Indian media guy, because then I would have asked if he has a son who is old enough and a wicketkeeper to play. He would have said 'No'. Then I would have said maybe a brother who can play, who is a wicketkeeper. You fired the wrong ammunition at the wrong time.