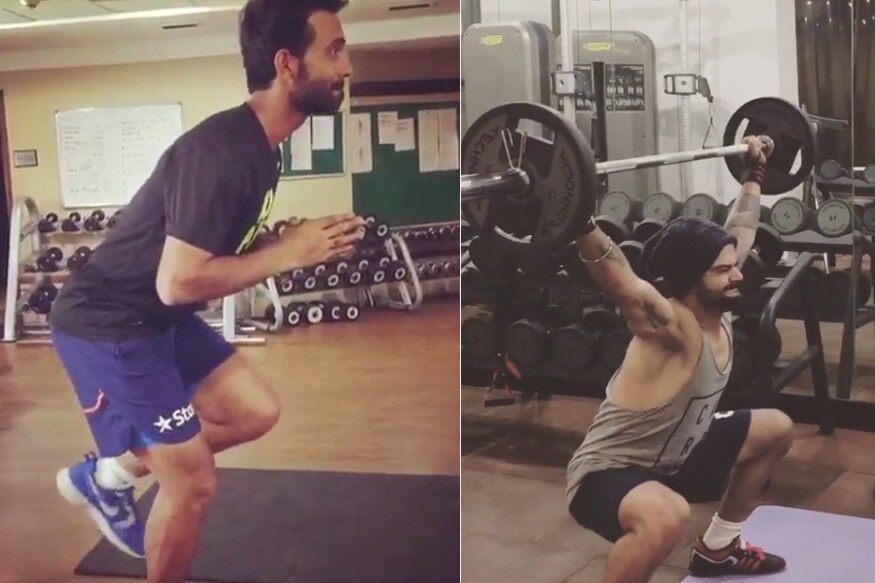 New Delhi: Ajinkya Rahane might have had a tough time with the bat in hand in recent games for India, but the Test vice-captain isn't willing to let the lost opportunities hamper his preparation as he gears up to take the field for the one-off Test against Bangladesh.
Following on the footsteps of skipper Virat Kohli, Rahane has been using the time away from the game, he wasn't picked for the T20 series against England, to not only work on his game, but also on his fitness.
And Rahane even took to Twitter on Saturday to post a short video of him working on his fitness and titled it: "Stability work✌️️✌️".
Stability work✌️️✌️️ pic.twitter.com/xz2qxp7RsB

— ajinkyarahane88 (@ajinkyarahane88) February 4, 2017
Speaking to CricketNext, personal coach Pravin Amre said that considering the workload that current Indian players have, it is integral to look after the body as it helps to keep the mind fresh and adapt quickly to different game situations.
"I have always believed that a fit body leads to a fit mind and that helps in making quick decisions. See, nowadays these boys are on the road for close to 200 days in a year and it is very important to stay fit so that you can adapt to the different demands. And I have always ensured that Rahane works as much on his fitness as he works on his game.
"If you see, the intensity level is different in the different formats. So, it is important that you work on your fitness just like you spend time working on your cricket skills. The best part is that fitness is something which doesn't require you to be naturally talented. It is in your own hands and depends on your own lifestyle," he said.
In fact, Rahane doesn't need to look too far for motivation as he has skipper Kohli for inspiration.
Kohli has himself often spoken about how working on his fitness has helped him improve his game and is now one of the fittest sportsperson in the world.
"From 2015 I changed my training again. I started lifting, snatching, cleaning and dead lifting. It was unbelievable. I saw the result. I remember running after a ball in a Test series in Sri Lanka and I felt more power in my legs. It was, like, 'wow'. This training is addictive. The last year-and-a-half it has taken my game to another level," he had said.
In fact, both Kohli and Rahane have often done yoga sessions together on tour.
And Kohli has made no bones about the fact that he wants his teammates to follow his footsteps and stay fit.
"One of the things I would love is for this team to win series outside India, not just in one place but everywhere we go. For me it is not winning one Test match and saying we made history and then not being able to follow that up. I want us to be the fittest Indian team that has played the game as well," he revealed.
@media only screen and (max-width:740px) {
.quote-box{font-size:18px; line-height:30px; color:#505050; margin-top:30px; padding:22px 20px 20px 70px; position:relative; font-style:italic; font-weight:bold}
.special-text{font-size:24px; line-height:32px; color:#505050; margin:20px 40px 20px 20px; border-left:8px solid #ee1b24; padding:10px 10px 10px 15px; font-style:italic; font-weight:bold}
.quote-box img{width:60px; left:6px}
.quote-box .quote-nam{font-size:16px; color:#5f5f5f; padding-top:30px; text-align:right; font-weight:normal}
.quote-box .quote-nam span{font-weight:bold; color:#ee1b24}
}