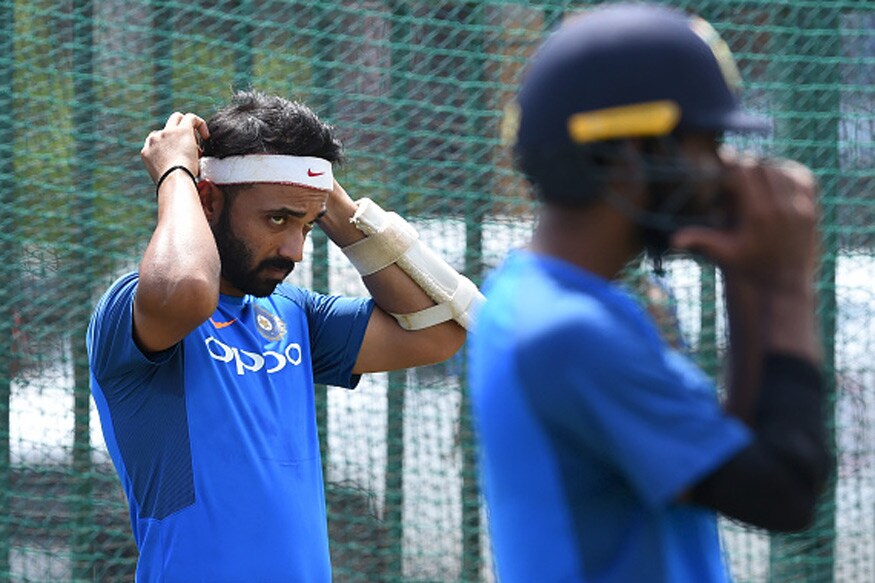 New Delhi: India's Test vice-captain Ajinkya Rahane looked slightly off colour in the opening Test against Sri Lanka at the Eden Gardens. While he managed 4 in the first innings, he scored a duck in the second. Even though his last 5 Test match scores also include a century and a fifty, his twin failure came under the scanner as he is considered the nucleus around which Indian batting revolves in bowling friendly conditions like the one in Kolkata.
With the team set to tour South Africa next, Rahane's rare failure in the longest format became a talking point as fans and experts feel Rahane will need to hold fort when the Indians travel to the Rainbow Nation at the end of the year. But personal coach Pravin Amre is unperturbed and feels that the batsman is just one shot away from regaining form.
"Ups and downs are part and parcel of any sports person's life. But if you sit and analyse, the second innings dismissal was unfortunate. As for the first one, it was a good ball and the overcast conditions helped the bowler. I have spoken to him and I told him that we all go through these phases so there is nothing to worry. He just needs to do his job and just like one good ball can dismiss you, one good shot can bring your confidence back. It is not always a 50 or 100 that helps your confidence. A good shot, a couple of balls hitting the sweet spot is enough to bring back your A-game.
"Also, you have to realise the kind of expectations people have from him. Sometimes it is unfair because while a single failure is highlighted, he is the same batsman who didn't find a place in the team after winning a Man of the Series award. But he is a seasoned campaigner and he knows the importance of keeping calm and just getting the basics right," Amre told CricketNext.
While Virat Kohli took a dig at the BCCI for not giving the players enough time to prepare for the upcoming challenge against South Africa, Amre lauded the skipper and coach Ravi Shastri for coming up with the idea of preparing green wickets in the current series.
"The idea to prepare on green wickets is a brilliant one and I was having a word with Ajinkya and told him the same that it was a positive thinking and will help prepare him and the other batsmen in advance for the tough test that lies ahead. They will not feel like a fish out of water when they reach South Africa. Also, just winning against Sri Lanka wouldn't make much sense as the conditions would be in complete contrast in South Africa. But now they will be prepared. Kohli has taken the right decision and shows that he thinks way ahead of others," the former India batsman said.
Interestingly, coach Ravi Shastri was seen spending quite some time with Rahane at the nets in Nagpur on the eve of the second Test and Amre feels that it shows the kind of involvement Shastri has when it comes to every single individual in the team.
"While I haven't spoken to Ajinkya about his interaction with Ravi, I am aware that Ravi keeps talking to him and this is a good thing as Ravi is someone who will have the interest of the team in mind. So, that will help give Ajinkya a wider perspective of what needs to be done. In fact Duncan Fletcher, Gary Kirsten, Anil Kumble everyone spoke to him and would tell him their plans and where they thought he could improve.
"As his personal coach I see no reason to feel insecure about this as I know what my role is and how I am the mirror for the player. I see it as a positive thing and I keep telling him to hear them out and try and implement things that he feels will benefit him," the coach signed off.