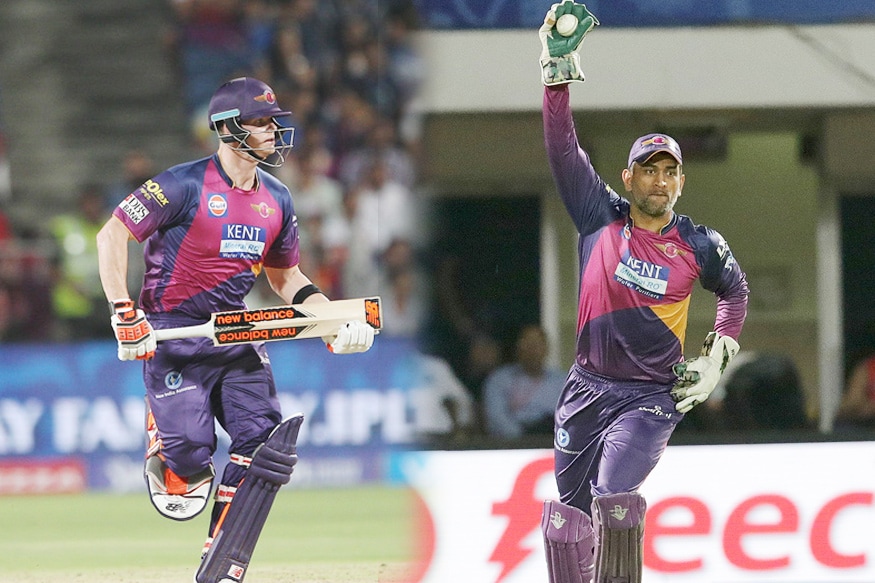 New Delhi: Rising Pune Supergiant skipper Steven Smith led from the front and guided his team to an unlikely victory over Mumbai Indians in their tournament opener on Thursday, but teammate Ajinkya Rahane still feels that former captain MS Dhoni remains the best leader in the game.
Smith (84 runs off 54 balls) smashed a six off the penultimate ball to take Pune over the line — in typical Dhoni-style — with the former India captain watching on from the non-striker end.
Also Read: Steven Smith Leads Pune to Super Win Over Mumbai Indians
However, when asked about comparisons between the two leaders during the post-match press conference, Rahane to quick say that two players completely different personalities and cannot be compared.
"It is very difficult to say right now because this is my first game under Smith. I played under Mahi Bhai's captaincy and we all know he is a world-class captain. People should not compare Smith and Dhoni," said Rahane.
"MS Dhoni is still a world-class leader and he was giving inputs to Smith. Smith obviously did well for Australia but for me, MS Dhoni is still the best leader," said Rahane.
"Smith is learning from Dhoni and I was actually watching that he was taking advises from Dhoni, so he would like to take more advises from Dhoni in coming games," added Rahane.
Also Read: Dhoni Trolls Kevin Pietersen, Says 'You Are My Only Test Wicket'
Dhoni's leadership skills are revered around the globe and apart from 2007 Wt20 title and 2011 World Cup victory while donning the India blue, MSD also led Chennai Super Kings to two IPL titles in 2010 and 2011.
Moreover, apart from the title-winning campaigns, CSK also managed to end as runners-up in as many as four editions of the league since it's inception in 2008. So, there is still a long way to go for Steven Smith if he is to catch up with arguably India's greatest captain ever in limited-overs format.
@media only screen and (max-width:740px) {
.quote-box{font-size:18px; line-height:30px; color:#505050; margin-top:30px; padding:22px 20px 20px 70px; position:relative; font-style:italic; font-weight:bold}
.special-text{font-size:24px; line-height:32px; color:#505050; margin:20px 40px 20px 20px; border-left:8px solid #ee1b24; padding:10px 10px 10px 15px; font-style:italic; font-weight:bold}
.quote-box img{width:60px; left:6px}
.quote-box .quote-nam{font-size:16px; color:#5f5f5f; padding-top:30px; text-align:right; font-weight:normal}
.quote-box .quote-nam span{font-weight:bold; color:#ee1b24}
}