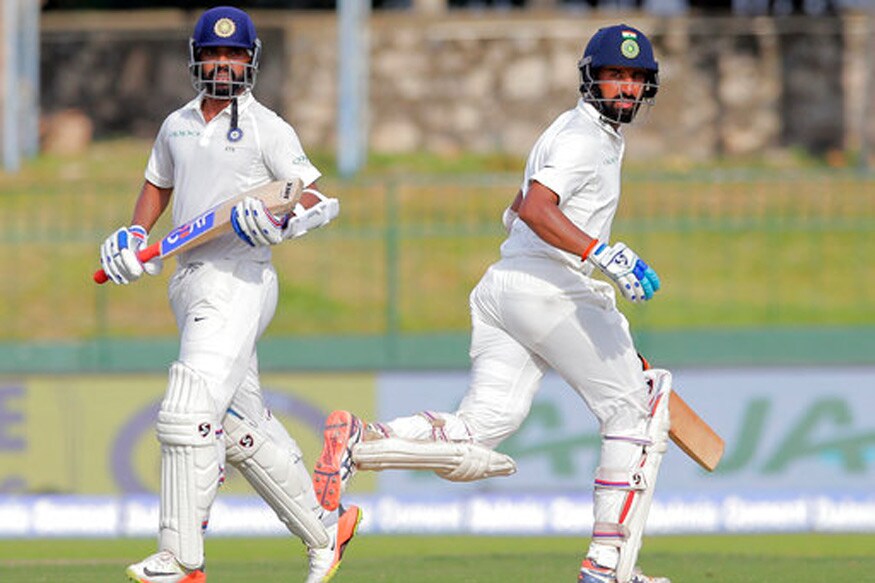 New Delhi: Ajinkya Rahane has spilled the beans on the serious look he flaunts on and off the pitch while being interviewed by none other than teammate Cheteshwar Pujara. In his introduction, Pujara says that Rahane is quite similar to him and talks very less and likes to remain cool and calm. But Rahane says that marrying Radhika has ensured that he has started talking a lot more.

"I have started talking more ever since I got married. But I have been the quiet types right from the beginning and that has to do with my family background and also maybe because I do a lot of meditation and all. I think this nature helps a lot on the field, especially in the Test format. Staying calm has helped me perform across all formats and has also helped me in my decision-making. But yes, I used to be a lot quieter earlier," he smiles.

Rahane wasn't going to let Pujara have all the fun and he was quick to ask the Saurashtra batsman about his love for FIFA to which he said: "I enjoy playing FIFA on Playstation. You don't play much, but Virat (Kohli), Wriddhiman (Saha), Shikhar (Dhawan) and KL Rahul play a lot of FIFA and I think I make a lot of noise there."

The topic then turn to sledging and Pujara admits that he has slowly started to sledge on the field. "I am still learning the art of sledging. Sledging is something which has to be done if the need arises because at times the bowlers do need some help, but it can't be personal. So, if we can help as fielders and talk to the batsmen, then a little bit of sledging… At some stage, you do need to sledge," he said.


#TeamIndia batsmen @ajinkyarahane88 & @cheteshwar1 in conversation after the 2nd Test win - by @28anand https://t.co/XCAkPMjj2W… #SLvIND

— BCCI (@BCCI) August 8, 2017



Talking of the partnership they shared in the India innings, Rahane said: "I wanted to take my time initially, but then I wanted to look for the bad balls because we felt that the wicket was going to become dangerous. I was visualizing the scenario from the dressing room and wanted to unsettle the spinners. The moment we started using our feet, their spinners weren't quite sure where to land the ball. To gain momentum, you need to take risks as playing defensively could put undue pressure on the lower order batsmen."

Rahane also loves reading books when off the field and when Pujara wanted to know the type of books he reads, the Test vice-captain said: "I generally like reading sports books and mostly autobiographies."

Talking of fitness, Rahane revealed that he is off sweets and chocolates at present even though he loves them. "I haven't had sweets and chocolates for a long time. But I love having Japanese and Chinese cuisine. It is also important to understand that while we often say that carbs shouldn't be consumed, what needs to be kept in mind is the climatic conditions. So, when the team is playing in say Sri Lanka or the West Indies, you need to have carbs as well," he said.


First Published: August 8, 2017, 12:33 PM IST