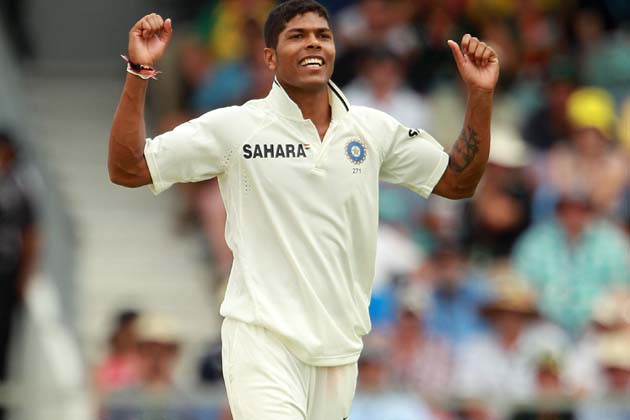 Let's just skip the part where India's top order again subsided. I think we've addressed that enough over the course of three Tests. Let's try and sift through the wreckage and find some positives.
With the ball, this was a day of progress for India. In taking ten wickets for 115 runs, they turned around what was threatening to be a mammoth first-innings total at 214 for 0. For 38 overs, India's bowlers plugged away and turned a mighty Australia into a pack of pokers and prodders. It wasn't awe-inspiring, it wasn't lethal and it wasn't significant enough to impact the outcome of this match. At some stage tomorrow, Australia will wrap up the series, after less than 11 days of cricket. But, for a refreshing period of play, India looked like they belonged on the field.
After the chastisement in Sydney and the humiliation of day one in Perth, they came out with a positive intent – they really did – on the second morning, and in a captivating first hour after lunch their abilities were laid out for all to see once again. There was pace, seam and bounce on a helpful surface and the result was a collapse of 10 for 155 from Australia. If only India's batsmen had put up a fight in the first innings.
Zaheer Khan nearly provided a breakthrough in the morning when he induced an edge off David Warner, but the chance was put down at first slip by Virat Kohli. India could have so easily gone into a shell but they didn't. They struggled to contain Warner initially but they didn't sag in the field. Zaheer beat the bat numerous times, Ishant Sharma banged the ball in and produced inner edges and hasty prods. They didn't have the results to show, but Zaheer and Ishant bowled with accuracy and control. Ishant's wicket of Warner came down to a bravado shot, but truth be told he had been beaten many times by the same bowler, as well as inside-edging aplenty.
This was the tempo and rhythm India lacked in Sydney and on Friday. They forced loose shots, didn't allow runs to come as easily as on day one. On Friday evening, India failed to locate a length to trouble Australia's openers and gifted them a rousing start of 149 for 0 in 23 overs. Today, the team took their cue from Umesh Yadav, whose three wickets in four overs before lunch set the platform for a comeback. That left Zaheer to show how crucial his reverse-swinging assets can be when everything clicks.
It was Yadav who sparked India to life by charging around the stumps and bowling Ed Cowan via an inside edge. He had his hands on his hips when Shaun Marsh somehow squeezed out a yorker for four, but four balls later was pointing to the skies after the batsman nicked to second slip. In his next over Yadav bowled Ricky Ponting with an in-cutter and India were smiling.
A spell of 7-0-38-3 isn't the greatest, but in removing Australia's top three batsmen Yadav gave India a big window. In difficult times, such breakthroughs lift a team immeasurably. That was what India needed before lunch, and it was after the interval that their bowlers were at their most penetrative.
Zaheer's post-lunch spell of 8-1-29-2 ensured the good work done by Yadav was not squandered. Michael Clarke was drawn into a poke outside off stump and three deliveries later Brad Haddin nicked an away-moving delivery to head back for 0. Zaheer has bowled many better spells but those two wickets were like manna from the heavens for a fraught side. For that seven-over spell, the game seemed all about Zaheer and the key to his success was his length. He pitched the ball up a good half yard or so, and gained the rewards as Clarke and Haddin both played from the crease.
Yadav's third and final spell (4-1-13-2) snuffed out the tail and gave Yadav his maiden five-wicket haul in Test cricket. It was a much delayed burst from Yadav after he impressed in Melbourne.
This spark was what India lacked in the first two Tests. Their first three bowling innings of the tour were characterized by missed opportunities to ram home the advantage. In Melbourne, they had Australia at 214 for 6 but took their feet off the pedal to allow them get to 333. In the second innings, Australia were 166 for 8 but India allowed the last two wickets to add 74 – 43 to the last pair. That is what raised serious concerns about the bowling. In Sydney, Australia were lurching at 37 for 3 after Zaheer's strikes but their next wicket fell at 325 and they went on to declare on 659 for 4.
In Perth, Warner and Cowan launched a 214-run platform. But once Warner was dismissed for an outrageous 180, India rallied to run through the line-up. It gave a flagging team something to be proud of, and that was massive considering how the tour has panned out. Alas, it came too late in the series.