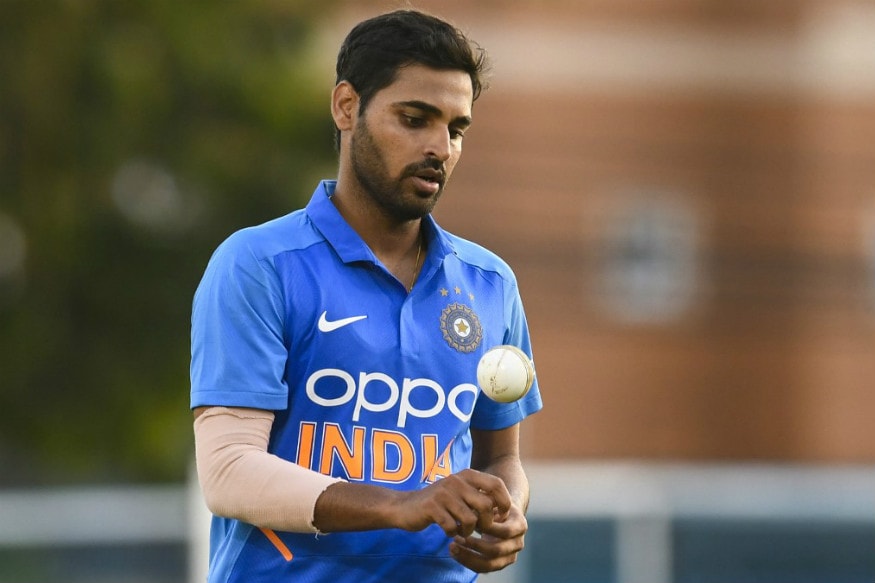 Even before playing for India, fast bowler Bhuvneshwar Kumar had made headlines across the country for becoming the first bowler to dismiss Sachin Tendulkar for a duck in domestic cricket when he did so in a Ranji Trophy game in 2009.
Bhuvneshwar, only 19 then, was bowling for Uttar Pradesh against Tendulkar's Mumbai.
Speaking at a chat show 'Double Trouble,' a Youtube programme hosted by Smriti Mandhana and Jemimah Rodrigues, Bhuvneshwar recalled the dismissal and credited his captain Mohammad Kaif.
"Generally you think to claim wickets before the start of any game, but you don't plan to bag a certain number of wickets as it's not possible," he said. "But when it comes to Sachin's wicket, then I would say I was lucky because the position where Sachin got out was neither short leg nor mid-wicket, so the credit goes to Mohammad Kaif who was my captain at that time. He set the field, and I just bowled an inswinger, and eventually, it happened," he said.
Bhuvneshwar has been troubled by back issues in recent times. He was slated to make a comeback with the ODI series against South Africa in March, which didn't happen due to COVID-19. Bhuvneshwar said players, especially pacers, should never rush comebacks.
"Injuries are a part and parcel for the fast bowlers when you play in all three formats of the game. I have been bothered by a number of injuries over last one year and can tell you that it can be really frustrating," he said. "As you watch the matches on TV, it becomes difficult to miss out on the action but it's very important not to rush to a comeback."
Talking about his bowling, Bhuvneshwar said he always focused on accuracy and developed variations later on for T20 cricket.
"'Since I did not have a lot of pace, I always focused on line and length and the consistency also came naturally," he said.
"Variation is the key in such situations (death overs). The yorkers used to be a standard weapon in the last overs before but the batsmen have found out tools like the lap shot to counter it."
Bhuvneshwar said it's not always easy to work out at home, but said he's doing his best so that he doesn't have to start from scratch.
"It has been difficult to work out at home as we are used to training at gyms or cricket grounds. But I am trying to make sure that I maintain some level of fitness so that I don't have to start from zero when I return to the field."