Hashim Amla has scored 9234 runs in 123 Tests at an average of 47.11, including 28 hundreds and 41 fifties in his Test career. He is the 15th highest scorer in Test cricket history and the third-highest for South Africa only after Jacques Kallis and Graeme Smith.
These numbers place him in a special league amongst the pantheon of all-time Test batting legends.
Amla was at the peak of his prowess between 2007 and 2014. He averaged above 70 in two calendar years (2010 and 2012), between 60 and 70 in 2014, between 50 and 60 in two (2008 and 2013), between 40 and 50 in two (2007 and 2011) and below 40 just once (2009).
He aggregated 6274 runs in 72 Tests at an average of 57.03 in this period. 22 of his career 28 hundreds came in this time-frame. Only Shivnarine Chanderpaul, Kumar Sangakkara and Younis Khan had a higher batting average than Amla in this period.
THE DOWNFALL
Amla's downfall started in 2015 – a year in which he could just muster 251 runs in 8 Tests at an average of 22.81. It was also the first time since 2005 that he hadn't registered a hundred in a calendar year.
Since 2015, Amla has scored 2578 runs in 42 Tests at an average of 37.36. That is a drop of approximately 20 runs per dismissal from the average of the previous 8 years – a dramatic fall!
He has just been able to register 5 hundreds and 14 fifties in these 4 years.
From a frequency of scoring a hundred every 3.27 matches (between 2007-2014), he has only been able to cross triple figures every 8.4 matches after – that is a significant drop!
Amla had fought back in 2016 and 2017 and aggregated 729 and 947 runs at averages of 48.60 and 47.35 in the two calendar years respectively.
However, his three hundreds in 2017 came against Bangladesh (2) and Sri Lanka (1). Not counting these, Amla aggregated 544 runs at an average of 28.63 in the calendar year. He scored in single digits in 5 innings and between 10 and 30 in 7 innings.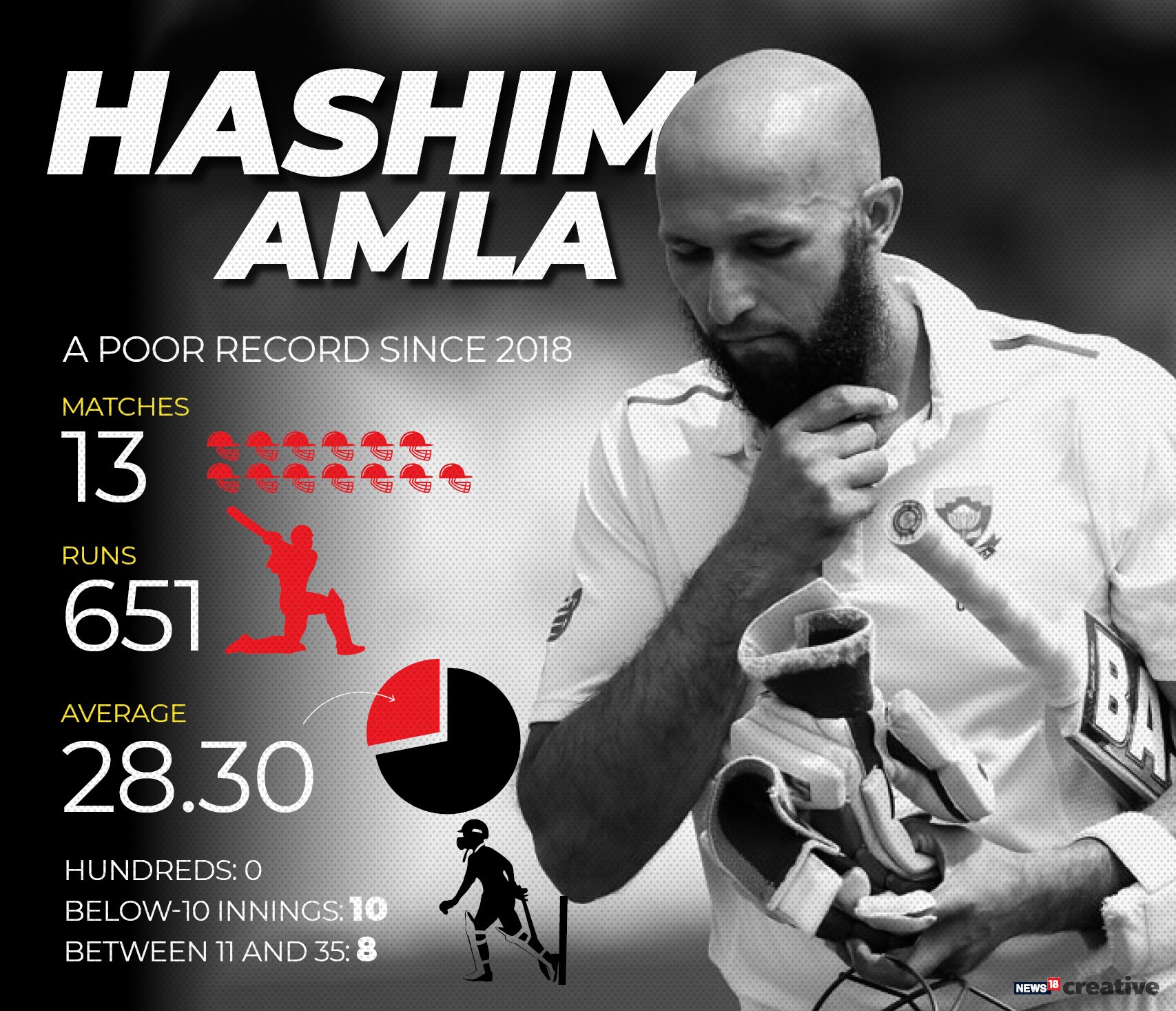 His form post 2017 has been poor. Since January 2018, Amla has scored just 651 runs in 13 Tests at an appalling average of 28.30. He has no hundreds in this period and only six fifties.
In the 25 innings he has batted in this period, Amla has registered 10 scores in single digits and 8 scores between 11 and 35 – this adds to a total of 18 scores below 35 – ie in 72% of his innings since 2018 Amla has scored below 35 – these are shocking numbers for any batsmen leave alone someone of the caliber of Amla.
Amongst the 38 batsmen who have scored at least 500 runs in this period, Amla's average places him as low as number 32.
He also has the lowest average amongst all the South African batsmen (minimum 400 runs scored) in this period.
Amla's average of 26.84 in 2018 was his lowest in a calendar year since 2015 (minimum 5 Tests in a year). It was also the only year (again after 2015) where he did not register a hundred. What is interesting is his strike rate of 41.29 in 2018 – again, the lowest in a calendar year for Amla barring 2015. This suggests that not only is he not being able to score the big runs but his fluency in stroke-play is also getting affected of late.
Amla is not spending enough time at the crease and hence not being able to produce the big runs. It does not come as a surprise then that amongst all the years where has batted in at least 10 innings, Amla's balls per innings ratio of 61.75 is the lowest in 2018 only after 2006 (59.27). Just for perspective, at his peak in 2010, he had faced approximately 123.89 deliveries per innings – that is more than double of what he has managed to do in 2018 – such is the stark difference.
Amla is an all-time great but numbers suggest he is past his prime now.
That his ODI numbers tell a similar story (529 runs in 16 innings at an average of 35.26 including just one solitary hundred post 2018) is no mere coincidence.
*Stats till the first Test of Sri Lanka series.