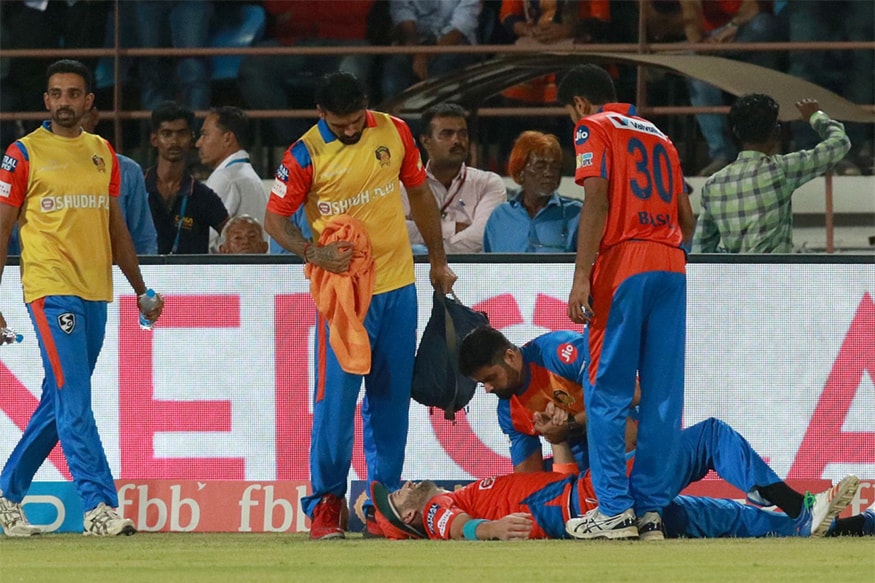 The Gujarat Lions all-rounder Andrew Tye has been ruled out of the remainder of the 10th edition of the Indian Premier League with a dislocated shoulder.
Tye, who claimed a hattrick and a five-wicket haul on his IPL debut, dislocated his left shoulder while fielding at the boundary during the match against Mumbai Indians on Saturday.
Explaining his injury, Tye said, "The shoulder popped out of the socket and remained out for a while. They put it back in at the hospital. The extent of the damage is still unknown. I will be flying home in the next couple of days to figure that out. And as for the recovery time, I am not too sure at the moment, but hopefully it's not too long."
After waiting on the fringes for 34 matches, the Australian all-rounder took the IPL by storm this season, registering tournament best bowling figures of 5 for 17, including a hattrick, in his first IPL game, against Rising Pune Supergiant.
With 12 scalps in six matches, Tye established himself as the third highest wicket-taker in tournament.
While gutted that his dream run in the IPL has been cut short by the unfortunate injury, Tye expressed his gratitude to the team for giving him the opportunity to showcase his skills.
He also acknowledged the support he has received from the fans during his time with the Gujarat Lions.
"Unfortunately this is the end of the tournament for me," Tye said.
"As heartbreaking as it is, I have enjoyed my time here. The people at Gujarat Lions have looked after me well. The fans have been unbelievable. The messages of support and good wishes I have got from everyone have been overwhelming. All I can say is, thanks to the fans and the franchise for giving me this opportunity and hopefully I will be back in the IPL next year," he added.
Expressing dismay at the loss, a Gujarat Lions spokesperson said, "Losing a match-winner like Andrew Tye is a huge blow to the team, especially at such a crucial juncture in the tournament.
"We, at Gujarat Lions, wish Andrew a speedy recovery and thank him for his contributions to the team."
First Published: April 30, 2017, 5:32 PM IST