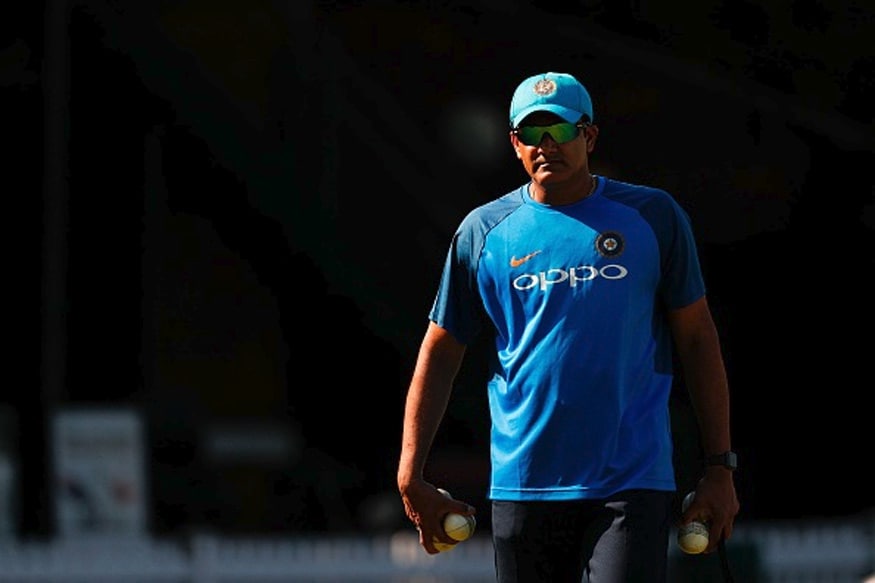 As Anil Kumble's tenure as coach comes to an unceremonious end, we take a look at few of the top victories which India had under his reign as coach.
1. India defeat New Zealand by 321 runs, Indore
The match might not have been memorable, as India steamrolled the Kiwis to easily win by 321 runs. Ravichandran Ashwin was again the wrecker in chief, as the Indian off spinner recorded his innings best figure of 7/59 to run through the Kiwis batting line-up. Chasing 475-runs to win, New Zealand were dismissed for 153.
The occasion was special for the reason as India were presented with the ICC Test Championship mace after the Test match was over, as it officially reached the number 1 spot in Test rankings, overtaking arch rival Pakistan, who had reached the number 1 status after a 2-2 series draw against England. Though, India had cemented the top spot after the win in second Test at Eden Gardens, but the mace was handed over to captain Kohli only after the series came to an end.
2. India defeat West Indies by an innings and 92 runs, Antigua
This was India's first Test match under coach Kumble, and his tenure got off to great style as India recorded its biggest ever win outside Asia. They defeated West Indies - the same place where Kumble once bowled with a broken jaw to cement his status as a legend of Indian cricket - comprehensively and in style to record the victory.
Virat Kohli smashed a double ton,and Ravichandran Ashwin scored a century and also took a five-for. At that time, it looked like a fantastic start to what many expected would be a long partnership between Kohli and Kumble. The partnership was expected to take Indian cricket to great heights, and although India might have played some of their finest cricket, the partnership unraveled rather quickly within a year.
3. India defeat England by an innings and 75 runs, Chennai
Alastair Cook's England was supposed to be the toughest challenge for Anil Kumble and company, the englishmen had defeated India in the previous Test series played at Indian soil between the two teams. India had to fight hard to salvage a draw in the first Test played at Rajkot, but that proved to be the only occassion India faced some sort of challenge.
It was a completely dominant performance after that, and the pinnacle of that dominance was reached in the final Test in Chennai, where England simply crumbled under pressure. Batting first, England had scored 477 and were on top. For India, it was debutant Karun Nair who scored a triple ton, he was supported by his Karnataka team-mate KL Rahul who was unlucky to be dismissed on 199. The match seemed to be heading for a draw with England reaching 103 for no loss, but then Ravindra Jadeja sprung into life, as England lost 10 wickets for just 104 runs. With this, India also won the series 4-0.
4. India defeat Australia by 75 runs, Bangalore
Another important victory in front of Kumble's home crowd as India bounced back against Australia, after losing the first match in Pune. The second Test was supposed to be crucial, and it didn't start well for India, as it conceded a 87-run lead. Australia were well and truly on top, till half-centuries from Pujara, Rahane and Rahul bought India back in the game.
Australia needed 188 runs to win, and it seemed we would be in for a nail biting contest, till Ravichandran Ashwin produced a performance which Indian fans were used to from Anil Kumble. He single-handedly ran through the Australian batting-line up as the Kangaroos were dismissed for a mere 112, with only 4 batsmen recording scores in double-figures.
5. India defeat Australia by 8 wickets, Dharamshala
The fiercely contested series was to be decided in the serene hilly surroundings of Dharamshala, and it was another challenge which Kumble overcame with ease. Wrist spinner Kuldeep Yadav was introduced, and it was one of the bone of contetion between Kumble and captain Kohli, who was against the move. But Kuldeep repaid the faith showed in him by the coach, as he took four wickets in the first innings, including a well-settled David Warner, who was looking dangerous along with skipper Steven Smith. Australia were restricted to 300 in the first innings, and India went on to dominate the Test match from there.