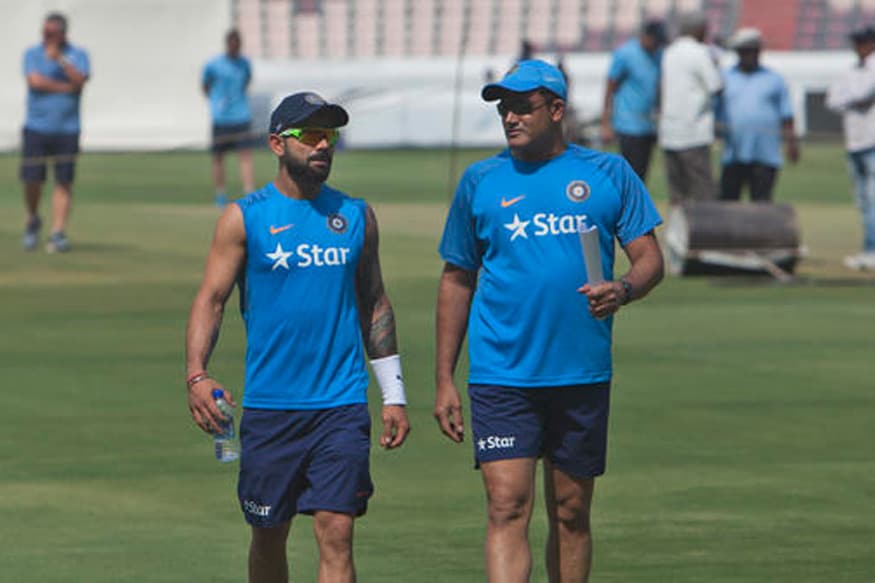 Pune: India head coach Anil Kumble sprung to his team's defense after they sensationally surrendered to Australia's inexperienced left arm spinner Stephen OKeefe to be bowled out for 105 and concede a big first innings lead on day two of the first Test here on Friday.
The leg spin ace said any team, including India which is having a glorious 19-Test unbeaten streak, was bound to have one bad day even in this successful phase.
Also Read: Steve O'Keefe, Steven Smith Put Australia on Top in Pune
"Like you said, you are bound to have one bad day. It was disappointing. We were in a pretty decent position when (KL) Rahul and Ajinkya (Rahane) were batting out there. But once Rahul got out, we lost those four wickets in five or six balls. That certainty pushed us back. It was one of those things with a couple of soft dismissals," said Kumble after Australia took command of the opening skirmish of the four-game series at the Maharashtra Cricket Association Stadium.
Malaysia-born O'Keefe, in only his fifth Test and first in India, scalped six for 35 in a sensational spell of 6 for 5 in 24 balls to run through the home team's first innings as they lost 7 wickets for 11 runs to be 105 all out.
"And this pitch was certainly challenging, so we needed a lot more restraint and showed that if you put your head down, you could make those runs. It was unfortunate that once Rahul got out, we seemed to lose the bearing at that point of time, Kumble explained.
He described the surface, which has been at the focus of attention, as a challenging one.
"It is a challenging surface which requires application, aggression and a bit of caution as well. You need a mix out of that. And today (Friday) was not our day. We have to give credit to the Australian bowlers as well. It was one of those days when you go back and start, Ok, how do we come back and pick those six wickets?
Its a surface where you needed to adapt. We didn't adapt really well. Probably if you look at yesterday, the first 80 runs in the first session and the last 60 runs for the last wicket that slightly took us away from what we were wanting to restrict Australia to.
"And like I mentioned, we are bound to fail (at times). A couple of batsmen are bound to fail, having been scoring exceptionally well. (Captain) Virat (Kohli) got out today (friday) and Pujara got out cheaply; and so did Vijay.
"Once Rahul and Ajinkya had that partnership of 50, that's when we could have consolidated and probably got closer to the target or probably even got a lead. But once we lost that wicket, the lower order has performed brilliantly over the last year or so, just had a poor day. I still feel there's a lot of cricket to be played in this Test match. Tomorrow is another day.
"You need to play your shots on this type of wicket. You couldn't really blame the batsman (Rahul). In hindsight he could have held back," he added. Rahul had hurt his left shoulder while going for the big shot and getting out and Kumble hoped the youngster from his home town Bengaluru should be able to take part in the full course of the Test after having come out to field in the Australian second innings.
"He hurt his shoulder a little bit. He came off a little bit while he was batting. So we had to take care, this is more a precaution. He is ok now. He was back in the field for the last couple of overs. He should be okay. Tomorrow we have to see how he responds. Usually these kinds of injuries take 24 hours before it resurfaces. So we are hoping he will be fine."
Kumble rued the missed catches by his team which gave three lives to opposition captain Steven Smith to remain unbeaten on 59 at stumps.
"We would like to restrict them to as little as possible. We dropped a few catches. It has hurt us in the past, especially in this game you need to hold your chances even if half chances. We dropped Steve Smith on couple of occasions; that has certainly pushed us back. Hopefully in the morning we can pick up a few early wickets and then put the pressure back on them."
While complimenting O'Keefe, he also felt that his Indian counterpart Ravindra Jadeja also beat the bat constantly but failed to take the edge of the bat.
"I think he bowled steady. He bowled consistently in good areas. Like I mentioned, there were a couple of soft dismissals, and that pushed us back. It was one of those days where we saw Jadeja bowl in the last session where probably every over he was beating the bat three times. It was one of those days where on another day, that could have all taken the edge.
@media only screen and (max-width:740px) {
.quote-box{font-size:18px; line-height:30px; color:#505050; margin-top:30px; padding:22px 20px 20px 70px; position:relative; font-style:italic; font-weight:bold}
.special-text{font-size:24px; line-height:32px; color:#505050; margin:20px 40px 20px 20px; border-left:8px solid #ee1b24; padding:10px 10px 10px 15px; font-style:italic; font-weight:bold}
.quote-box img{width:60px; left:6px}
.quote-box .quote-nam{font-size:16px; color:#5f5f5f; padding-top:30px; text-align:right; font-weight:normal}
.quote-box .quote-nam span{font-weight:bold; color:#ee1b24}
}