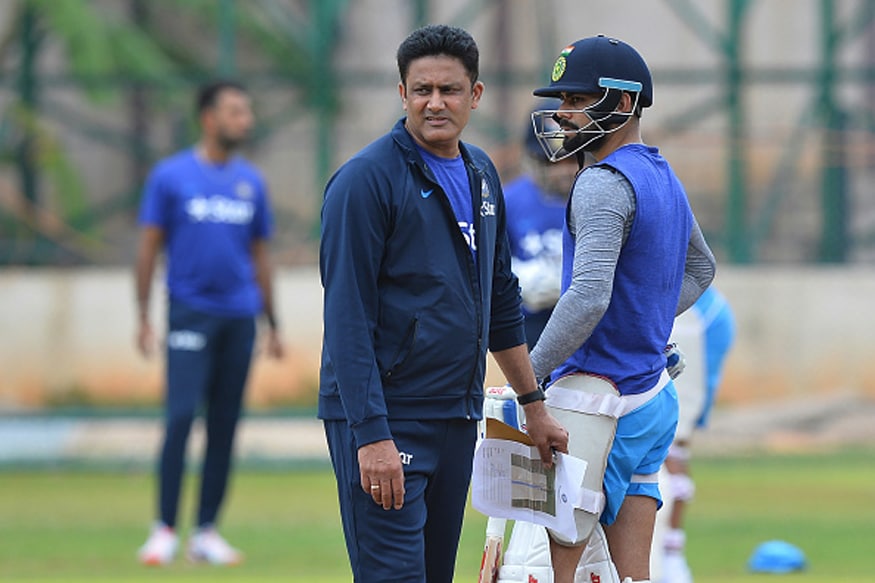 New Delhi: Even as Virat Kohli and boys have left for the West Indies to play a limited-overs series, chief coach Anil Kumble has not accompanied the Indian team citing the ICC Annual Conference that started on Monday and will continue till June 23. Kumble is the chairman of the Cricket Committee that takes a call on the laws and regulations of the game.
A member of the team management confirmed that Kumble wasn't travelling with the team. "Yes, chief coach Anil Kumble is staying back for the ICC meeting. The team is flying off to Barbados today," he said.
While it was earlier reported by Cricketnext that there was hardly any communication between the captain and the coach during the Champions Trophy, this seems to be the final signal that the Kohli-Kumble relation is beyond repair.
Also Read: Virat Kohli Role Pivotal in Deciding Anil Kumble's Future: BCCI COA
Even as the Cricket Advisory Committee (CAC) comprising of Sachin Tendulkar, Sourav Ganguly and VVS Laxman is trying its best to find a solution to the ongoing tussle between India skipper Kohli and coach Kumble, the SC-appointed Committee of Administrators (COA) feel that the captain's stance holds importance because going against the skipper might end up spoiling the whole equation in the team.
Speaking to Cricketnext, a source in the COA said that while the committee has stayed away from the decision process, it is important that Kohli and Kumble are on the same page before the latter is handed an extension because the atmosphere in the team will take a beating if Kumble continues against Kohli's wish.
"The COA has no role to play in the appointment of the next India coach or in handing Kumble an extension. But, one thing that is clear is that Kohli and Kumble need to be on the same page if Kumble is to get an extension. Otherwise, a situation might arise wherein the players might find it difficult to handle the scenario. Imagine the coach wanting something and the skipper asking the players to do something else. That is a scenario that must be avoided.
"The Cricket Advisory Committee has legends in the form of Tendulkar, Ganguly and Laxman and they will take a call keeping the best interest of Indian cricket on their mind. Also, they are being assisted by BCCI CEO Rahul Johri. Hopefully a decision will be reached soon," the source said.
But there seems to be no solution in the Kohli-Kumble tussle as news came in that Kohli met Tendulkar, Ganguly and Laxman with the BCCI's acting secretary Amitabh Choudhary, CEO Johri and general manager MV Sridhar on the eve of India's Champions Trophy final against Pakistan. And Kohli is said to have made his position very clear and isn't willing to patch-up with the coach.