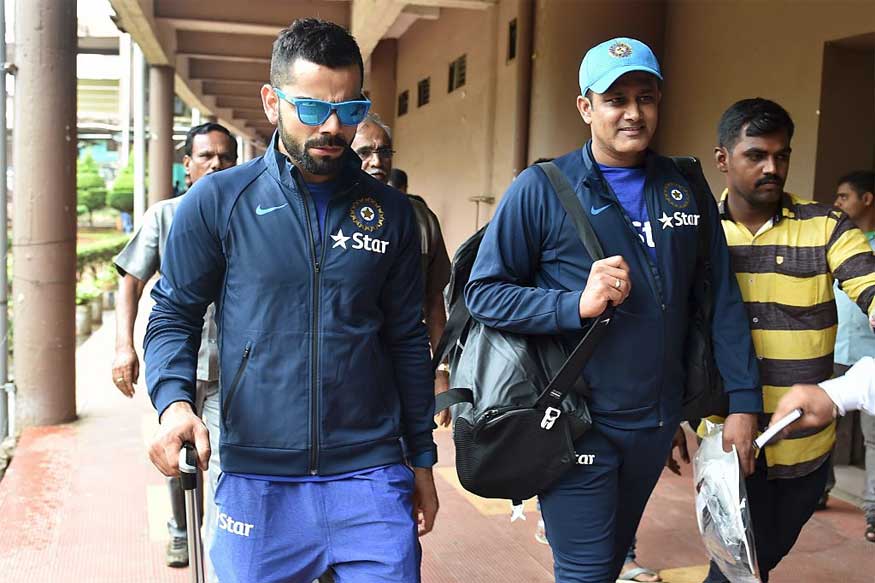 New Delhi: Indian cricket team coach Anil Kumble and captain Virat Kohli could well be of different opinions when it comes to the proposed pay hike for centrally contracted players is concerned.
A senior BCCI official, on conditions of anonymity, told CricketNext that Kumble had asked for an extra allowance for captain Virat Kohli during his presentation. But Kohli personally has not asked for any hike yet.
"Never would Virat Kohli be on the same page on the captain getting paid extra for discharging the captain's responsibility. In fact, I have personally had a word with him once or twice and he has always said that every player's interest should be taken care of, but especially those who play just one format should be priority.
"Actually Kumble wants to tag a few people just to strengthen his case. But his demand that the skipper be paid extra is mind-boggling," the official said.
Cricketnext tried to contact Anil Kumble for a response but he did not respond to the messages sent to him.
The Board of Control for Cricket in India (BCCI) on Thursday invited applications for the position of Team India's coach, as Kumble's tenure comes to an end after the ICC Champions Trophy. While this could be a routine procedure, one thing is clear that all is not well between Kumble and the board officials.
ALSO READ: BCCI Invites Application for New Coach as Anil Kumble's Tenure Nears End
While Kumble will be considered a 'direct entry' for the process, the murmurs are growing about the board's discontent with the way Kumble has tried to flex his muscles after a successful stint as the coach of the national team.
The official told 'Cricketnext' that Kumble's demands for a 150 % hike for centrally contracted players and that of a substantial increase for himself and the other support staff has not gone down well with the board officials.
"Kumble is trying to encash the success the team has achieved in the form of results during his tenure as coach. But what he is forgetting is that cricket is not an individual sport. The team and the players deserve as much credit as Kumble for the success achieved.
"He was a great player who represented the country with aplomb, but his bent of mind is financially motivated and even though his stature as a player is unquestionable, the same doesn't apply for his personal nature," the official said.
The official also said that Kumble's presentation on the proposed hike for players was a lopsided one, which would only lead to more disparity in pay.
"Going by his presentation, if some of the players are given the amount of money that he expects them to be given, then two or three players will get what a state association gets and that is not acceptable.
"Also, even though BCCI is one of the richest boards in the world, one has to realise the BCCI also has huge expenditure and the end profit isn't huge. For example, former cricketers male and female are given pension as are officials. Do you realise the amount of money that goes into the initiative? We can't deprive them to fulfill demands orf present personnel," the BCCI official told Cricketnext.
Kumble is currently with the Indian cricket team in the United Kingdom, as the Men in Blue prepare for their title defence at the ICC Champions Trophy. Whatever be his eventual fate one thing cannot be taken away from him and that is his impeccable record as the team's coach.
India has won each and every series that it has been a part of under Kumble's stewardship so far.
@media only screen and (max-width:740px) {
.quote-box{font-size:18px; line-height:30px; color:#505050; margin-top:30px; padding:22px 20px 20px 70px; position:relative; font-style:italic; font-weight:bold}
.special-text{font-size:24px; line-height:32px; color:#505050; margin:20px 40px 20px 20px; border-left:8px solid #ee1b24; padding:10px 10px 10px 15px; font-style:italic; font-weight:bold}
.quote-box img{width:60px; left:6px}
.quote-box .quote-nam{font-size:16px; color:#5f5f5f; padding-top:30px; text-align:right; font-weight:normal}
.quote-box .quote-nam span{font-weight:bold; color:#ee1b24}
}