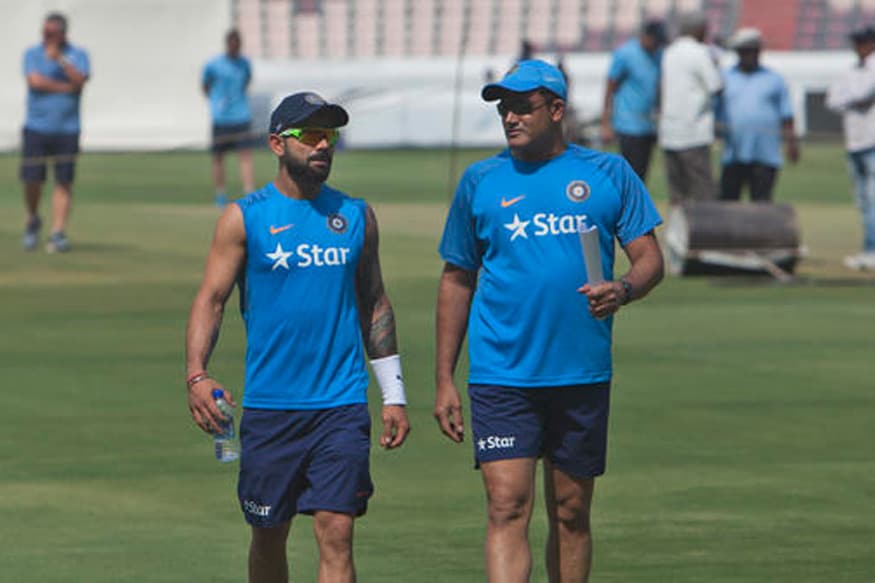 New Delhi: Gone are the days when Indian coaches would stand with their hands folded and only believe in giving pep talks. Current chief coach Anil Kumble believes in sweating it out with the boys during training sessions.
Known as one of the hardest workers in the team during his playing days, Kumble has brought that side of his out even as a coach. He is often seen involved in fielding drills and also likes to give his batsmen some good practice at the nets as he rolls his arm over.
Speaking to CricketNext, a member of India's limited overs outfit said that it is a delight to work with Kumble as he is always available not just for suggestions, but also to show the players how it is done.
"His door is always open, no matter when you want to talk about the game. He loves to walk the talk, so when you wish to train with him, he is more than happy to bowl at you in the nets and help you work out chinks in your game," he said.
Kumble's desire to work closely with the boys was evident once again on Tuesday as he was involved in an intense fielding session at the Rajiv Gandhi Stadium in Uppal as Virat Kohli and his boys gear up to face Bangladesh in a one-off Test starting Thursday.
He was seen giving fielding practice to Ajinkya Rahane and Abhinav Mukund against the cosco ball to improve their agility. Kumble kept using the tennis racquet to hit the ball hard at both Rahane and Mukund as they tried to grab quick catches.
Kumble not just as coach, but even as a player was always known to give it his 100 per cent. He would fight till the end and was never defensive in his approach and skipper Virat Kohli is also from the same school of thought. And Kohli feels that is the reason why the two have gelled so well.
"Cricketers understand each other's mindset and if the mindset is to win at any cost, there is not much that needs to be discussed. Our views matched immediately because we both wanted the same thing for Indian cricket and for this team to go forward. When he came in he exactly understood what I wanted from this team going forward. So, there wasn't much debate," Kohli had said soon after Kumble's appointment.
In fact, Kumble too has applauded Kohli for being intense on the field and going that extra yard to succeed.
"I have not seen anyone that professional in terms of looking after his fitness, his work ethic and in terms of his preparation. He wants to be the best and he leads from the front," he said.
@media only screen and (max-width:740px) {
.quote-box{font-size:18px; line-height:30px; color:#505050; margin-top:30px; padding:22px 20px 20px 70px; position:relative; font-style:italic; font-weight:bold}
.special-text{font-size:24px; line-height:32px; color:#505050; margin:20px 40px 20px 20px; border-left:8px solid #ee1b24; padding:10px 10px 10px 15px; font-style:italic; font-weight:bold}
.quote-box img{width:60px; left:6px}
.quote-box .quote-nam{font-size:16px; color:#5f5f5f; padding-top:30px; text-align:right; font-weight:normal}
.quote-box .quote-nam span{font-weight:bold; color:#ee1b24}
}