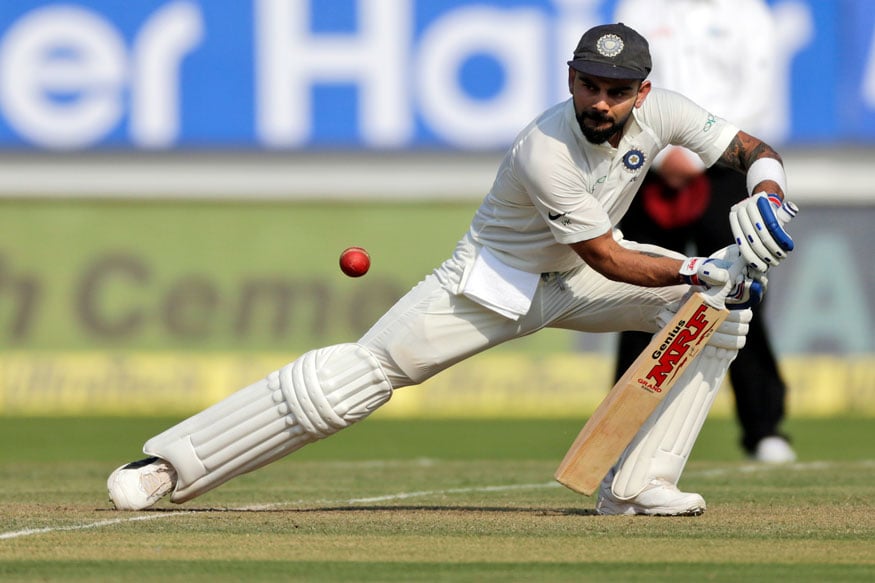 From the moment he stepped out to bat at Rajkot, it appeared inevitable that Indian skipper Virat Kohli will get to another triple figure mark. He duly obliged, with a serene 139 before he was dismissed, foxed by a slower delivery from seamer Sherman Lewis. It has been a remarkable year for Kohli and here are some of the standout numbers from his performances.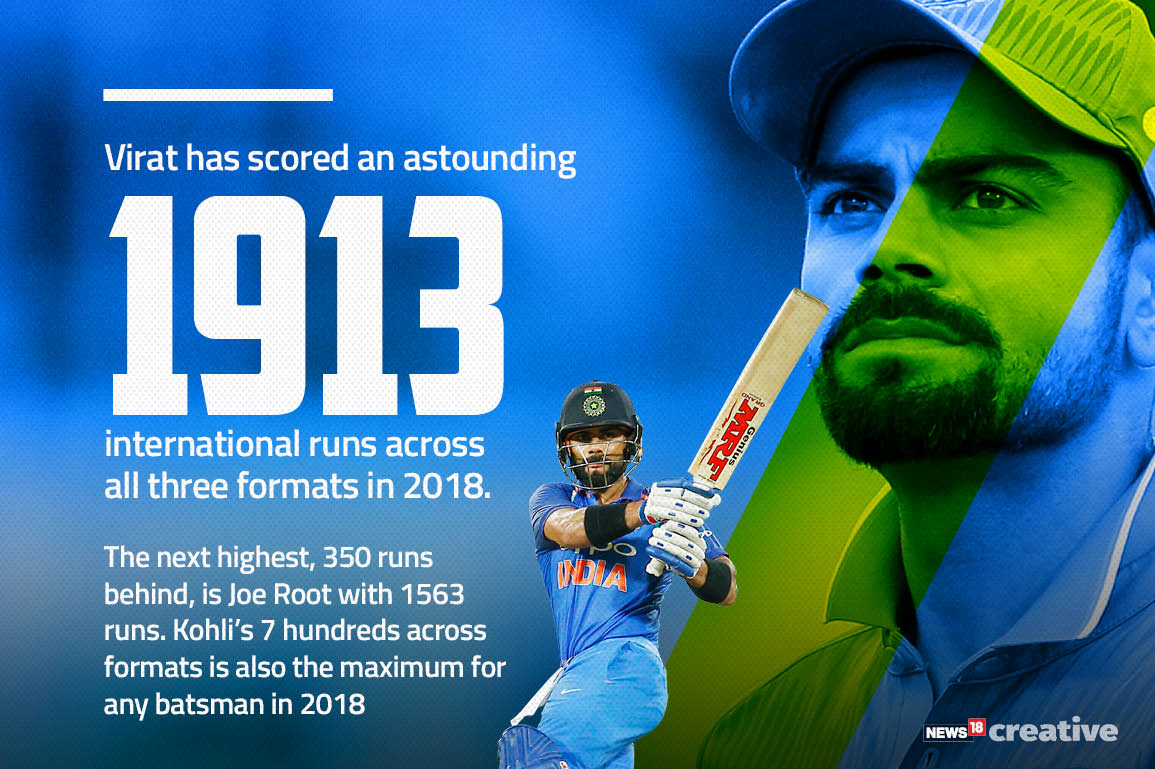 1. Virat Kohli has scored an astounding 1913 international runs across all three formats in 2018. The next highest, 350 runs behind, is Joe Root with 1563 runs. Kohli's 7 hundreds across formats is also the maximum for any batsman in 2018.

2. Kohli also had the highest run aggregate across all formats in 2017 (2818) and 2016 (2595).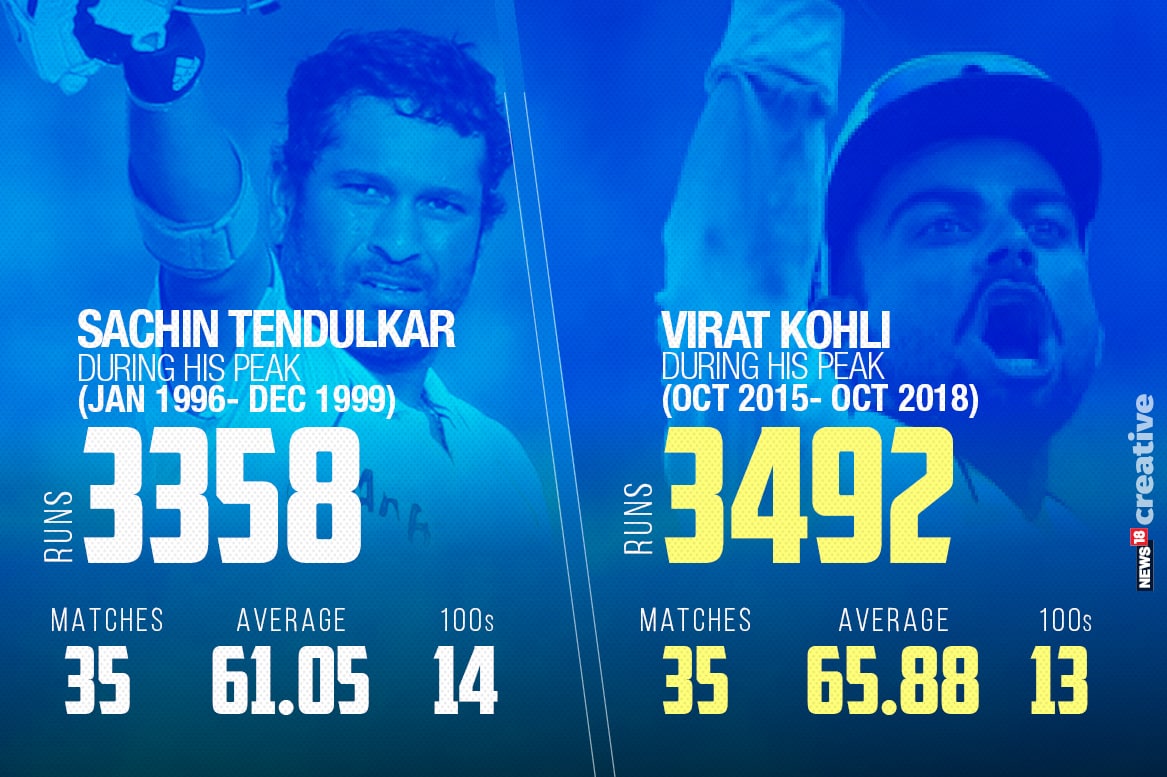 3. Kohli has scored the maximum runs (3292) in Test cricket since 2016 (1st Jan 2016). His Batting Average of 70.04 is also the highest in this time-frame. No one has scored more hundreds (13) than Kohli in Test cricket in this period.

4. Kohli is the first batsman to reach the 1000-run mark in Test cricket in 2018 (1018 runs). The second highest, Joe Root lags behind by 299 runs at 719 runs.

5. It is the third consecutive year when Virat Kohli has scored 1000+ runs in Test cricket (2016, 2017, 2018).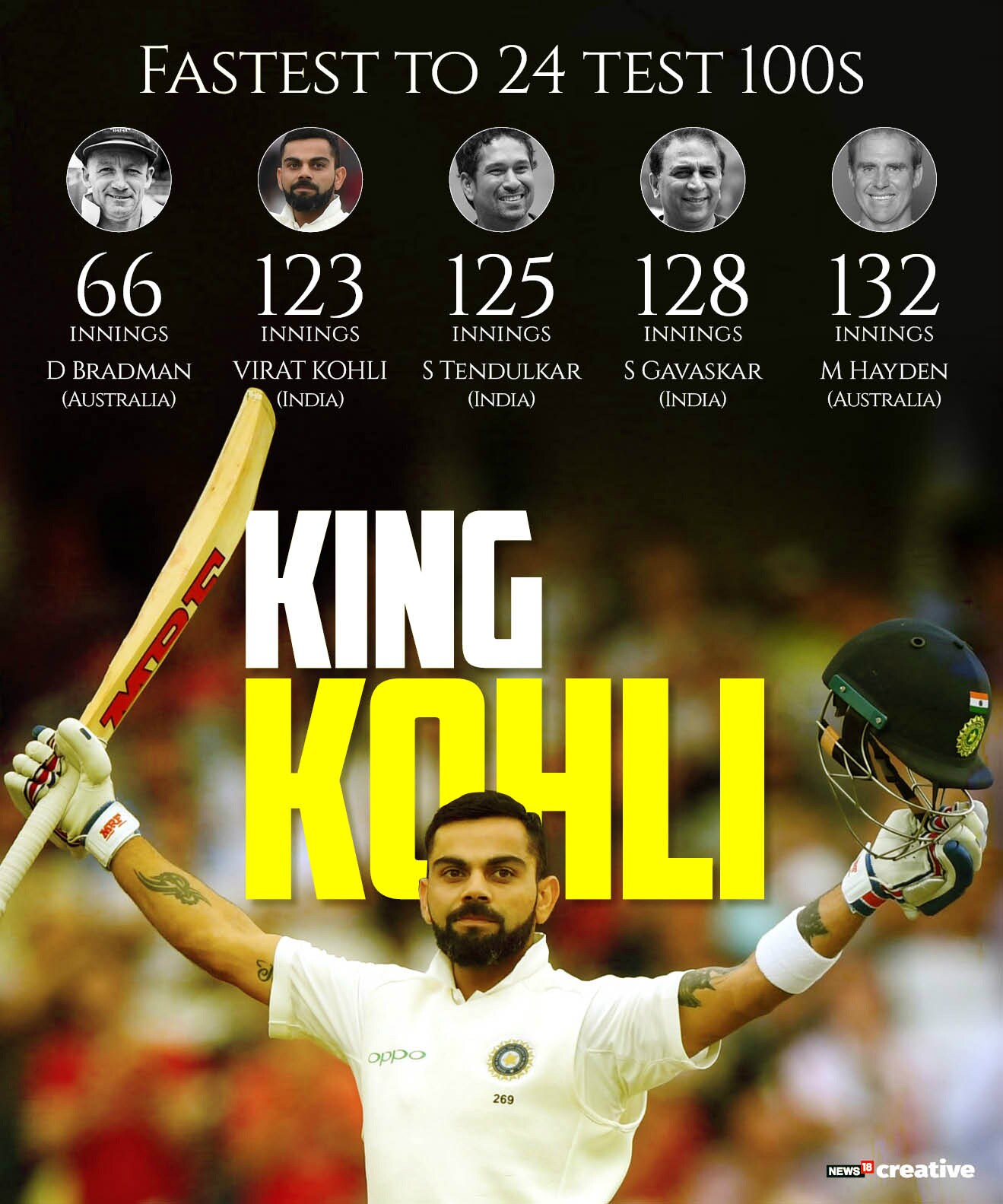 6. Kohli is the fastest to 24 Test hundreds (123 innings) only after Don Bradman (66 innings). Tendulkar achieved the feat in 125 innings while Gavaskar in 128 innings.

7. Kohli now has 24 Test hundreds. It is the 4th highest amongst Indians after Tendulkar (51), Dravid (36) and Gavaskar (34).

8. Kohli becomes the first captain in Test cricket history to score 1000 runs in three consecutive calendar years and the sixth batsman in Test history to score 1000 runs in three consecutive years after Matthew Hayden, Steve Smith, Brian Lara, Marcus Trescothick and Kevin Pietersen.

9. Virat Kohli has the best batting average (65.10) at Home for India in Test cricket (minimum 15 Tests). His 2201 runs in India in Test cricket in the last 3 years are the most by any player at Home in this period.

10. Sachin Tendulkar after 72 Tests: Runs: 5673, Average: 56.16, 100s: 21

Virat Kohli after 72 Tests: Runs: 6286, Average: 54.66, 100s: 24

11. Kohli has the 5th best frequency (every 3 Tests) of producing a hundred in Test cricket history. The batsmen who were quicker (in terms of number of Tests; minimum 10 hundreds in career) are: Bradman (1.79 Tests), George Headley (2.20), Steven Smith (2.78) and Clyde Walcott (2.93).

12. Kohli has the third-highest away batting average of 56.13 after Williamson (70.69) and Ross Taylor (66.23) in Test cricket in the last three years (min. 500 runs).

13. Kohli (100s:24 and 50s:19) has the best 50 to 100 Conversion Rate after Don Bradman (100s:29 and 50s:13) and George Headley (100s:10 and 50s:5) in Test cricket history (min. 10 hundreds).

14. Kohli features thrice in the top 5 "Highest Runs in a Test Series" in the last three years. He aggregated 655 and 610 against England and Sri Lanka at home in 2016 and 2017 before scoring 593 runs in England in 2018.

15. Sachin Tendulkar during his peak (Jan 1996- Dec 1999): Matches: 35, Runs: 3358, Average: 61.05, 100s: 14

Virat Kohli during his peak (Oct 2015- Oct 2018): Matches: 35, Runs: 3492, Average: 65.88, 100s: 13

16. Kohli is the best contemporary Test batsman in the world: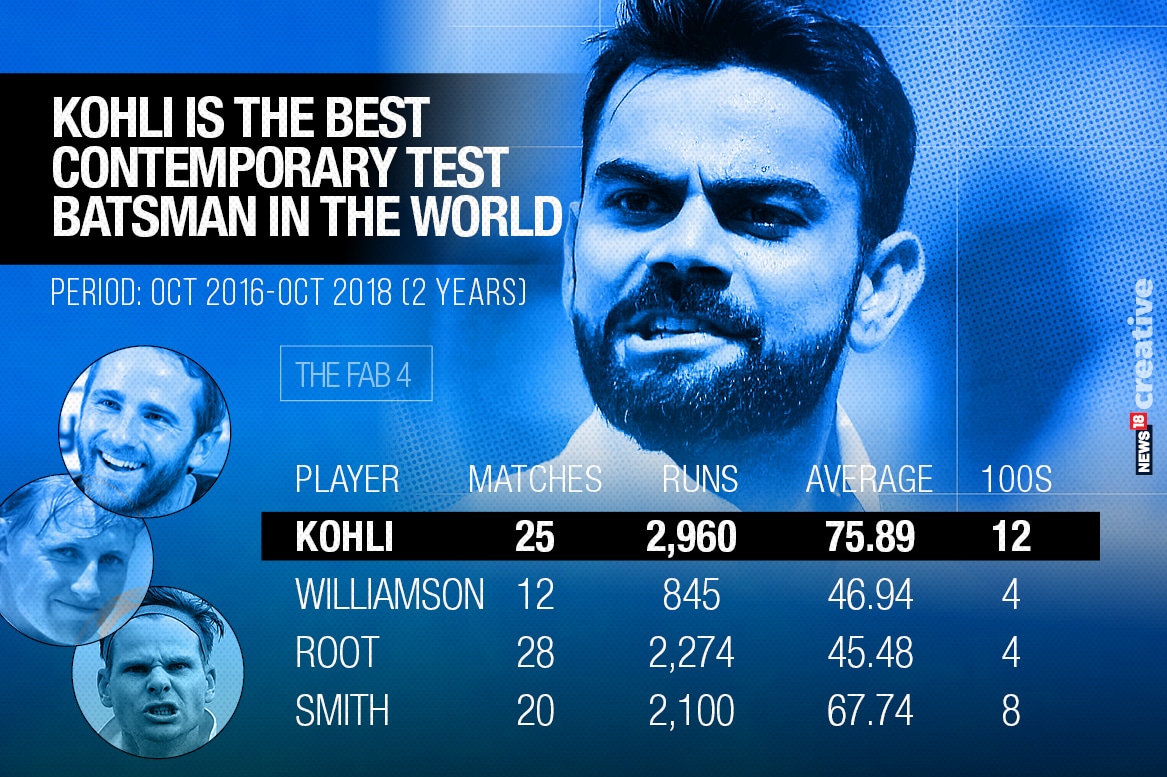 17. Kohli has been remarkably consistent in Test cricket. He has scored an aggregate of 40 runs in a Test 28 times in 40 Tests since 2015.

18. Only three batsmen in Test history average more from the number 4 position (min. 20 Tests; runs scored 1000) than Virat Kohli (62.42) – Steven Smith (74.25), Everton Weekes (63.62) and Graeme Pollock (62.57).


First Published: October 5, 2018, 2:13 PM IST