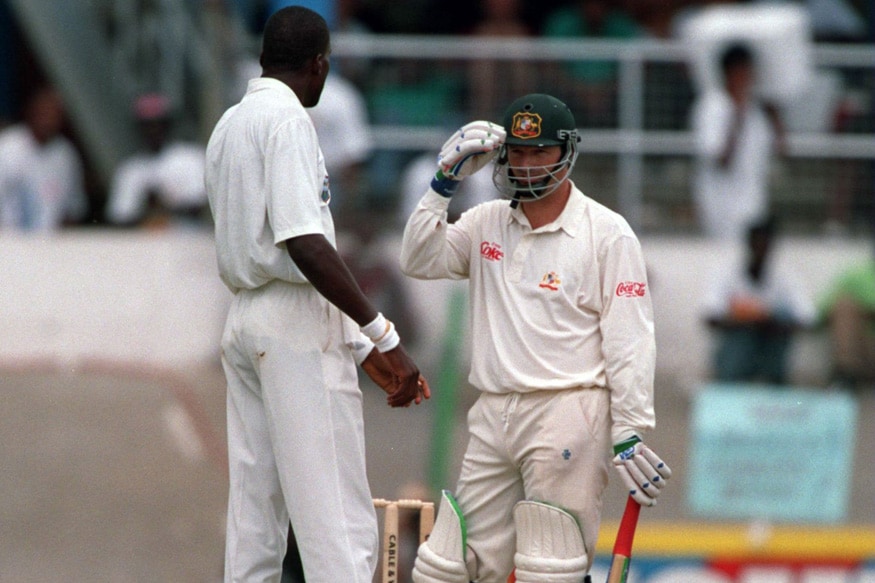 Former Australian skipper Steve Waugh and former West Indies pacer Curtly Ambrose can be called as two greats of modern day cricket. And whenever these two giants of the game came face-to-face, tempers flared on the pitch.
On such memorable incident took place on this day in 1995, during the third Test between West Indies and Australia at the Queen's Park Oval in Port of Spain.
Pace spearhead Ambrose wreaked havoc on the first day of the Test as the Aussies were bundled out for a paltry 128 runs on a bowler friendly wicket. Amborse ended the innings with a scintillating 5-wicket haul that broke the backbone of the visitors' batting line-up.
However, Steve Waugh stood tall amidst the ruins and slammed the only half-century of the match. But there came a time when Ambrose had to be dragged away by skipper Richie Richardson after having a verbal duel with Waugh.
What irked Ambrose was that fact that while wickets kept falling on one end, Waugh stood his ground and kept chipping away with runs on the other. After bowling a delivery, Ambrose gave Waugh a steely stare, to which Waugh asked him 'what are you looking at', however, in a less polite manner.
This angered Ambrose and he had to be taken away from there before things got ugly. Two days later, West Indies recorded a comprehensive 9-wicket victory in Test, but it was the incident of the first innings which thrilled the fans the most.