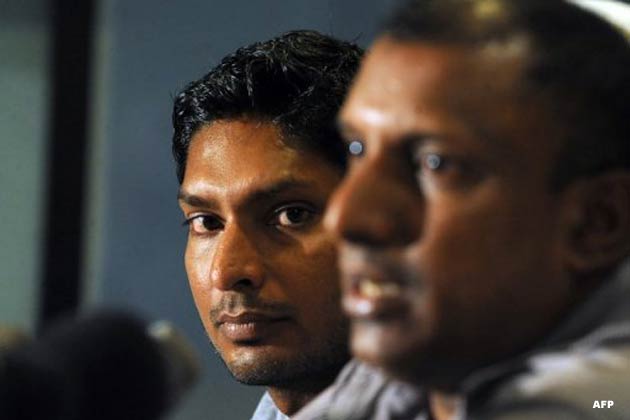 Dambulla: There is more awareness that an Asia Cup event is being played in this cultural town in the centre of Sri Lank than an alternative lollypop event now being held in South Africa. Even our handphones have the region identification "Asia Cup" than Dambulla.
No one would have thought it though on Wednesday night when Virender Sehwag's bowling mesmerised the lower Bangladesh order. His impressive bowling figures of 2.5-0-6-4 are not anywhere near the record held by West Indies all-rounder Phil Simmons with the highly impressive figures of 18-9-3-4. This was in December1992, at the Sydney Cricket Ground against Pakistan.
It appears that Simmons is more than pleased Sehwag didn't break his record.
While all this has been the talk of the tournament so far, Sri Lanka's new selection chief Aravinda de Silva has shown just how transparent is the new selection panel. Attending the team's practice session during rest day at Rangiri Stadium, he suggested that the surface will carry a touch more grass and likely to help the defending champions in the game against Bangladesh in the third game of the tournament.
He also remarked how the form of players for this tournament cannot be judge on one or two games but the tournament as whole. The comments were aimed at showing support for Chamara Kapugedara, Farveez Maharoof and Muttiah Muralitharan, who did not have memorable games against Pakistan in the opening match of the 10-dy tournament.
"I have asked the curator to prepare a pitch that will help both seam and spin bowlers and for this reason I have suggested he leave a little more grass on the surface," he said.
"I can also tell you not to dismiss players who did not have good first game, or failed to perform as hoped," he added. "We need to give these players a chance and be guided by their form at the end of the series.
"We consider these players as part of the team and patience is needed in respect of their form and ability to perform. There are times players can have good games and also times when they will be disappointed as well," he smiled.
It was for this reason that Kumar Sangakkara, the Sri Lanka captain hinted there is unlikely to be any changes in the side to play Bangladesh on Friday in the third game of the tournament.
He also saw the toss as being a crucial factor with the lights being one of the reasons as well as the dew. Criticism of how the lights do not measure up to international has come from television and other media sources as well as match officials.
It was Sangakkara's opinion while the toss played a large part in the result of the game, but also it was a matter of consistency.
"Our players know this all too well and how important it is to work as a team . . . as a unit, especially with what lies ahead, how they need to be consistent as part of the strategy," Sangakkara said.