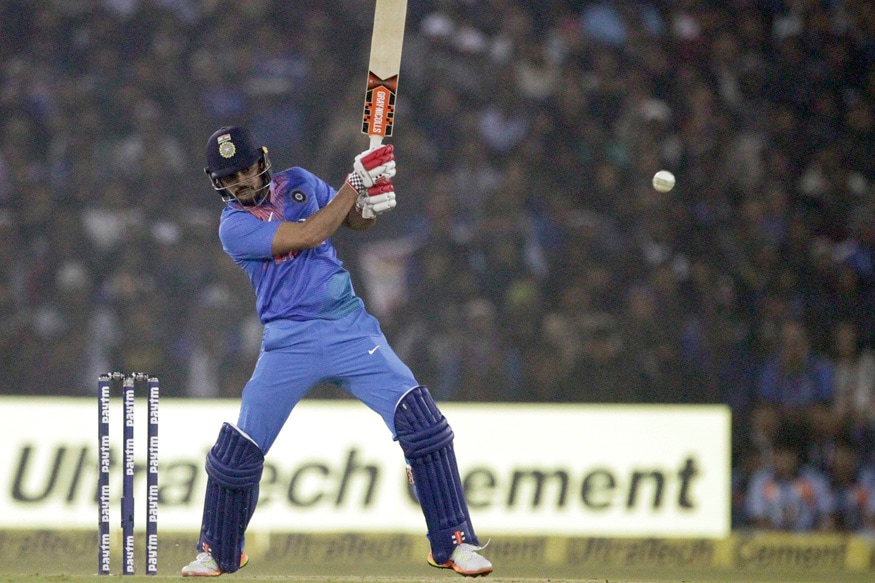 Cricket is replete with examples of players who rule at domestic level, exciting fans with their gifts, only to arrive at international cricket and turn out to be a meek version of their own domestic self. The likes of Mark Ramprakash and Graeme Hick are glaring examples and in India too there have been several such players.
While there is still a long way to go in his career, Manish Pandey faces the danger of heading down the same path. Though he is in the Indian side for the ongoing series against West Indies, his chances of breaking into the XI seem distant, with skipper Virat Kohli having all but endorsed Ambati Rayudu as his preferred choice for the tricky No. 4 spot.
Since the 2015 World Cup, India have tried quite a lot of players in the One Day International middle-order with an agenda of finding reliable batsmen who are capable of increasing the scoring rate in the middle and death overs. While several of them have been dumped without enough chances, Pandey is assumed to be among the few who have got a decent run in the middle-order.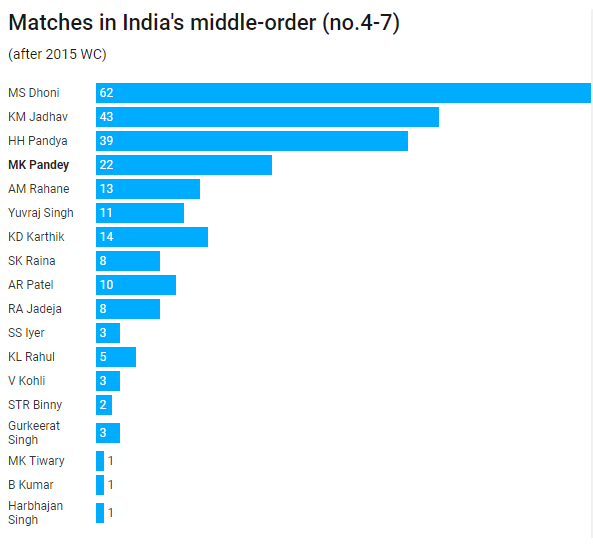 No batsmen aside from the regulars - MS Dhoni, Kedar Jadhav and Hardik Pandya - have got more chances in India's middle-order (positions 4-7) than Manish Pandey who has played 22 ODIs in this time-frame.
Interestingly, seven of Pandey's 18 innings' have come at the no.4 spot, which has been a major headache for India for quite a while. That he remains one of the only two Indians to score a hundred from the position since the World Cup - the other being Yuvraj Singh - further bolstered Manish Pandey's case and perhaps even paved way for a longer stint than most got in the middle-order.
Yet, his returns have been average to meagre going by conventional numbers. An average of 36.66 suggests that he hasn't entirely fulfilled his potential. But drawing conclusions from merely the batting average, an 'old' statistical parameter in a world of data analytics, would be injustice to Pandey. What is pretty evident from his varying positions in the batting line-up is that the management could never really arrive at a definite batting spot for Pandey.
While he has batted in 18 of his 22 ODIs since the World Cup, the maximum number of consecutive games he has got in one particular batting position is three. He has batted at no.4, no.5 and no.6 for India where his continuous stream of games at each position stand at 3, 1 and 2 respectively.
Digging through the consistency in chances in middle-order (defined as a number arrived at dividing the sum of max streak of matches in one position and total number of positions batted in) for India since the World Cup in Australiasia, we find that Pandey has been denied of consistency in batting position.
The likes of Ajinkya Rahane, Hardik Pandya, Kedar Jadhav, MS Dhoni and Yuvraj Singh have got fairly longer stints at one particular position in the batting line-up. The same kind of consistency has somehow been denied to players like Pandey, Rahul, Iyer and Rayudu.
Pandey's case is all the more curious because of his prolific form for India A and India B teams. Some of his records for these teams since 2016 make for impressive reading.
- He is the top-scorer in three out of the last four series he has played in for India A and India B.
- In eight of the last nine matches for India A or India B, Manish Pandey has been unbeaten.
- He finished the quadrangular series involving India A, India B (his team), South Africa A and Australia A before the Asia Cup as the highest run-scorer with 306 runs in 4 matches, including a hundred and two half-centuries. He wasn't dismissed in the entire series.
- He has scored these runs at a strike rate in excess of 90.
- He has four hundreds in the last two years for India A and India B teams.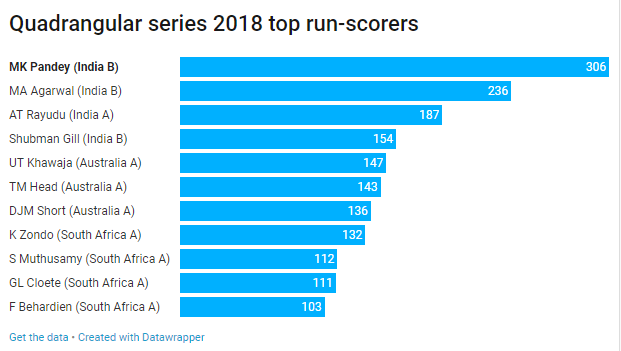 His exceptional streak for the second string sides began in the quadrangular series two years back in Australia involving South Africa A, India A, Australia A and Australia's National Performance Squad. He finished that series as the top-scorer with 359 runs in 7 innings at 59.83.
Following that, he was once again the highest run-scorer in a tri-series involving India A, South Africa A and Afghanistan A in South Africa, scoring 307 runs in 5 matches while remaining unbeaten in four of the five games.
The quadrangular series in India – where he remained unbeaten in all four games and top-scored - before the Asia Cup completes his sequence of spectacular scores for the second-string sides. That most of these have come from the no.4 position is even more telling. With a dynamic top three in the One Day International side, India need a match-winner, one who is capable of upping the ante per his whims and fancies, at no.4 and the answer could be Pandey but he has sadly been denied of security at the position.
With rate of scoring taking prime importance at the position, it is only apt that we dig into the best batsmen India have tried at No. 4 in terms of rate of scoring since the 2015 World Cup.
The average runs per over of the batsman gives an indication of his rate of scoring while the average runs per over of the team shows how quick the team as a whole has been scoring. As can be seen from the representation, Pandey is among the only two - the other being Hardik Pandya who is better fit at 7 - to have a positive impact on the team's scoring rate from the No.4 position.
That he has scored these at a much improved rate suggests he is capable of swinging the momentum India's way even after the top three are back in the hut. Furthering the cause is his second innings batting average of 51.33 in 11 innings'. These runs have also come at a strike rate nearly touching hundred - 99.03 - which shows how effective he can be if given the right kind of backing.
By his own admission, Pandey hasn't grabbed his chances but it probably isn't entirely his fault. No player flourishes with a sword hanging over his head every time he walks into bat. He might have not taken a few chances here and there, but that isn't to say Pandey hasn't earned his place in the side.