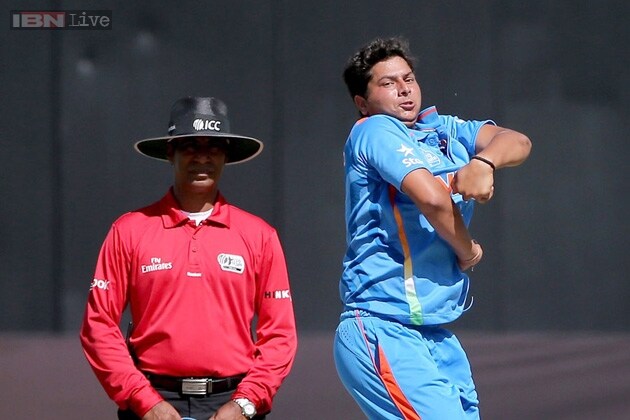 Papua New Guinea Innings (chasing 302 to win):
Match over: Riding on a superb batting show by Sanju Samson (86) and magnificent bowling by Kuldeep Yadav (4 for 10), India defeated Papua New Guinea by 245 runs in their Under-19 Cricket World Cup match at Sharjah. Chasing a mammoth 302-run target, PNG were bowled out for 56 runs in 28.2 overs. For PNG Riley Hekure was the highest scorer with 20 runs off 46 balls. PNG 56 all out in 28.2 overs. India crush Papua New Guinea by 245 runs.
End of 25th over: Deepak Hooda strikes twice in his over removing Willie (0) and Hiri (13). Kuldeep Yadav gets rid of Pokana (1) in the very next over. Papua New Guinea are eight down and require 248 runs with just 2 wickets in hand. PNG 54 for 8
End of 23rd over: Monu Kumar struck again to remove Allan Joseph for 4 runs. The ball ripped through the middle stump. 50-run came up for Papua New Guinea in 22 overs. Deepak Hooda and Kuldeep Yadav bowled superbly and gave just 11 runs in 6 overs. PNG 52 for 5
End of 16th over: Two more wickets have fallen since captain Vijay Zol brought his spinners on. Riley Hekure's (2) stay has been ended by chinaman bowler Kuldeep Yadav while Aamir Gani got rid of Dogodo Bau (6) lbw. PNG 39 for 4.
End of 10th over: PNG have managed to avoid any further loss of wickets but runs coming at a trickle, which isn't helping the required run rate. They are 24 for 2 in 10 overs.
End of 2nd over: MONU KUMAR gets two wickets in an over. Disastrous start for PNG who lost Kiplin Doriga (1) and Raho Sam (0), both bowled, in that over. PNG 5 for 2 in 2 overs.
India Innings:
End of 50 overs: India cross 300 off a last-ball six from Sarfaraz Khan, who impresses once again with his 34* off just 18 balls that took India's final score to 301 for 6. But it was Samson who started the carnage with his 85 off 48 balls. Deepak Hooda was the sixth Indian wicket to fall; he made 3. Alei Nao was the most successful bowler for PNG with a 10-over spell of 3 for 45. But it's a daunting ask for their batsmen now.
End of 47 overs: SAMSON'S CAMEO COMES TO AN END! Kabua Morea gets the big wicket. Samson scored 85, including 8 fours and 4 sixes, in a whirlwind knock of 48 balls. India 273 for 5.
End of 46 overs: Samson 84 off 46 is punishing PNG, though Nao has picked up his third wicket in the form of Iyer who made 36. India 262 for 4.
End of 42 overs: India are firmly pressing the accelerator now. Samson leading the push with 59* off 35 balls so far with three sixes, Iyer on 24. India 228 for 3 in 42 overs.
End of 35th over: PNG have taken the third wicket with Nao dismissing the well-set Bains for 59. So two new men on the crease now in the form of Samson (7) and Shreyas Iyer (4). India 149 for 3.
End of 31st over: BOWLED! Vijay Zol will be disappointed with that loose stroke. Alei Nao gets PNG the wicket. Zol made 35, while Bains (54*) has completed his half-century. Sanju Samson is the new man in. India 132 for 2.
End of 25th over: Boundaries have dried up but the scoreboard hasn't stopped moving thanks to consistent supply of ones and twos by Bains (40*) and Zol (27*). India 110 for 1.
End of 20th over: India not facing much trouble collecting runs, though not in boundaries, as PNG bring on their spinners in hopes of applying brakes. But Bains and Zol have taken the score to 93 for 1.
End of 12th over: PNG have broken through with the wicket of Herwadkar (37), who has been taken at deep mid-wicket by Raho Sam off the bowling of Sakavai Gebai. Vijay Zol joins Bains. India 58 for 1.
End of 11th over: Fifty up for India as Bains (19) and Herwadkar (37) start putting PNG bowlers under pressure after getting their eye in. The 11th over read as 4-0-6-0-4-Wd-3. India 58 for 0.
End of 6th over: Disciplined start from PNG pacers keeps Indian openers in check. Ankush Bains batting on 9 and Akhil Herwadkar on 8 - India 17 for 0.
TOSS: India won the toss and opted to bat.
Having already beaten Pakistan and Scotland, India are certain to end Group A toppers after an easy last game against PNG.
India won their first match against archrivals Pakistan by 40 runs.
Scotland gave India a little scare after scoring just 88, but Sarfaraz Khan helped the team rally from 22 for 5 to win by five wickets.