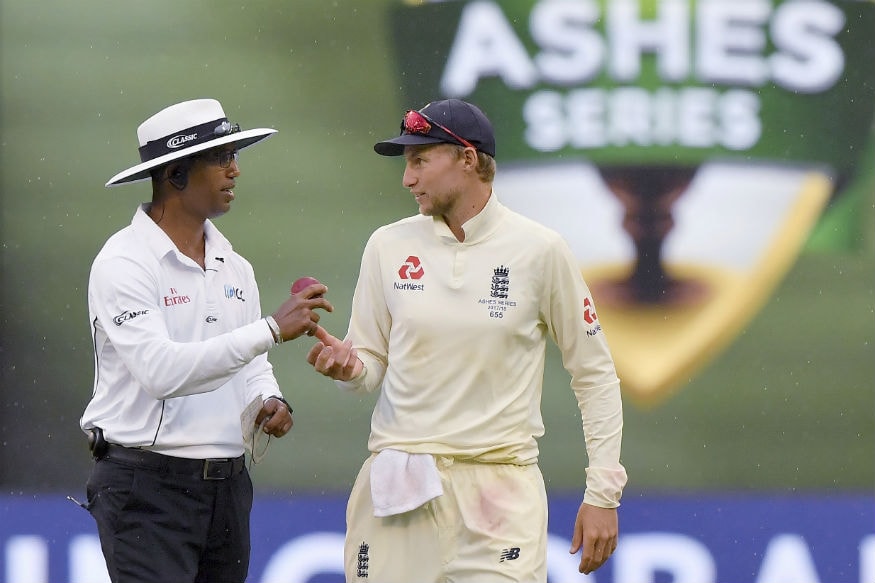 One expected the final two Test matches in the on-going Ashes to be dead rubbers after Australia regained the urn in style when they won in Perth to take an unassailable 3-0 lead. But, sparks flew on the fourth day of the Boxing Day Test in Melbourne during Australia's second innings.
On field umpires S Ravi and Kumar Dharmasena were seen speaking to the England captain Joe Root after a throw from Stuart Broad from mid-on bounced short of wicketkeeper Jonny Bairstow.
TV replays later though showed that England fast bowler James Anderson running his fingernail on the quarter seam of the ball, something the former Australian cricketers who were in the commentary box spotted very quickly. The commentators were quick to call it 'unfair tactics'.
"I'm not sure you are allowed to use your fingernail there," Shane Warne told Nine's Wide World of Sports broadcast. "If you are going to touch the ball at all, it's not just shining it, you want to do it right in front of the umpire so they know there is nothing untoward going on. But I'm not sure that Jimmy Anderson ... this might get some people talking," the former spinner added.
Former Australian cricketers Michael Hussey and Mitchell Johnson too made their opinions clear when they jumped into the debate.
"It didn't look great, to be honest. There might be a little bit of a 'please explain' there for Jimmy Anderson. I know there's a lot of tactics, but there's a bit of a line there that you shouldn't cross in picking the seam of the ball and things like that. The English have been throwing the ball into the ground to try and scuff one side up, but that's nothing the Aussies weren't doing either and the umpires are generally on top of that pretty quickly," Hussey said talking to the host broadcaster.
Johnson, took to Twitter as well to wonder as to how England pacers started to reverse the ball within 10 overs.
Ball reversing under 10 overs #ashes

— Mitchell Johnson (@MitchJohnson398) December 29, 2017
"I have no issue with both teams throwing into turf at the stumps as long as that's all it is. Wouldn't have thought the ball could reverse so quickly. Oh well," the former pacer later added.
Australian women's team wicketkeeper and Mitchell Starc's wife, Alyssa Healy said the match referee should take an interest in the entire affair.
Earlier, on day 3, there was yet another 'controversy' when half centurion Stuart Broad was given out by the third umpire, even though TV replays raised questions about Usman Khawaja's catch in the deep. The dismissal sparked a fair play debate with many English fans opining that Khawaja was aware of the ball touching the ground and therefore should not have claimed the catch.