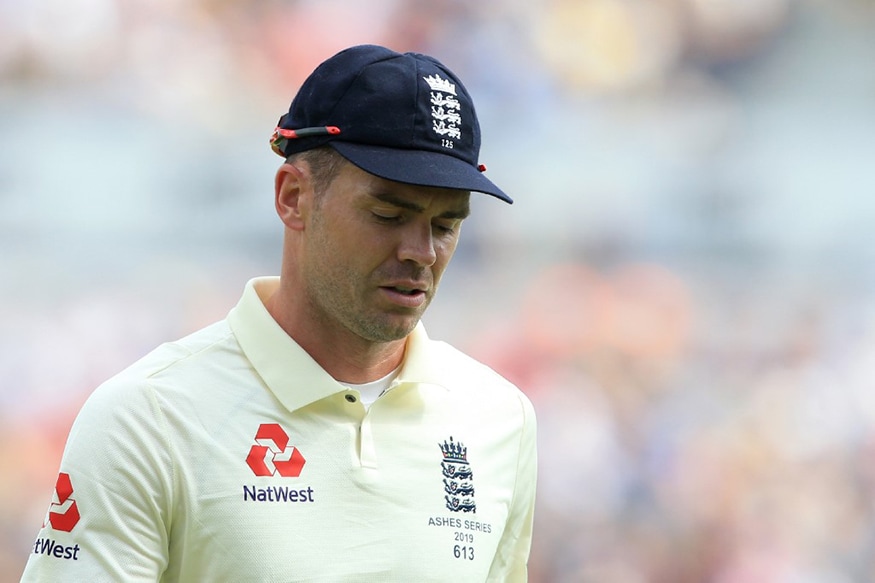 A "distraught" James Anderson apologised to his England teammates after pulling up injured on day one of the opening Ashes Test against Australia, fellow quick Stuart Broad has revealed.
Anderson had been struggling to be fit for Thursday's series opener at Edgbaston after tearing his calf while playing for his county, Lancashire, last month.
The 37-year-old seamer caused plenty of problems early on without taking a wicket before experiencing tightness in his right calf during his fourth over of the match.
"He is down, he's frustrated... he actually came and said sorry to all the bowlers, not that he's got anything to be sorry for," Broad told reporters.
"He is distraught he couldn't be out there today. He feels like he's let the bowling group down but he hasn't.
"Niggles are a part of fast bowling, but he's down in the dumps as you'd expect."
Anderson did not return to the field after being set for a scan during the lunch break.
"We don't know the full extent yet," Broad added. "All we can hope is the news is better than we expect."
Without their record wicket-taker, England still managed to dismiss Australia for 284 as Broad stepped up to the occasion to claim 5-86.
Broad also spoke about Australian captain Tim Paine's pre-match comments that he could name 15 more intimidating venues than Edgbaston, while noting that Steve Smith did well to ignore the boos he got from the crowd.
"One thing's for sure, that atmosphere was lively. It was loud. Certainly in my top 15," Broad said.
"There was a time as players we were like 'wow'. Having gone through a bit of stick myself in Australia...it's part of being a professional sportsman. Footballers get it all the time but it's a bit unexpected sometimes in cricket. Smith seemed to deal with it (the boos from the crowd) OK."
Finally, Broad spoke about wanting to step up and take responsibility in the impending absence of Anderson.
"I do enjoy added responsibility," he said. "Rooty came to us at lunch and said Jimmy wasn't going to bowl again today, that he might ask quite a lot of us today. He said 'put everything on the line today and we'll reassess tomorrow'.
"When your captain asks you that sort of thing...it's Ashes cricket...you want the ball, every ball. I'm pretty exhausted, I'd forgotten how nerve-wracking and tense Ashes cricket is, but after losing the toss and bowling you'd take bowling a team out for less than 300 every day of the week."
(With Reuters Inputs)