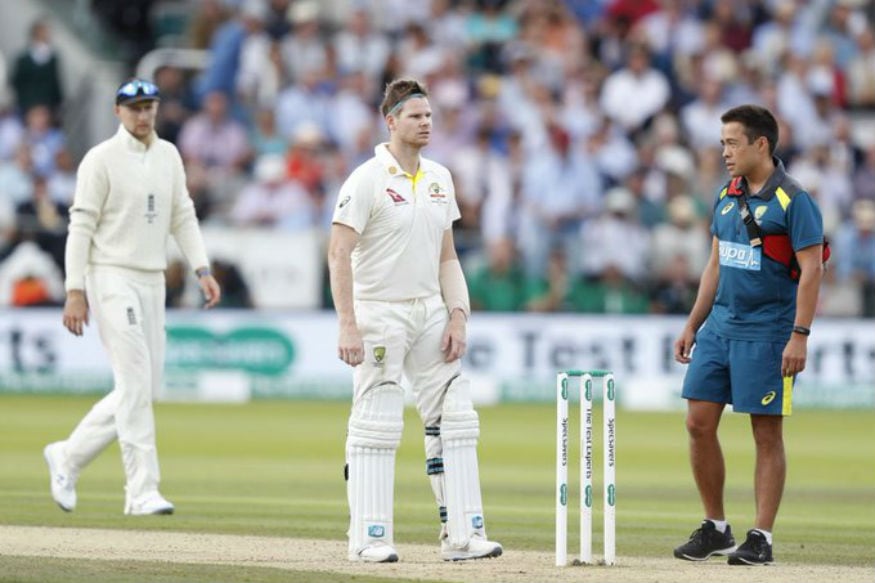 Much has been made of Australia's decision to send Steve Smith back out to bat after copping a nasty blow from Jofra Archer on Saturday at Lord's.
While brain injury experts have slammed the decision to allow Smith to continue on Day four, Cricket Australia's chief medico Alex Kountouris has backed team doctor Richard Saw for his handling the matter, saying removing a player from a game who hasn't displayed signs of concussion would be an "overreaction".
Kountouris, the Australian men's team's former physio and now CA's Sports Science & Sports Medicine Manager, said he was "100 per cent happy" with how team doctor Saw followed process on days four and five of the Lord's Test. Smith was later withdrawn on the final day from the Test for Marnus Labuschagne who went onto score a match-saving half-century against the English attack led by the fiery Jofra Archer.
The initial tests showed that Smith did not display signs of concussion and was allowed to continue his innings at the fall of the next wicket. But when he woke groggy, dizzy and with pain the following day, all symptoms of concussion, he was ruled out of the match.
Given only around 20 per cent of head impacts in cricket result in a concussion, Kountouris says removing a player from the game every time they were struck in the head would be unnecessary.
"The reality is only about one in five or six head impacts end up in concussion," Kountouris told cricket.com.au
"If we pulled out every player who had a head impact, we'd be pulling out 80 per cent of players who don't have a concussion and taking them out of the game. So that would be an overreaction.
"If you look at that game, there were three other head impacts and only Steve had a concussion.
"He didn't have a concussion at the time (he was hit) so he was allowed to play. If we took him out of the game, we would have been leaving him out of the game for no reason other than what we saw on the field."
CA's research shows that delayed concussion occurs in approximately 30 per cent of the cases.
Kountouris added the fact Dr Saw saw to it that Smith had withdrawn on the final day proved that they put the player's health on priority.
"At the end of the day, our doctor pulled him out of day five of the Test match, which was a pretty critical part of the game," he said.
"Our doctor is an expert in his field, he's trained to pick up even the minor signs of concussion.
"(He) was brilliant. Everything he did was according to the protocol, he was very thorough and we know he's very thorough. We're 100 per cent happy with what happened over there."
According to ICC rules the responsibility to ensure that the player is fit falls on the team doctor and not an individual doctor, and an argument for the latter can be made according to Kountouris to avoid any suggestions of bias.
"It's possible that doctors could be put under pressure, but we've put as many things as possible in our policies to mitigate for that," he said.
"The doctor (is) the sole determinant; not the player, not the coach, no-one else.
"We haven't had any problems with that over the last three or four years that we've been doing this."