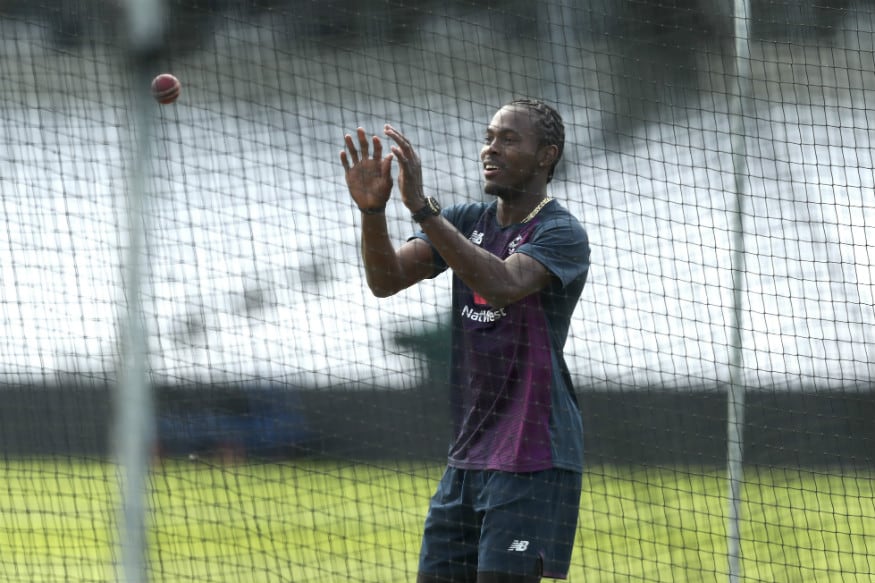 England fast bowler Jofra Archer's first year in international cricket has been nothing short of eventful, to say the least. Not only has he terrorised batsmen but also shown enough for former greats to shower him with praise.
In just over three months as an international cricketer, Archer is already a World Cup winner, and played an integral role himself, delivering the Super Over that clinched the title for England, prompting teammate James Anderson to call his impact upon arrival unprecedented.
"I don't know if any player has had such an impact on international cricket in the first three months of their career," Anderson told BBC Radio 5 live. "Winning the World Cup, bowling the Super Over to win the World Cup for England, and then Test debut, I think his match figures were something like 5/75 [5/91] off 44 overs."
Archer's calm temperament has been spoken about quite a lot and Anderson is looking forward to having a bowler of that calibre at the other end from him soon. Anderson, who injured his calf in the first Ashes Test at Edgbaston, is on his way back to full fitness and has even turned out for the Lancashire Second XI.
"Sometimes, you see people burst onto the scene, but the pressure of doing it day in and day out, the expectations built upon people. I just don't see this happening with Jofra," Anderson said.
"The way about him, his temperament, the persona is just so calm and collected and calculating. He knows his game really well and he's oozing confidence. It's just really exciting for an English fan, even English cricket. I'd love to bowl at the other end to him and play in the same team as him."
Anderson, however, sounded out a word of caution. It is a concern shared by West Indian legend Michael Holding, who recently said that Archer's current workload is unsustainable and equated the number of overs he delivered at Lord's – 44 out of 142, more than a third of all of England's overs – to abuse.
"I think the only danger with him is that he bowled a lot of overs," Anderson said. "He's the sort of guy who'd probably be a nightmare for a captain because you can't get the ball out of his hand. He wants to bowl all the time, he's got an action and a run-up that doesn't really take much out of him. But, still, we've got to be careful we don't over-bowl him too much, and just look after him a little bit."