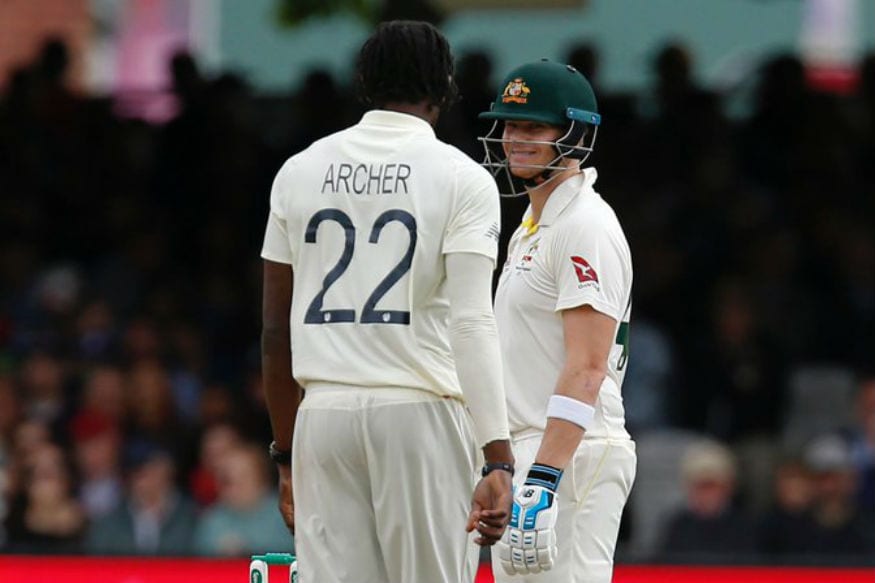 While there are many who feel that Jofra Archer might have upper hand against Steve Smith, after injuring him during second Ashes Test, the latter thinks otherwise. The reason for Smith's confidence is that Archer is yet to dismiss him.
Smith's comments came on the eve of Australia's tour match against Derbyshire, after he was subbed out of Lord's Test and missed the match at Headlingley.
Smith has 378 runs in three innings and he says that he would not like to change his approach at Manchester, despite getting hit.
"I'm not really going to change anything," Smith told cricket.com.au.
"There's been a bit of talk that he's got the wood over me, but he hasn't actually got me out.
"He hit me on the head on a wicket that was a bit up and down at Lord's.
"He actually didn't get me out. All the other bowlers have had more success against me, I daresay.
"I've faced them a bit more, but they've all got me out a lot more.
"I'm pretty comfortable with that.
"Now it's just about getting out there and playing the game."
Smith, in order to prepare for the tour game, faced Michael Neser and Mitchell Marsh at Headingley to test his reflexes.
Asked if the batsman is expecting more short-pitched bowling from England, Smith appeared to welcome it.
"If they're bowling up there it means they can't nick me off, or hit me on the pad or hit the stumps," Smith said.
"With the Dukes ball I don't know, it's an interesting ploy.
"So we'll see what happens."