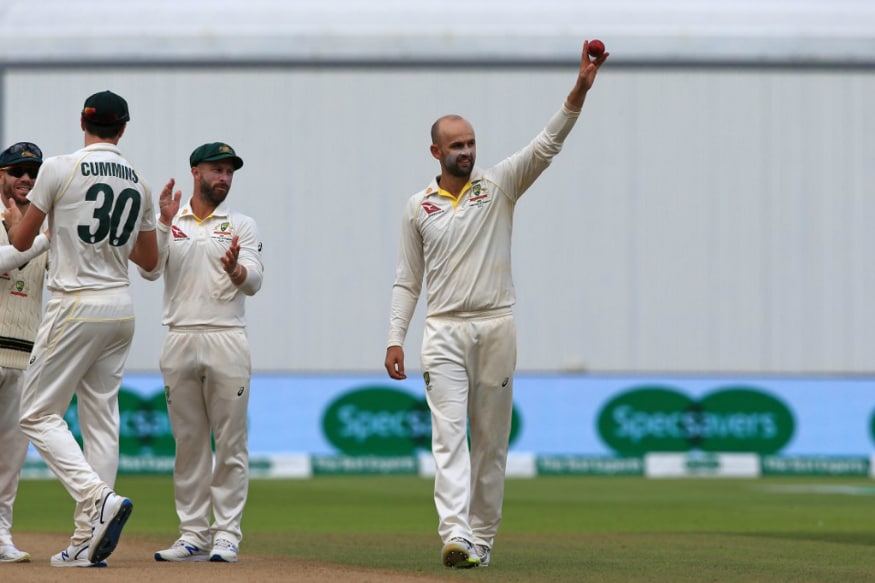 Australian spinner Nathan Lyon's spell of 29-12-51-2 in his team's 185-run victory over England in the fourth Ashes Test at Manchester, which helped the visitors retain the Ashes had a significant backstory to it.
Apart from personal family issues back home, Lyon suffered an injury on his spinning finger which caused a callous on it to split open, rendering him unable to continue bowling without painkillers and treatment on it.
"I can't feel it, to be honest," Lyon told cricket.com.au after he was asked about the state of his finger.
"I split my finger in the first innings and … it's probably like a singer losing their vocals, but you have to find a way to compete in Test cricket. Right now, it probably hasn't sunk in … but as a kid growing up, and as soon as I got my Baggy Green, the biggest goal in my career has been to win the Ashes away.
"We're 2-1 up and I want to go 3-1 up, and when we hold the urn up at The Oval (where the final Test starts on Thursday) it's going to be an amazing feeling."
Lyon was forced to cover the wound with a form of medical 'glue', and take painkillers to numb the sensation in his fingers.
"He bowled his heart out with a finger that's ripped in half," skipper Tim Paine said. "For him to bowl 30-odd overs … people probably don't understand what he went through today."
Lyon was largely made scapegoat for Australia's loss in the last Test match when he failed to latch on to the ball cleanly while attempting a run-out for the last wicket, which would have given Australia an advantage in the Ashes and prevented Ben Stokes' blitzkrieg which helped England to a miraculous win.
Each time Lyon held the ball cleanly at the top of his run-up, then, he received sarcastic jeers from the home crowd throughout the match.
Asked about the pressure he felt from the stands, Lyon said, "To be honest with you, you hear it for the first over or two then it just becomes white noise.
"When you're a professional sportsman, your job is to come out and bowl well, and compete against whoever you're playing. I didn't really feel it or hear it at the back end (of the match), so it doesn't worry me.
"We're sitting up there (in the visitors' dressing room) and we're going to have a couple of beers tonight and celebrate because the urn is coming home. I'm not sure what the nine thousand people in that stand are doing tonight.
"I wear my heart on my sleeve, and playing cricket for Australia means everything for me. It's not about personal success, but I've had some family issues over the past – my uncle's quite sick – so you realise quite quickly it's just a game.
"It does impact a lot of people, but mistakes happen. I didn't mean to drop the run-out or anything like that, but I had him plumb (lbw) next ball. That's just the game of cricket, you've got to pick yourself up and it's just the way you bounce back."
Lyon also spoke about how he gains constant inspiration from teammate Steve Smith, who has been central to everything good that Australia have done in the series.
"The way Steve Smith came back after all this talk about him, he's an exceptional cricketer. He's probably the best cricketer I've ever played with, and to be able to play most of my career with him it's been extremely special and hopefully there's a lot of highlights to come.
"You get the chance to come out here and play cricket for Australia and represent your family, friends and everyone back home. I guarantee when I get my phone, I'll have a fair few messages from mates staying up – I think it's about 3.30am back home.
"It's quite a special moment that a sport can bring a nation together. I daresay that the boys in that changeroom, where we're going to celebrate tonight, have brought a nation together."