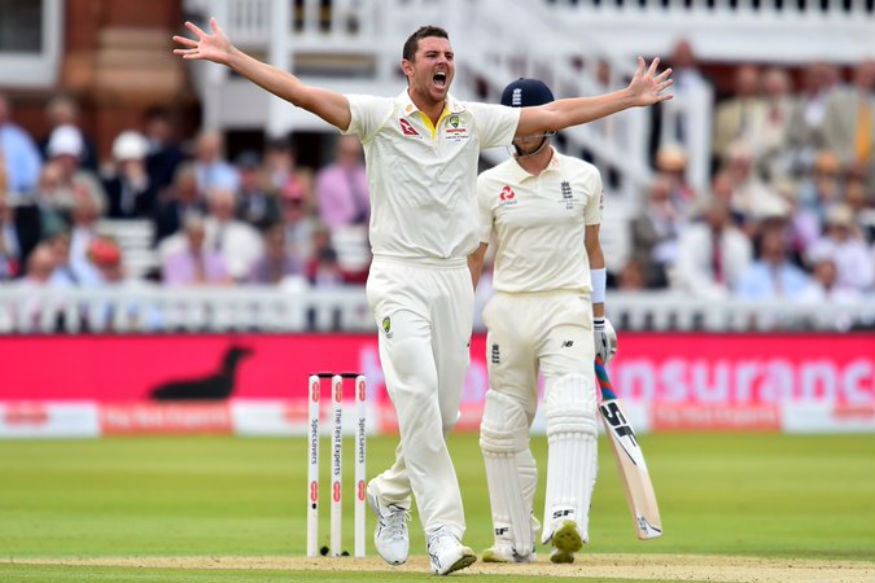 Josh Hazlewood was dropped from the Australia XI for the first Ashes Test at Edgbaston, with Peter Siddle getting the nod for the third pacer's role. Since coming back in the second game, he has picked 18 wickets at 16.88 from three Tests and one of the prime reasons for Australia retaining the urn with an unassailable 2-1 lead.
Hazlewood had missed plenty of cricket through the year including the World Cup, having suffered a back injury after the home series against India. Now that he's back, Hazlewood said his priority is to seal a spot for himself in the side.
"I've missed a bit of cricket for Australia lately in a few different formats and just wanted to entrench myself back in the team," Hazlewood told cricket.com.au on Tuesday.
"There is always competition from outside and there are a lot of quicks here doing really well. I just wanted to get my place back in the team and hopefully do well for the team and move towards what we've already accomplished, but to (win) 3-1 as well."
Hazlewood said he was happy with his bowling, particularly his accuracy.
"It's just the areas I've been hitting, the top of the stumps," he said. "A lot of bowleds and lbws, so very happy with that.
"We've been really simple with our plans. Patty (Cummins) has got a few bowleds and lbws as well, so that's been the plan and having executed that under an Ashes pressure is what I'm most happy with."
Despite playing three emotional Tests on the bounce, Hazlewood said he'd be ready to play in the final Test at the Oval if selected.
"I'll just rock up to the game and roll the arm over," he said. "When you're playing so much you're probably only training to loosen up really and get the cobwebs out.
"The ball feels like it's coming out really nicely, so (I'm) ready to go."