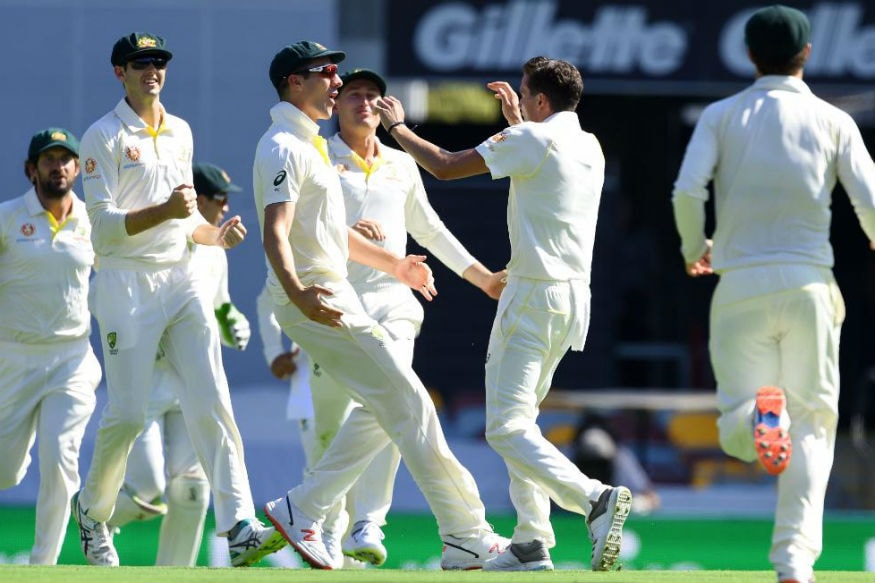 Australian fast bowler Jhye Richardson, as part of his rehabilitation process after suffering a dislocated shoulder earlier in the year, will work with Glenn McGrath at the MRF Pace Foundation in Chennai with an eye at making the Ashes squad after the 18-day camp.
The bowler will be aiming to join the Australian team just ahead of the fourth Test in Old Trafford. Australia will play a three-day tour match against county side Derbyshire from August 29 before the fourth Test gets underway on September 4.
Richardson, who is coming to India as part of the National Performance Squad, is in line to play three one-day games and three Twenty20 matches against MRF academy teams as well as the training sessions under McGrath's tutelage.
He made his comeback to competitive cricket in Darwin's Premier Cricket 50-over competition in late July and has joined the Chris Rogers-coached NPS squad in Brisbane before they head to Chennai this weekend.
Australia physiotherapist Kevin Sims said Richardson was "ready to bowl in matches".
"He is bowling off his full run and has good shoulder function," Sims was quoted as saying by Cricket Australia.
"The plan is for him to play matches in both formats while on tour and we expect he will be able to bowl however many overs are required."
Before of his Darwin comeback, Richardson had said that his plan was to bowl more to hopefully aid an Ashes call-up.
"The plan is to get over to England for the Ashes and this is sort of the first step in seeing how I go," Richardson was quoted as saying in the NT News.
"The plan moving forward is to get up for the back end of the series.
"And with a five-game stint pretty testing on fast bowlers, just to be available for the back end will be quite important."
Richardson had only just broken into the Test team in January against Sri Lanka before injury forced him out of the World Cup squad too. But he has been bowling off his full run up since the second week of July.
"I'll definitely be bowling as quickly as I can," Richardson said. "This is quite an important step in getting back to play, so I'll be trying my heart out to prove to myself and my own confidence that my shoulder is going OK.
"And give a little faith to everyone else that everything is going pretty well and the shoulder feels good.
"Obviously the last thing to come back is throwing."