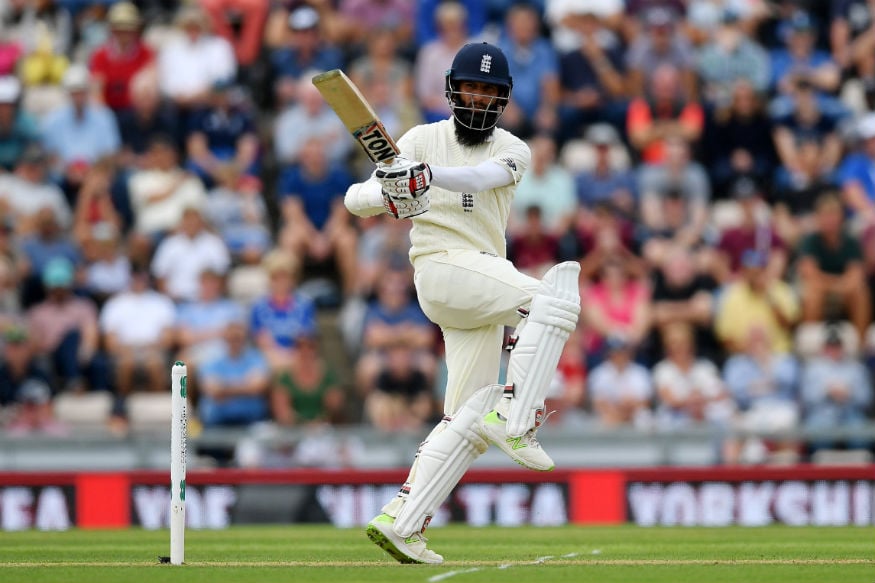 Moeen Ali has conceded his batting form in Test cricket is an issue going into the Ashes, but hoped to play with freedom in the upcoming matches. Moeen said his primary role is bowling, and hoped he would be judged on the number of wickets he takes.
Moeen has played 59 Tests, averaging close to 30 with the bat with five centuries and 14 half-centuries. However, he averages around 16 in the last 16 Tests, with only two half-centuries.
"As an all-rounder I can affect every innings of the game but in all honesty, I know my batting has been a problem of late. Given I'll probably be coming in at No 8, my primary role is with the ball and since returning to the side last summer against India my record has been strong in this department," he wrote in the Guardian.
"I have accepted this for a while, the ball has been coming out nicely and in Test cricket, the wickets have followed. But I would be lying if I thought the attention was on this, because even though I am not on social media these days, I am aware of the criticism of my batting in recent times."
Moeen accepted that his confidence as a batsman was 'at its lowest', saying criticism has affected him. He pointed to him being asked to bat in different positions as a reason for his struggles.
In his 102 Test innings, Moeen has played as an opener in six innings, No. 3 in six innings, No. 4 in five innings, No. 5 in seven innings and No. 6 in 16 innings, No. 7 in 31 innings, No. 8 in 27 innings and No. 9 in four innings.
"I have always been a player whose form goes up and down but at the moment I feel my batting confidence is at its lowest. Negative comments can affect you and they probably have. I know I play some horrendous shots at times but, when I do, I feel I attract more stick for it than others," he wrote.
"I have batted everywhere in the England team and it has probably caught up with me. It's not easy for a player who considers him or herself to be a proper batter to then adjust down the order. Put anyone there and the scores won't necessarily come. You can lose a bit of love for it, too."
Moeen said he spoke to his 'trusted advisers' after the Ireland Test, where he scored 0 and 9, in a bid to 'enjoy' his batting once again.
"After the Ireland Test I decided to consult some of my most trusted advisers: my dad, Munir, my brother, Kadeer, and Paul Farbrace, who was the England assistant coach up until recently. I have had a little reset and the plan is to go out there and simply enjoy my batting again – to not get consumed by negative thoughts and try to play with more freedom than I have," he said.
"The fact is, my bowling is why I am in the Test team right now and on form, rightly so. Runs are important, don't get me wrong, but it will be wickets that I will be judged on."