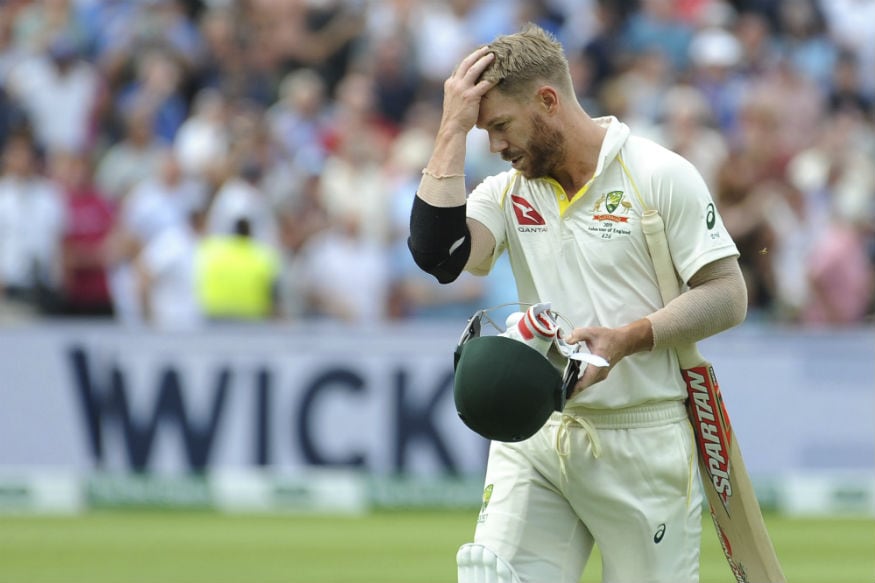 Australian opener David Warner's struggles against Stuart Broad continued in the second Ashes Test at Lord's, when the English paceman bowled Warner through the gate — his third dismissal to the same bowler in three innings so far.
Former Australia skipper and current assistant coach Ricky Ponting believes Warner needs to adapt to Broad's plans and try to dominate the English spearhead.
Ponting felt Warner missed three chances to find the boundary rope in the 11 balls he faced from Broad before his dismissal on Thursday (August 15), and taking those chances are crucial to the opener shifting the balance in the battle between the pair.
"I think the thing that would disappoint Davey the most was the fact there were a few clear scoring opportunities that he missed," Ponting was quoted as saying by cricket.com.au.
"There were a few really wide ones that he would generally pounce on and cut, and there was a half volley that he got a thick outside edge on and went to backward point," he added.
"If he puts those three balls away, it's a totally different game. You're off to a flyer and the pressure goes back onto the bowler.
"The ones that he missed out on were short and wide, which says to me that he wasn't as free in the mind as he should have been. He plays his best when he's playing the ball and hitting the ball hard. That's going to be the challenge for him; to free himself up in the mind, watch the ball and react accordingly," the former skipper felt.
Ponting worked closely with Warner during the 2019 World Cup and says Broad's strategy of bowling around the wicket and predominantly looking to swing the ball away from the left-handed opener would have come as no surprise to Warner.
The former Test skipper added that Thursday's dismissal highlighted how Warner is too focused on repelling the delivery that could get him out, instead of looking punish bad balls.
"I spoke to him before the series and he knew that was the way they were going to bowl to him," he said.
"People think he's just a stand-and-deliver batsman, but there's a lot more thought into it than that. He plans very well and the fact he's batting on off-stump (in an attempt to counter Broad's line of attack) shows he's thought a fair bit about it.
"The problem is, when you're expecting a bowler to bowl a certain way to you, you tend to only look for that one delivery. He would have just been looking for something that was quite full, pitching on off stump and swinging away. Even the one that bowled him, it looked like he was expecting it to swing away from him. He missed it on the inside," Ponting said about Warner.
"It's a hard thing to do to pick yourself up and just go and hit the ball. But that's what he's going to have to do and that's the way he plays his best.
"I'd be encouraging him, if he's going to get beaten, to get beaten on the outside of the bat, not back through the gate. Set up to hit down the ground and just react to it. I know that's what he works on anyway, but I think he just needs reinforcement on that.
"(Facing Broad) is something he can't get away from, but he's played enough to know how to get himself back into this series," he added.
Ponting also admitted his surprise that James Pattinson had been rested from the second Test and replaced by Josh Hazlewood, but was supportive of Australia's plan to rotate their fast bowlers.
"The hardest thing is going to be acceptance from the players," he said about Pattinson getting rested. "Even the public are just going to have to accept that's what the hierarchy believe is best for the team and the players.
"I was surprised (Pattinson didn't play). Given the break between games, I would have thought he'd have come up and nice and fresh. But we saw (on day one) just how much of a class act Josh Hazlewood is, particularly with the red ball. So it's so far, so good as far as that selection is concerned.
"There's history with Patto where he's played and then broken down (with injury). So I totally understand the reason they did it. As long as it was really clear to him at the start of the series that it was going to be that way, then they could get on with it," he added.